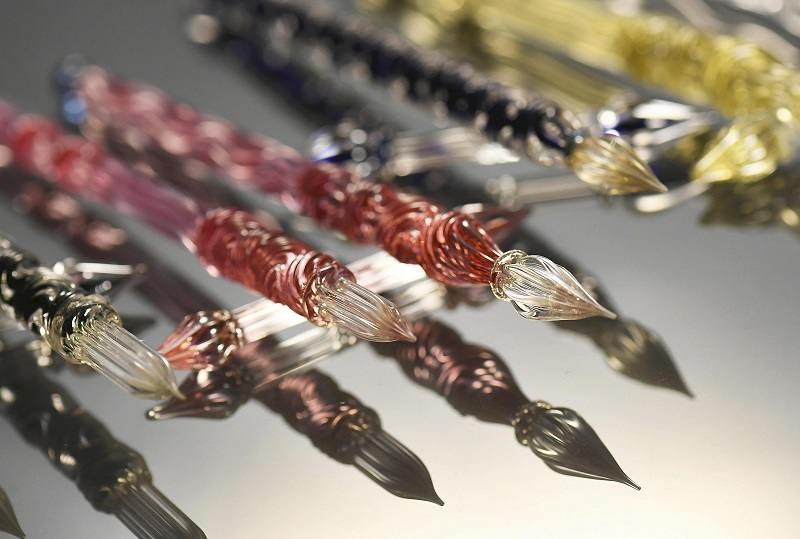 12:30 JST, April 22, 2021
Glass pens are delicate handicrafts that provide users with a smooth writing experience and are as beautiful to look at as write with.
The glass pen is said to have been developed by Sadajiro Sasaki, a wind chime craftsman, late in the Meiji era (1868-1912). Sase Kogyosho, established in Taito Ward, Tokyo, in 1912, is said to be the only glass pen factory that still employs Sasaki's techniques.
In the early days, only the nib was made of glass, but second-generation owner Isamu Sase developed a glass pen that integrates the nib and the barrel at the end of the Showa era (1926-89). The unique pattern created by twisting the glass made the pens quite popular.
"Glass pens are not ornaments. Rather, they are practical items," said third-generation owner Yoshihiro Rachi. "It can't be called a glass pen unless you can write with it. The only thing that matters is that you can write with it."
Ink is fed to the tip through a narrow groove carved in the nib. If the nib is filled one-third full with ink, there is enough ink to write about one postcard. Most glass pens are priced between ¥10,000 to ¥30,000.
Unprocessed glass rods and finished products were lined up in Rachi's work space, which is the size of one and a half tatami mats. Rachi was holding both ends of a glass rod that had eight grooves engraved on it, turning the rod around as he held it over a flame that can reach up to 900 C.
Always mindful of the heating time, Rachi twisted the rod evenly from side to side to create a pattern, which changes according to the degree of twisting. To an outside observer, Rachi worked so quickly that his motions were nearly unrecognizable.
"While I'm making a pattern, I feel like I'm looking at a sign pole in front of a barber shop," Rachi said with a laugh.
The nibs are made by pulling a hot glass rod while turning it, in a process that looks like the stretching of a mizuame starch syrup bar. It is said to take about 10 years of practice to create a satisfactory nib, and Rachi said he repeatedly made mistakes while fine-tuning his skills. The nibs created by professionals allow for a light and smooth writing experience.
The finished products are inspected by Rachi's wife, Takako, the daughter of the second-generation owner, and any pen that does not write — even if it looks beautiful — is rejected. Such is the pride these artisans take in their writing utensils.
"I want people to use glass pens, not just look at them," Rachi said as he continued making one.
Traditional bamboo barrel
Sase Kogyosho has been producing glass pens with a bamboo barrel since its establishment. The shop's "kanemo" emblem and Y.S., the initials of founder Yonezo Sase, are written on the label. The emblem is said to mean "work early in the morning when no one is awake and make money."
There are three types of pen nibs: fine, medium and bold. Due to a recent boom in using colored ink, pens with thicker nibs are popular because the ink's color can be seen when writing. Transparent nibs are available, in addition to white and green ones.
Add TheJapanNews to your Google News feed.