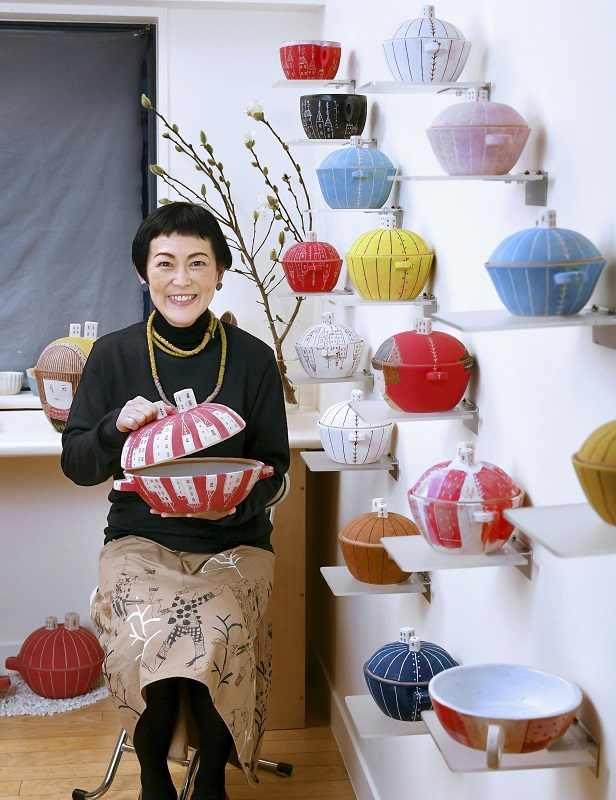 11:00 JST, March 19, 2021
Donabe clay pots usually evoke images of a steaming yosenabe hot-pot full of ingredients just right for a winter's evening. Recently, however, this earthenware comes with the added joy of buyers being able to decide from among a growing variety of them — from ones stylishly designed by artists to those meant for people living alone.
As there have been fewer opportunities for people to dine out amid the prolonged coronavirus crisis, donabe pots are being increasingly seen as a useful tool that adds charm to home dining.
"I painted a townscape in Italy," said ceramic artist Tamami Azuma, 54, holding a donabe with her handiwork on it. The handle on top of the lid is also molded to look like a building.
Another donabe Azuma created features pictures of children. The use of bright colors, such as red, blue and yellow, is fresh and unique compared with regular donabe, which give off a strong impression of Japanese tradition.
The source of Azuma's artistic inspirations is her experiences in Italy, where she trained as a ceramic artist. After graduating from university, she spent about six years from 1992 in Italy, honing her skills in pottery at a ceramic workshop in Milan, among other places. Her donabe pots, coming in a variety of sizes, sport colorful pictures and patterns with a European air to them.
She started making donabe more than 10 years ago. Unlike coffee mugs and other tableware, a donabe is a bowl that can also be used for cooking, since it can be placed over an open flame, Azuma said.
"The more you use a donabe for cooking, the more you become attached to it, because it morphs into an even nicer texture and look," she said. "That makes me happy."
Donabe also hold warmth well. One popular cooking method is to turn off the heat and let the food inside continue cooking using the residual heat.
"I hope people will use donabe more regularly and become more familiar with them," Azuma said.
One of the methods she suggested for using a donabe is to place a seiro bamboo steamer on top. By boiling water in the donabe, you can easily cook vegetables and other food inside the seiro.
Azuma has been working on a project to use donabe for cooking at various places in Italy while also traveling around the country.
"You can use a donabe as a large dish. Serving pasta in a donabe looks nice on a table," she said.
Small-size donabe pots as petite as 12 centimeters in diameter are popular items sold at Kurashi no Utsuwa Hanada, a Japanese tableware specialist shop in Chiyoda Ward, Tokyo.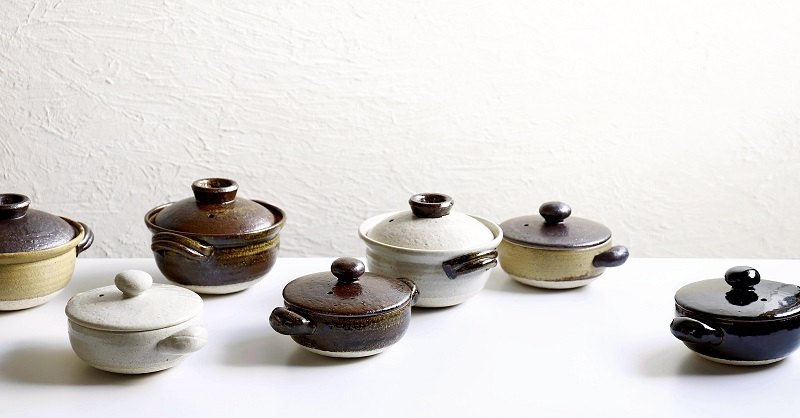 The shop's owner, Eisuke Matsui, said he noted that many of those buying a small donabe already have a large one for yosenabe and other hot-pot cuisine. Compact and easy to use, small donabe can be used for cooking not only soup and zosui rice porridge, but also gratin dishes after removing the lid and putting the pot in an oven. Donabe use is expanding to include more and more dishes regardless of whether they come from the East or the West.
Encouraged by the growing options for cooking with them, donabe have become a popular item that sells well throughout the year at the tableware specialist shop. Given this popularity, the shop started carrying a special feature on its website for small pots and pots for tofu, which are just right for a block of tofu.
Matsui said even if you know what is inside a donabe, you still have a great sense of anticipation for what's inside when you open the lid, which is exciting and fun.
"Handmade donabe pots have warmth and a calm to them," Matsui said. "They enrich the taste of the food cooked within. It's as if the warmth of a donabe is linked to the taste of the food inside."
Rice in donabe
One popular food to cook in a donabe pot is rice. Cooked over a gas stove, rice in the donabe becomes very tasty because donabe pots evenly distribute heat.
Tokyo Gas Co. explains on its website (https://tg-uchi.jp/topics/5487) how to cook three go, or about 450 grams, of rice using a donabe pot.
The recipe reads: "Put the lid on a donabe [containing uncooked rice and water] over medium heat and bring the water to a boil, about 10 minutes. When boiling, turn the flame to low, continue to cook for 15 to 20 minutes, stop the heat and leave it to steam for 10 minutes."
There are even gas stoves with a function called "donabe mode." Prepare a donabe especially for the stove, and the stove will control the heat using a heat sensor, making it possible to cook rice simply by pressing a button.
Nagatani Seito Co., an Iga-yaki kiln in Iga, Mie Prefecture, started selling a donabe they call Kamado-san in 2000. This donabe is popular because it needs no heat adjustments. You can cook tasty rice in the pot over a gas stove without worrying about it boiling over.
"We really hope a lot of people will appreciate the taste of fluffy and delicious rice cooked in our donabe," said an official of the company.
Add TheJapanNews to your Google News feed.