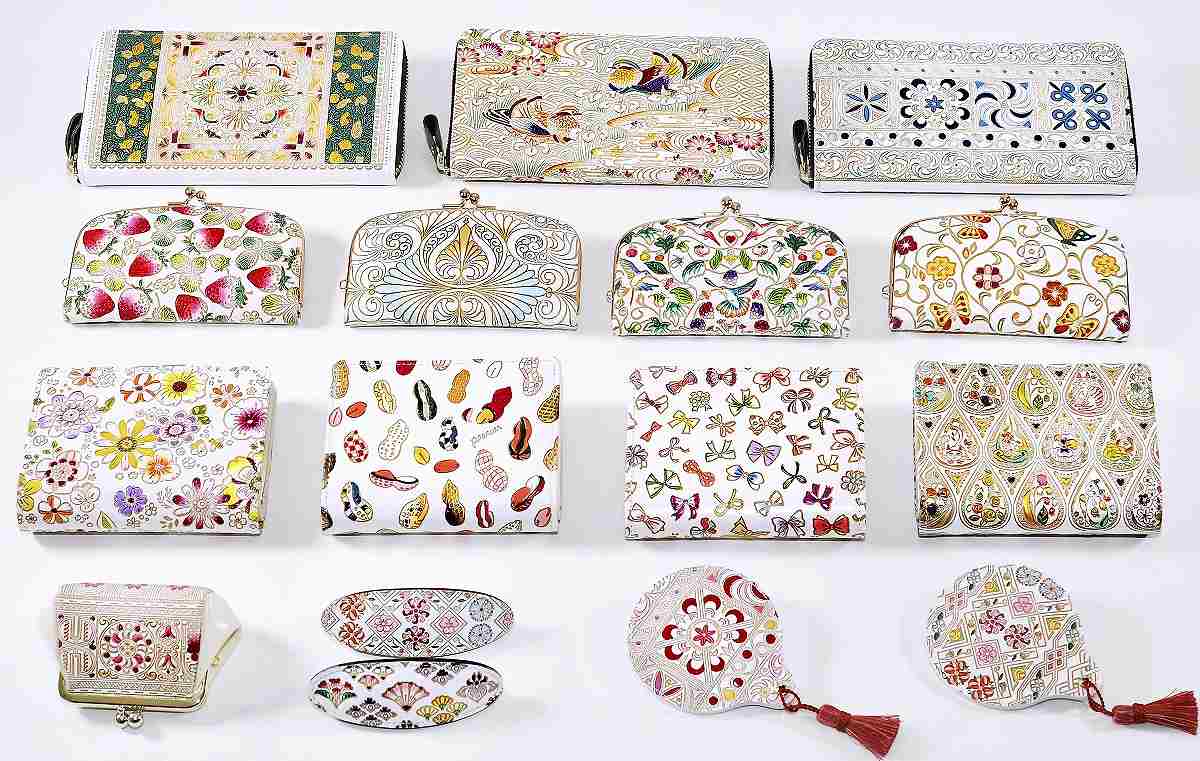 15:37 JST, January 28, 2021
Bunkogawa leatherware is instantly recognizable: colorful patterns painted on white embossed cowhide, with its distinct texture as if weathered from years of use. When holding a top-notch wallet or small handmade items fashioned by bunkogawa artisans, it's as if your mind has been enriched. Such beauty is seared in the psyche.
The name bunkogawa derives from bunkobako, a box in which precious personal belongings are stored.
"Bunkobako boxes were covered by leather and adorned," said Takeshi Tanaka, 60, the representative of bunkogawa specialty shop Bunkoya Ozeki. "That's when people started calling it bunkogawa."
Bunkoya Ozeki's first workshop opened in Mukojima, Tokyo, in 1927. It was founded by Tanaka's maternal grandfather. Nowadays, the shop has two fully owned outlets in the capital, in the Asakusa and Ginza districts.
Bunkogawa traces its roots to Himeji, Hyogo Prefecture, where it has been produced for centuries.
During the Edo period (1603-1867), the lords of the Himeji domain protected the leatherware industry and encouraged production because the craft filled the domain's coffers.
Many exceptional works were shipped to Edo, the old name for Tokyo, and bunkogawa leatherware established a presence in the capital, where local artisans developed their own unique style.
Even the smallest of bunkogawa items goes through the hands of many artisans.
Meticulous creation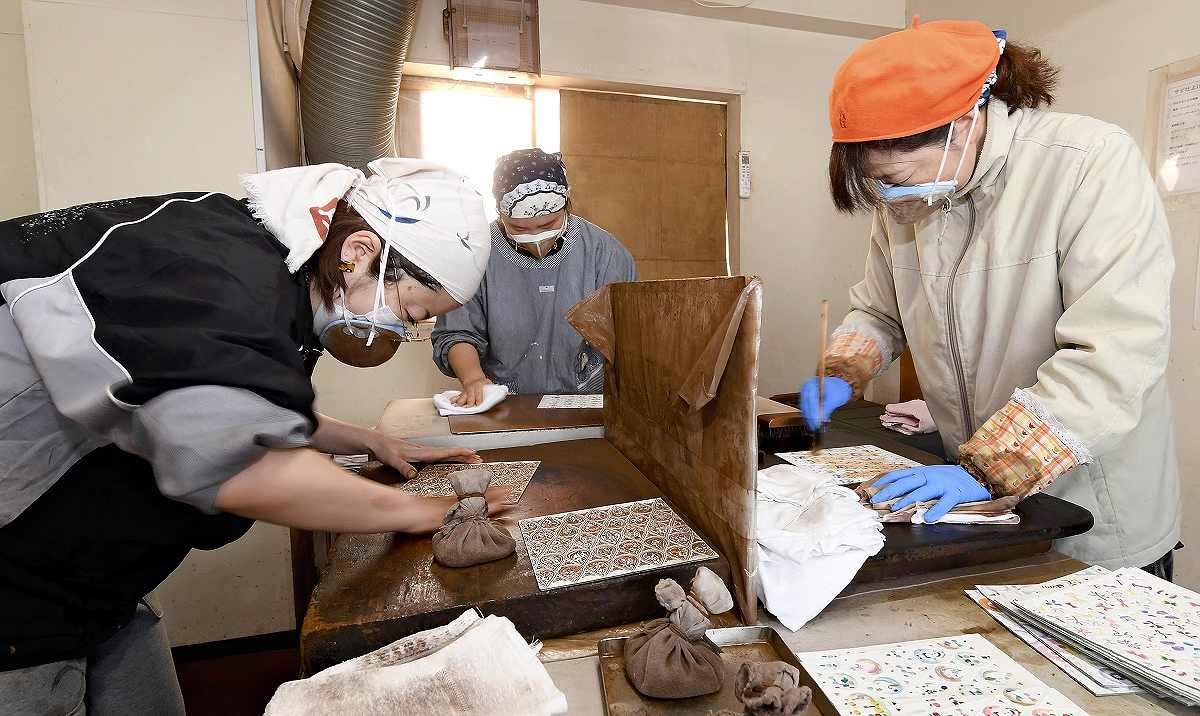 First, cowhide is cut to match each individual product. Every piece of leather is rubbed by hand until it becomes covered with creases, called shibo. The leather is then heated, patterns are embossed into it and colors are added one by one with brushes after the impressions are firmly set on the surface. There are eight basic colors, and an artisan mixes paints to create additional hues to suit each motif.
The most important step is called sabi-ire, or rusting. It's a process that makes the leather look gracefully weathered and time-tested.
The process begins with brushing lacquer on the surface of the product, and then powdered spores of makomo, a plant in the grass family, are sprinkled on the leather and rubbed in as a finish. When the brown color of the spores is added to the unpainted parts of the leather, hidden patterns become visible.
"It's a handicraft, so even the same patterns look different each time," said Tanaka, who is also involved in creating the designs.
Lastly, the pieces of leather are sewn together by a craftsperson.
At Bunkoya Ozeki, more than 100 different patterns are embossed on bunkogawa products. Among them are such traditional motifs as a daimyo feudal lord's procession and the shichifukujin seven demigods. There are also cute patterns, such as strawberries and candies, as well as Egyptian-like patterns. They adorn a rich variety of products, from wallets and hair accessories to smartphone cases and clutches.
Modern bunkogawa is a shining example of a traditional fine art fused with contemporary concepts.
"Bunkogawa is full of fun," Tanaka said. "You can have fun wondering which one to choose. You may be praised by someone for having a bunkogawa product. You can also ponder which one you will get next or which one you will give to someone as a gift.
"I like to create products that amaze customers."
Bunkogawa ornaments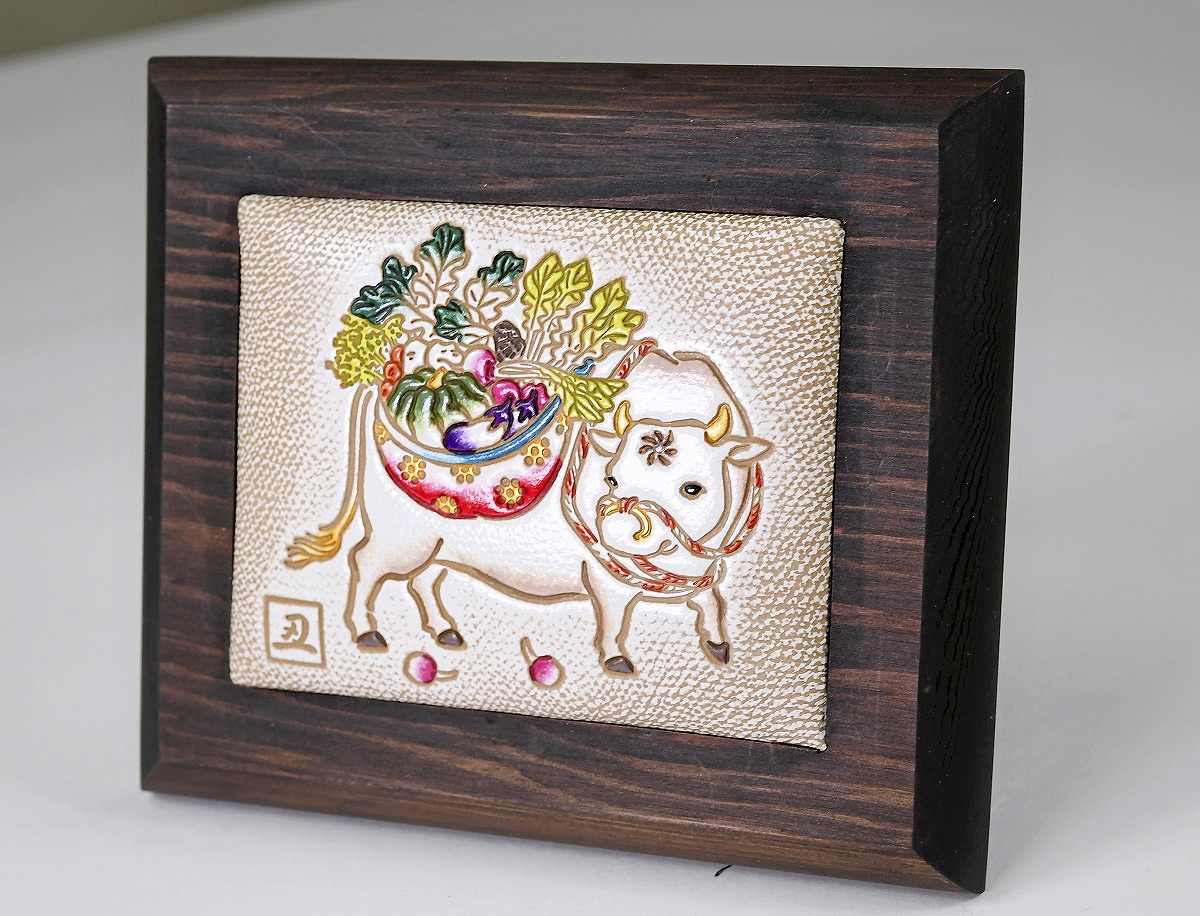 Many bunkogawa products are made for practical use, such as wallets and hanko personal seal holders. But Bunkoya Ozeki also produces framed, ornamental bunkogawa art that can be hung on a wall or placed in a room.
The motifs are mostly related to lucky items, such as figures from the Chinese zodiac. This is the Year of the Ox, and the company created an artwork picturing a cow carrying various vegetables on its back as a symbol of good fortune. There are eggplants, which are synonymous with achievement. Taro is a symbol of fertility. Ninjin carrot, daikon raddish and nankin pumpkins are believed to send your star soaring because their names all end with the letter "n," an alternative of "un," meaning luck.
Set inside a cedar frame, the embossed leather of bunkogawa art looks almost as if it were not only for viewing but for touching, making it the perfect gift for any celebratory event.
Add TheJapanNews to your Google News feed.