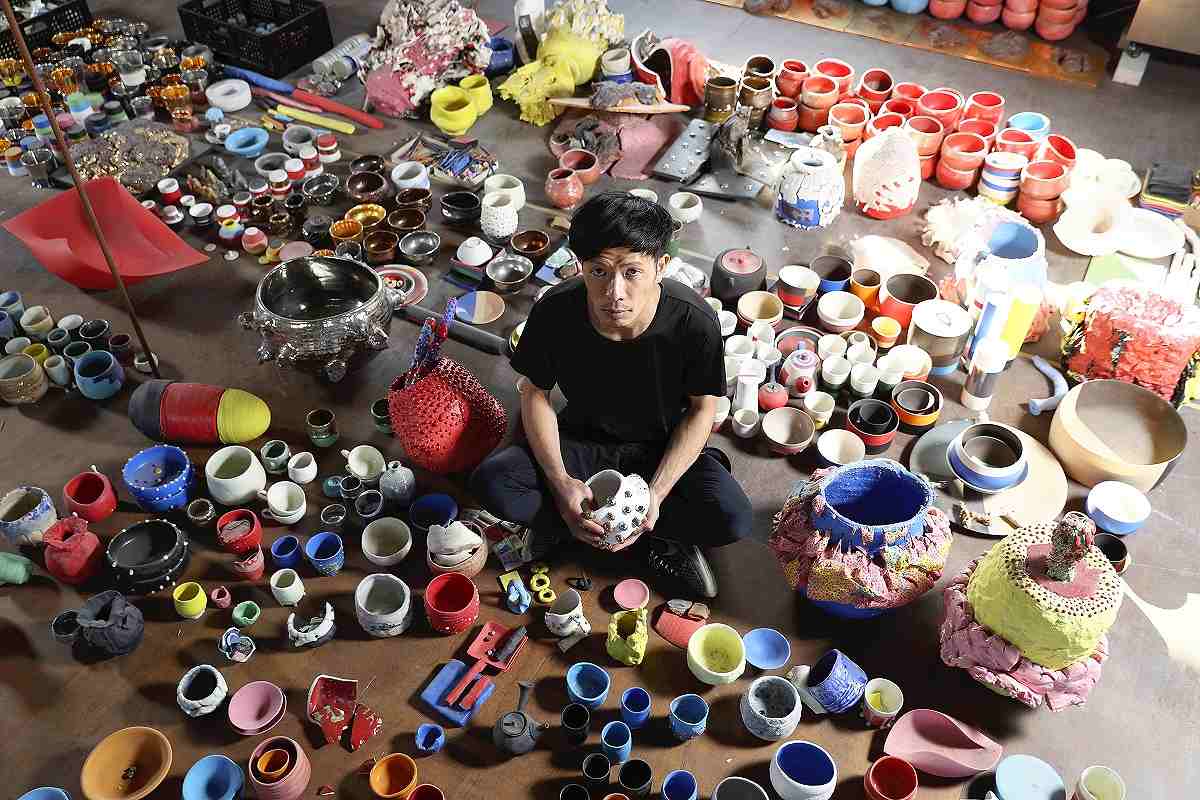 10:30 JST, January 22, 2021
More than seven years have passed since I first laid eyes on the ceramic work of up-and-coming potter and artist Takuro Kuwata at a Tokyo group exhibition. A collection of ceramic pots, cups and other pieces of art, each with their own bizarre shape and tinted in an array of vivid colors, made quite the impression.
Kuwata had been the youngest participant in the 2013 exhibition, showcasing his work alongside veteran ceramic artists, even some who were designated living national treasures.
"What in the world is this?!" That was my initial reaction to a set of his clinquant tea cups, which were far removed from the wabi and sabi subdued image of Japanese pottery. Since then, he has spread his wings at home and abroad, becoming one of the ceramic artists I couldn't help but keep my eye on.
I found myself always wanting to ask him things like, "Why did you go with that shape?" and "What made you choose that color?"
So, I made a trip to his studio in Toki, Gifu Prefecture, a place renowned for Mino ware ceramics. His main workshop is on the first floor. I climbed the steep stairs to the second floor to find a bevy of ceramic works placed on the floor in just about every direction.
"I'm experimenting with all sorts of things," Kuwata said. "Even if I think a piece is a failure at first glance, I keep it because I may be able to see something new if I come back to it later."
Kuwata sat and spoke with me, surrounded by his "failures," each with the potential to become a source of inspiration for some future work.
Kuwata was born in Hiroshima Prefecture in January 1981. He graduated from Kyoto Saga Art College in 2001, majoring in ceramics, and became an apprentice of Hiroshima ceramic artist Susumu Zaima. Zaima taught him to value artistic tastes more highly than uniformity when producing a large number of items in a set, saying: "Use the potter's wheel well. No need to use it skillfully."
Kuwata also honed his art at the Tajimi City Pottery Design and Technical Center in Gifu Prefecture, completing a course there in 2007.
He aggressively pushed himself and submitted his work to many competitions and exhibitions, believing that those who are successful win major awards by their early 30s. His hard work paid off, because in 2006, he won the Hamada Shoji prize, an award that has launched the successful careers of many young ceramic artists, including Kuwata himself.
It was then that the art world began to take notice. After being taken under the wing of a renowned Japanese contemporary gallery, he began to branch out from making cups and bowls into more artistic objects. From around 2009, he began submitting more and more of his work to exhibitions.
He is now partnered with galleries in Britain, the United States and Belgium, and has even collaborated with fashion house Loewe and carmaker BMW.
Three key words that best characterize Kuwata's work — kairagi, ishihaze and tenteki — are unfamiliar words even to most Japanese people. Kairagi describes a ceramic surface that is cracked, grainy or crepe-like like sharkskin because the glaze hasn't sufficiently melted. Ishihaze refers to small stones or other tiny objects contained in clay when it's moist but unexpectedly appear on the surface after the piece is fired in a kiln. Both of these characteristics have been seen in past famous works. Kuwata said that he has encountered such works at an exhibition centered around living national treasure Toyozo Arakawa.
"I thought they were yabai," he said. Yabai is a Japanese slang word that describes something way beyond imagination, either good or bad. Of course, Kuwata was using the word in a positive sense. Ever since his encounter with Arakawa's works, he has incorporated these two characteristics into his pieces.
"I exaggerated the expressions [in my work] using those techniques so that they stand out to ordinary people," he said.
The third key word, tenteki, is a technique of applying glaze on a ceramic surface in a dotted pattern to make the finished work look as though it's sweating. Kuwata said he came across this technique during his apprenticeship under Zaima.
The larger his works became, the bolder the statements they made grew. Glaze running down like lava and protruding stones that looked like baked mochi rice cakes were common.
Kuwata says his use of bright colors is to emphasize such expressions and techniques.
"Painting ceramics all gold or silver is something the greats who came before me, like Rosanjin Kitaoji, did," he said with a serious expression. "My work may seem to stray from the basics of ceramics, but that isn't my intention."
That being said, he says that he wants to make more contemporary items, rather than adhering to the masters of the past.
"Japanese people today sit in chairs and eat meat. It's completely different from how it was in the time leading up to the Edo period [1603-1867], or even before World War II. Wouldn't it be odd if only ceramics remain unchanged after all this time? I'm sure masterpieces from the Azuchi-Momoyama period [late 16th century] were created to suit the contemporary needs of that time," he said.
Japanese aesthetics have indeed changed over time. With such change, words describing beauty and aesthetic sensations have changed as well, such as ito-okashi (very tasteful), wabi (serene melancholy) and iki (dashing chicness). Following this trend, Kuwata seems to have deliberately chosen "yabai" as a word to describe contemporary aesthetics in Japan, or so I understood.
As he answered my questions about the colors and shapes of his works, his pop and funk tea bowls started looking even more outrageous.
■ Remembering a mentor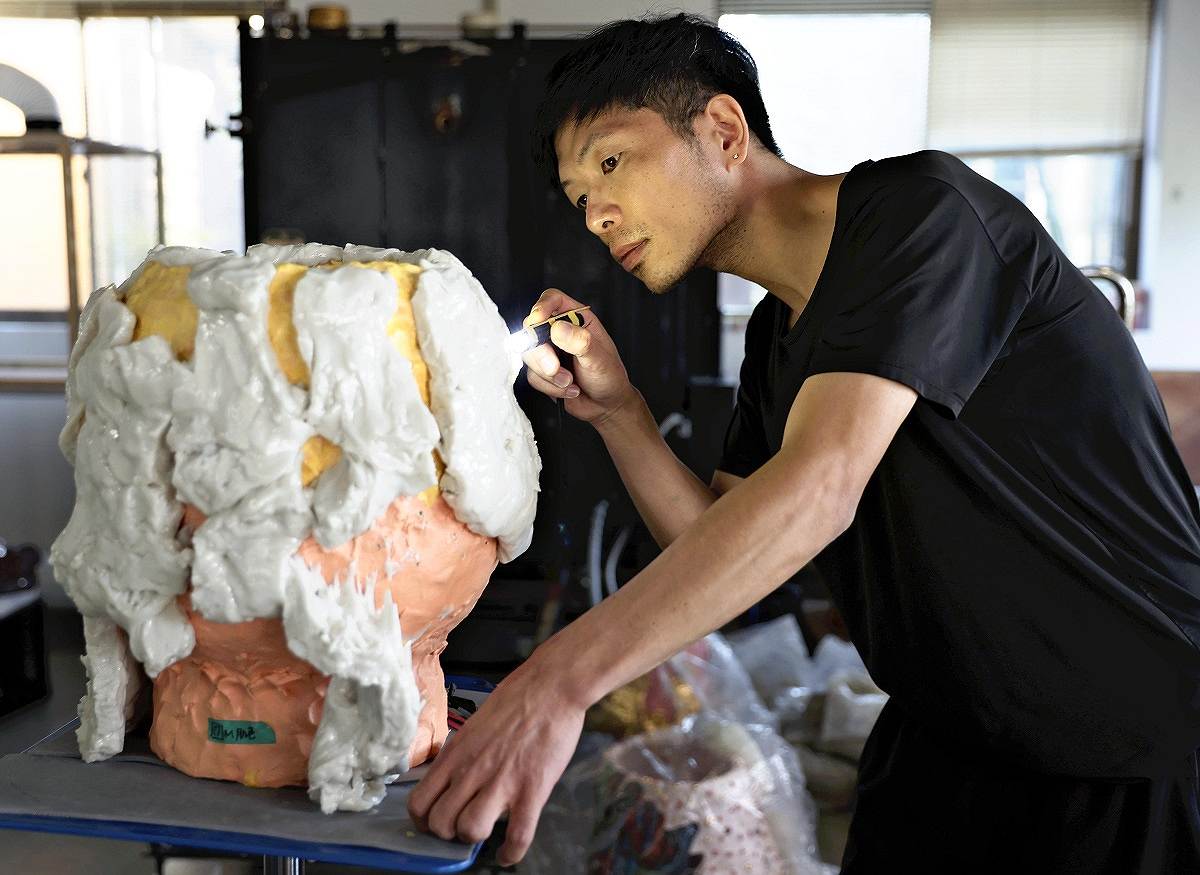 Kuwata said his friendship with Seizo Hayashiya — a specialist in the study of tea ceremony ceramics who died in 2017 at the age of 88 — left a great impression on him.
The friendship started shortly after Kuwata moved to Gifu Prefecture. When Hayashiya came to the prefecture to give a lecture, Kuwata showed him tea bowls he made.
"When I impudently showed him my tea bowls after a tea ceremony, he always kindly took time to look at them," Kuwata recalled.
One time Hayashiya shrewdly perceived Kuwata's cocky desire to make his work look better, noticing a single drop of glaze he had put on the rim of a tea bowl.
Hayashiya selected Kuwata's bowl to use at a memorial tea ceremony for the 400th anniversary of the death of Furuta Oribe, a famous warlord and tea master in the 16th and 17th centuries, and let Kuwata submit works to exhibitions Hayashiya supervised.
"In this way, he let me study closely with him. He also looked at my artistic objects and encouraged me to make more of them, saying; 'Don't stop. You must not waver.' I certainly owed him a lot," Kuwata said.
Kuwata's works are on display at the group exhibition "Classic Revival and Modern Japanese Ceramics" at Pola Museum of Art in Hakone, Kanagawa Prefecture, until Sept. 5.
Add TheJapanNews to your Google News feed.