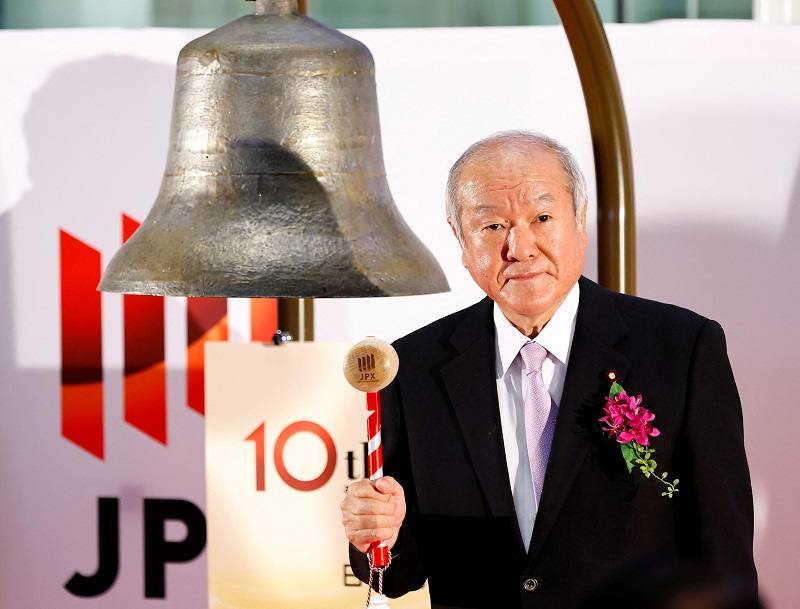 16:57 JST, January 5, 2023
Tokyo financial markets in 2023 are likely to be heavily swayed by Japanese and U.S. monetary policies, as well as the global economy.
The markets started the year with a stronger yen and weaker stocks on expectations that the Bank of Japan will continue to modify its monetary easing measures.
In the foreign exchange market, the yen, having appreciated against the dollar since the beginning of the year, at one point on Tuesday hit around ¥129.50 to the dollar, its highest value in some seven months.
Traders have been buying more yen and selling more dollars in anticipation of a narrowing interest rate spread between Japan and the United States. The yen dropped below ¥130 again on Wednesday evening.
In December, the central bank expanded the upper ceiling on long-term interest rate fluctuations from 0.25% to 0.5%.
Bank of Japan Gov. Haruhiko Kuroda explained that this was "not an interest rate hike," and stressed in his speech on Wednesday that "the bank intends to continue monetary easing to raise prices in a way that is accompanied by wage growth." However, anticipation continues to smolder in the market that the bank will make further policy modifications.
Some have indicated that the U.S. Federal Reserve may halt interest rate hikes by the end of the year. Teppei Ino of the MUFG bank said the yen could appreciate to about ¥120 to the dollar.
The Tokyo equity market is also likely to be greatly affected by overseas economic trends.
There is a widespread view in the market that the Fed will keep the policy rate at around 5% for some time after continuing to raise interest rates through May. Higher interest rates could cool the economy too much by curtailing consumption and investment.
Some are concerned about the negative impact of a rising yen and a weakening dollar.
"[A stronger yen and weaker dollar] will increase the risk of downward [revisions] by companies, which will make their business performance less solid," said Kazunori Tatebe of Goldman Sachs Japan Co.
Yet, Japan's economy is expected to be stronger in 2023 than overseas economies given the delayed reopening of Japan's economy from the pandemic.
"If Japan's economy recovers due to the resumption of economic activity, including inbound travel, it will probably boost stock prices," said Maki Sawada of Nomura Securities Co.
Add TheJapanNews to your Google News feed.