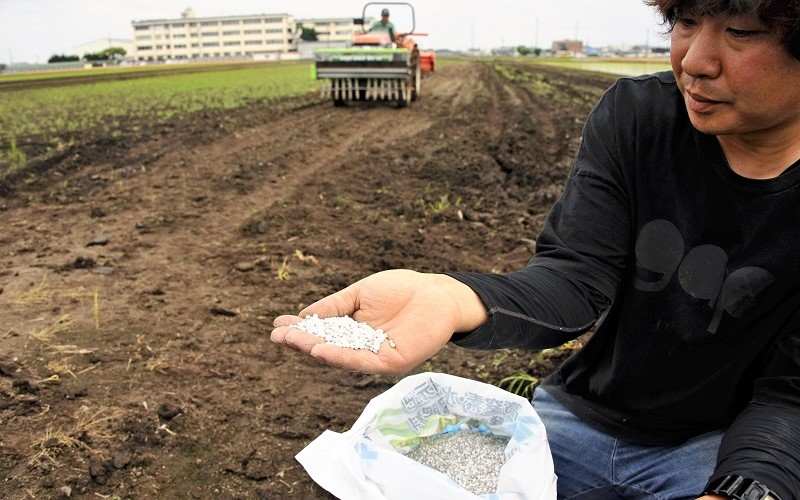 1:00 JST, June 29, 2022
Prices of chemical fertilizers, which are essential for agriculture, have shot up because of such factors as the war in Ukraine and the plunging value of the yen.
The problem has emerged because Japan relies on other countries, including China and Russia, for most of the materials used to produce fertilizers.
Concern is growing that the situation will result in price hikes for vegetables and other foods, and have a negative impact on farming households.
90% price surge
Vege Green Takeuchi, a farming corporation, is located in a suburb of Ota, Gunma Prefecture, where rice paddies and plastic greenhouses are widespread.
Mitsutoshi Takeuchi, 38, who runs the corporation, and his father Yoshie, 70, were busy preparing to spread fertilizer on their rice paddies in early June.
The prices of chemical fertilizers, which are widely used for growing rice and other farming products, have been rising in Japan.
The price of the most commonly used fertilizer rose in April to ¥3,397 per 20 kilograms, up about 17% from April last year.
The price of fertilizers that the National Federation of Agricultural Cooperative Associations (JA Zen-noh) sells to regional member cooperatives from June to October is scheduled to rise by up to 94% from the preceding period of November last year to May this year.
Takeuchi needs 150 bags of chemical fertilizer, each of which contains 15 to 20 kilograms, for his nine hectares of rice paddies.
"My only choice is to find a way to increase yields even while decreasing the amount of chemical fertilizer," he said.
Prices of other necessary materials, such as vinyl, have also been surging. Takeuchi said that he will have to raise the price he sells some of his rice harvest for by nearly 10%.
Imports stopped, restricted
Chemical fertilizers are made mainly by mixing urea, ammonium phosphate, potassium chloride and other elements. Domestic demand for fertilizers amounts to at least 900,000 tons a year.
Japan relies on overseas supplies for most of the three key materials.
It depends on Russia and Belarus, which is a close ally of Moscow, for nearly 30% of its potassium chloride supply, but imports from the two countries have effectively stopped due to the increasingly tense situation in Ukraine.
China had supplied Japan with about 90% of its ammonium phosphate and nearly 40% of its urea. But in October last year, Beijing implemented restrictions on exports of the materials to prioritize domestic demand.
As a result, in April the import price of urea rose to about ¥120,000 per ton, that of ammonium phosphate rose to about ¥140,000 and potassium chloride increased to about ¥80,000. These prices were 2.1 to 2.6 times those in April last year.
The price hikes for such materials have pushed up prices of chemical fertilizers. Although Japan has tried to import the materials from other countries, it faces a tough road because there are a limited number of countries that produce the materials.
Food prices may rise
According to a survey conducted on agricultural business operators by the Japan Agricultural Corporations Association in May, more than 60% of them said that financial conditions were "hard," but more than 90% of the respondents also replied that they had not been able to pass on the financial burden in their selling prices.
Though the government is considering new subsidies, the high prices of chemical fertilizers are expected to last some time.
If farmers are unable to raise their prices to cover the costs and an increasing number of them eventually stop farming, production volumes will fall and food prices will rise further. It is feared that this may be the beginning of a vicious cycle.
If the stable supply of chemical fertilizers becomes difficult, it is possible that the situation will adversely affect the quality and harvest volumes of agricultural products.
Heavy reliance on chemical fertilizers is also seen as problematic.
Akihiko Hirasawa, basic research division chief of Norinchukin Research Institute, said, "We should lower reliance on overseas supply as much as possible by stopping the excessive use of chemical fertilizers and making progress in the use of farmyard compost or the conversion of sewage into fertilizer."
Global food security
During a session of the House of Councillors' Audit Committee on June 13, a ruling party member expressed a sense of urgency about the surging prices of chemical fertilizers, saying: "This situation will lead to farmers quitting in large numbers and further surges in food prices. More serious impacts on people's daily lives are unavoidable."
An opposition party member also said, "It is problematic to see national security only from the perspective of defense budgets."
For Japan, which relies on imports for a large amount of its food consumption, food security is a major issue.
Many other countries are strategically tackling food security. Their sense of urgency, based on such factors as geopolitical risks, has encouraged emergency preparations.
China skillfully connects food security with the expansion of its own influence on other countries.
According to Akio Shibata, representative of the Natural Resource Research Institute, in the wake of a global food crisis in 2008, China raised the purchase prices of rice and wheat in 2009 and hammered out a policy to increase state stocks of major farming products.
It seems that Beijing also has its eye on aiding neighboring countries that struggle with food shortages. Furthermore, China has been making moves to buy foreign mines that produce raw materials for chemical fertilizers.
Shibata said: "Japan's purchasing power has waned due to the yen's falling value. Food security is fundamental to national security. Like other countries, Japan needs to urgently and strategically strengthen its foundations of the agricultural, forestry and fisheries industries."
Add TheJapanNews to your Google News feed.