Can Shinkansen Avert Japan's Looming Logistics Crisis? Overtime Limits Might Strand 30% of Nation's Cargo in 2030
17:57 JST, September 25, 2023
Shinkansen trains are increasingly being considered to transport packages amid concerns over the "2024 problem," or fears that stricter regulations on overtime work by truck drivers will lead to stagnation in the logistics industry.
According to one estimate, about 35% of cargo nationwide will not be able to be transported in 2030. Hopes have therefore grown for high-speed mass transportation by Shinkansen trains, but there are many challenges to overcome.
Laws related to work style reform, which are aimed at correcting long working hours, will be additionally applied to truck drivers from April 2024. As a result, overtime will be capped at 960 hours per year. This is expected to improve the working environment, but there have been concerns that the logistics industry will be plagued by even more severe labor shortages, and that its transportation capacity will decline.
Nomura Research Institute, Ltd. has estimated that about 35% of the nation's cargo will be unable to be transported in 2030. The Tohoku region is likely to be most affected at 41%, followed by Shikoku at 40%, and Kyushu and Hokkaido at 39%.
The impact will likely be more prominent in regional areas where the population is declining.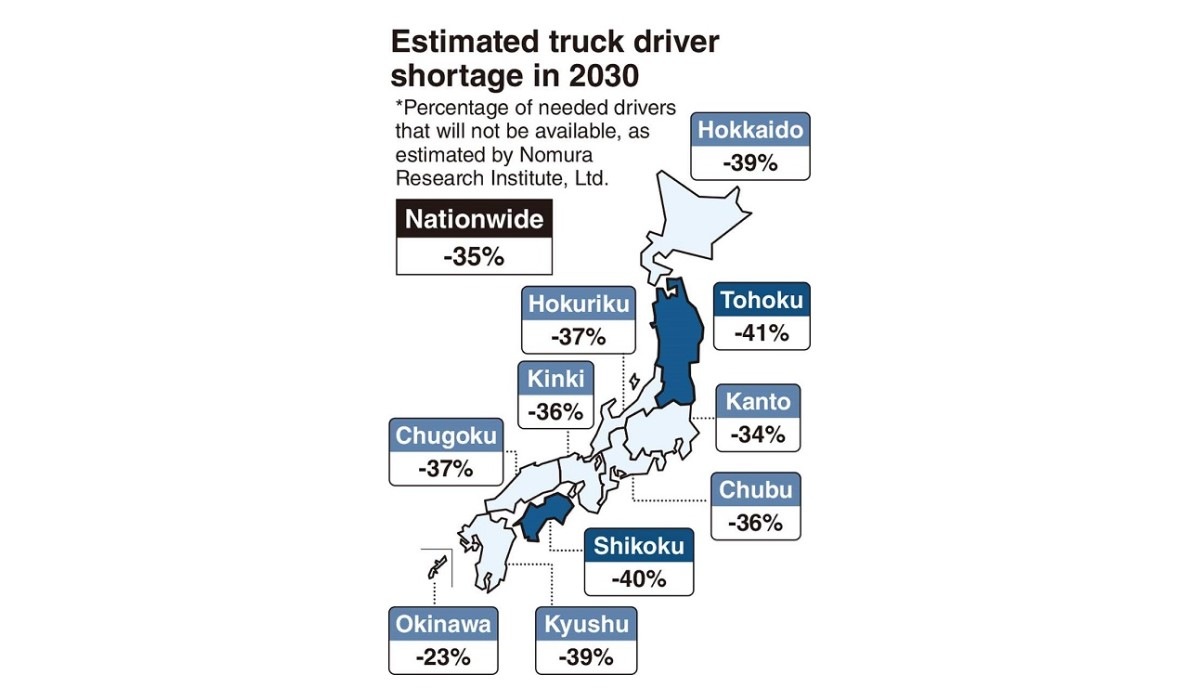 Hurdles for Shinkansen freight
With this crisis looming, the Land, Infrastructure, Transport and Tourism Ministry set up an expert panel in March last year to launch discussions on the future of rail freight. One of the possibilities it has considered is freight bullet trains, or train services specifically for transporting large volumes of cargo at high speeds.
A single freight train of this kind could carry up to 650 tons of cargo, equivalent to the capacity of 65 10-ton trucks. If realized, such a system is expected to revolutionize logistics. An interim report released by the panel in July last year said it would examine the feasibility of this idea.
Last October, Japan Freight Railway Co. (JR Freight) pledged to consider the design of rail cars for freight transportation, aiming at achieving the target by fiscal 2025, but challenges lie ahead.
JR Freight has only few tracks of its own and pays royalties to other JR companies to operate its cargo trains. Shinkansen trains run in large numbers, especially in urban areas, and cannot operate late at night due to noise control and track maintenance work. The current situation leaves little room for operating Shinkansen freight services.
There is also the issue of whether heavy freight cars can run on railways designed for passenger trains.
Fresh scallops
East Japan Railway Co. (JR East) began high volume transportation using existing passenger Shinkansen trains on an experimental basis in June this year.
Shortly after noon on June 16, boxes were removed one after another from a Tohoku Shinkansen train that had arrived at JR Omiya Station in Saitama, traveling there from Shin-Aomori Station. When one of the boxes was opened, live scallops were seen moving inside.
A specialty of Aomori Prefecture, the scallops reached Omiya in about three hours with their distinctive freshness maintained. The scallops were then reloaded onto trucks and transported to supermarkets in the Tokyo metropolitan area, where they were on shelves by the evening of the same day.
JR East launched the Hakobyun Shinkansen transportation business in October 2021 amid the COVID-19 pandemic, as a measure to compensate for losses from a sharp decline in passenger numbers. This business utilizes space originally used to prepare for onboard sales, which can hold only about 40 boxes per train.
However, passenger cabins have been used in the experimental transportation service, enabling a 15-fold increase in the cargo volume by loading about 600 packages at the base of seats on three of the 10 train cars.
The other cars were used by passengers.
In late August, a special Joetsu Shinkansen train carrying only cargo was operated between Niigata and Tokyo rail yards, transporting about 750 packages. Kyushu Railway Co. (JR Kyushu) also experimentally used passenger cabins on a Shinkansen train to carry about 200 packages from Kagoshima-Chuo to Hakata stations in February this year.
Issues to be considered regarding such freight services include the transportation of refrigerated and frozen goods in room-temperature cabins; securing work space at stations; and what to do when packages cannot be loaded by the time a Shinkansen train departs due to bad weather.
JR East aims to conduct such Shinkansen freight transportation on a trial basis multiple times this fiscal year and commercialize the service as early as fiscal 2024. The company also plans to link this service to air cargo in cooperation with other companies, with a view to expanding the service overseas.
"We have high hopes about how far we can go with utilizing Shinkansen," said Takako Tsutsumiguchi, manager of JR East's marketing division. "We're aiming to realize [this service] by examining relevant issues one by one, so that we can help resolve the 2024 problem."
Add TheJapanNews to your Google News feed.