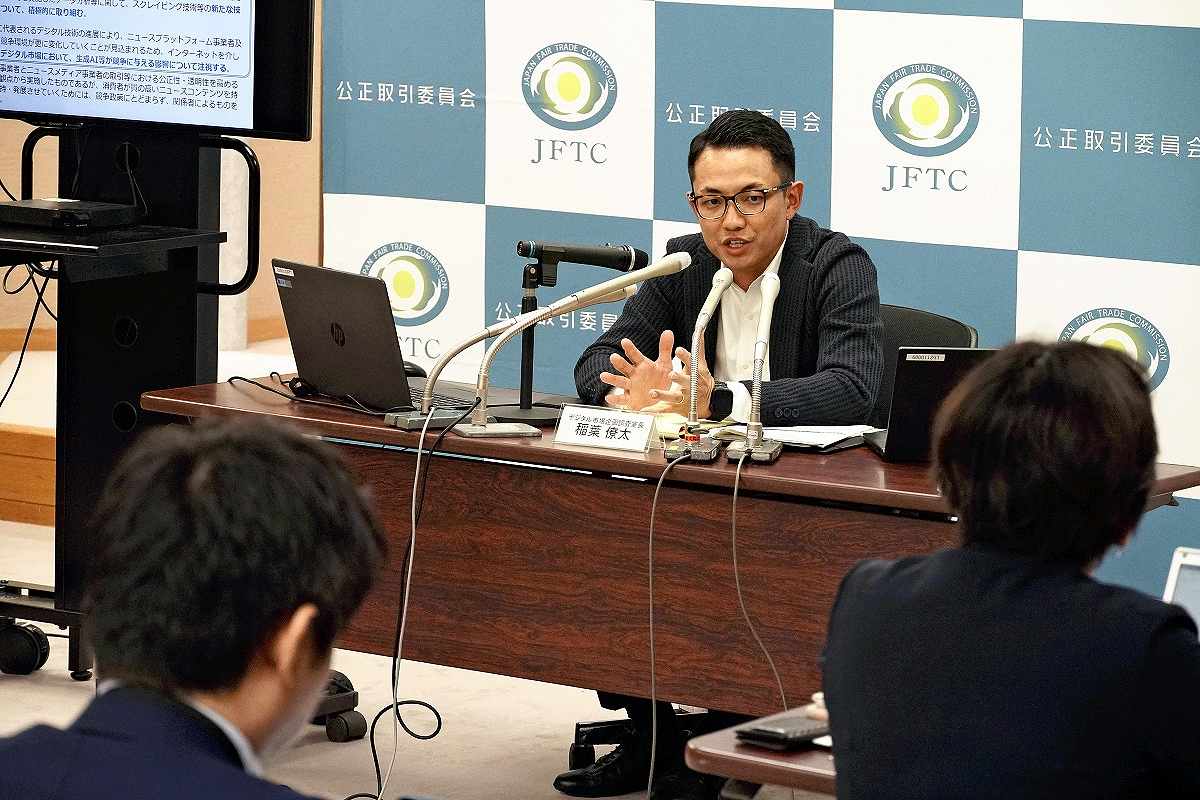 17:00 JST, September 22, 2023
A survey report issued Thursday by the Japan Fair Trade Commission urged fairer business dealings between major information technology companies and media organizations for the use of news articles.
It is crucial to pay an appropriate price for high-quality news, and the JFTC plans to support media organizations in their negotiations for fair remuneration.
'Free' articles everywhere
"It's essential for democracy that news is delivered to people appropriately," a senior JFTC official said at a press conference Thursday. "Certain business dealings could make it difficult for consumers to receive quality news content."
The JFTC conducted its survey due to an increase in the number of people reading news articles on news portals that post articles collected from media organizations. In a fiscal 2022 survey conducted by the Internal Affairs and Communications Ministry regarding the most-used news services, 47% of respondents selected "news portals."
Consumers can access news articles for free on such portals and other digital platforms. Since an increasing number of people perceive such texts to be "free," media organizations including newspaper companies and magazine publishers have seen a decline in sales.
Nowadays, news distribution is dominated by IT giants, which has catalyzed the collapse of many local newspaper businesses in the United States and other countries. Against this background, concerns have been growing over a decline in the monitoring of public administrations in various regions. If the functions of media organizations deteriorate, it could hinder people from forming conclusions and opinions based on factual information.
'Closed box'
With the growing influence of news portals, concerns are mounting that the license fees paid for news articles are unreasonably low. In light of these circumstances, the JFTC conducted its survey with the aim of helping promote fairer business dealings in the news realm.
A key point of the survey was that it revealed the prices paid by news portal operators to media organizations for use of news articles.
Until now, individual media organizations had no way of knowing how much similar companies were being paid for news articles: Knowledge of such remuneration had been a "closed box," according to one senior JFTC official.
The JFTC said that it had highlighted the fees shelled out by high-paying news portal operators, and other organizations that disburse smaller payments to help media bodies use such information as a bargaining tool.
On Thursday, Yahoo Japan Corp. released a statement saying it would consider adopting necessary measures after closely examining the report.
Search engines
The JFTC survey also touched upon the role of search engines such as Google, which only partially display news articles on search results pages. The JFTC stated that most viewers only look at the headlines and abstracts of news articles displayed on search results pages, and do not visit the websites of the media organizations that publish the full articles.
While some media organizations have insisted that license fees be paid for the use of news articles on search results pages, the JFTC merely recommended that both sides negotiate toward a shared view on appropriate prices and related matters.
"Given that generative artificial intelligence could further the spread of disinformation, the value of information based on verifiable facts is increasing," said Kazuhiro Taira, a professor of media studies at J.F. Oberlin University. "To ensure people are served with high-quality information, all parties concerned should expedite efforts to address the situation."
---
Add TheJapanNews to your Google News feed.