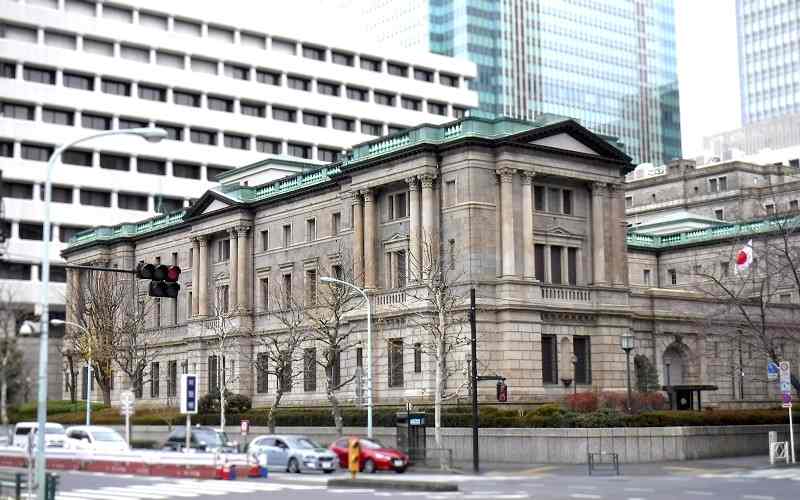 10:23 JST, September 12, 2023
The market yield on newly issued 10-year government bond, regarded as Japan's benchmark long-term interest rate, temporarily jumped to 0.700% Monday, hitting the highest level in nine years and eight months.
The 10-year yield surged 0.050 percentage points from the previous weekend's close because of the speculation the Bank of Japan will move to modify its easy monetary policy. Government bond prices declined.
In the bond market, expectations were clear that Japan's economy will be on a steady recovery path when concerns over the U.S. economy eased. This led to the view that the central bank, which aims for sustained price increases accompanied by wage hikes, is moving to modify its monetary easing policy.
The bank's yield curve control (YCC) is designed to keep yields on long-term 10-year Japanese government bonds around zero. In July, the bank decided to conduct YCC with greater flexibility, effectively raising the upper limit of the long-term bond yield that the bank would allow to 1% from 0.5%.
On Monday, long-term interest rate rose immediately after the start of trading. But the central bank did not move to make an unplanned purchase of a large amount of JGBs to counter rising interest rates as of Monday morning, further raising the rate.
During an interview with The Yomiuri Shimbun reported Saturday, Bank of Japan Gov. Kazuo Ueda said, "there are various options," including lifting the negative interest rate policy, once the central bank is confident that Japan has achieved sustainable price increases accompanied by rising wages.
"It is not impossible that we will have enough information and data by the end of this year," including the outlook for wage increases next spring, he said.
Add TheJapanNews to your Google News feed.