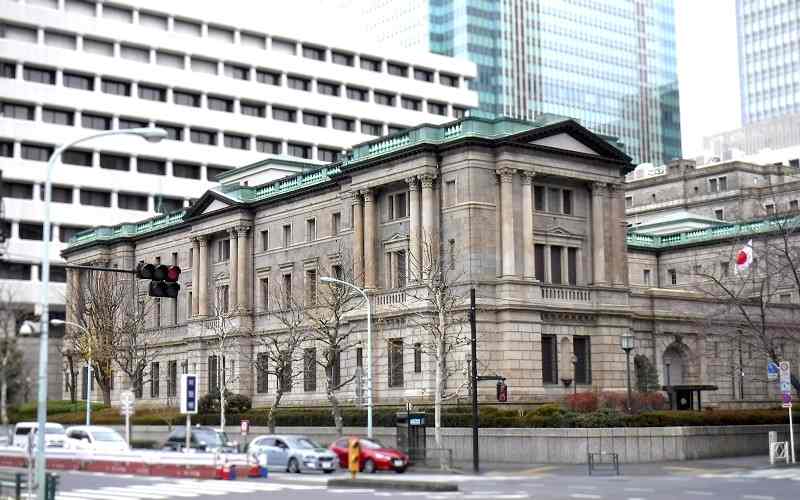 6:00 JST, September 10, 2023
Bank of Japan Gov. Kazuo Ueda expressed wariness about the risks of large-scale monetary easing and strong hopes for the country to completely emerge from deflation in his first exclusive media interview since taking office in April.
Ueda spent more than 30 minutes answering questions about the future direction of the bank's monetary policy management.
His responses highlighted the difference between the current BOJ governor and his predecessor Haruhiko Kuroda, who initiated the nation's large-scale monetary easing policy.
Ueda described the price stability target as "the state in which the inflation rate remains around 2% after monetary easing policy ends." He said, "There is still some distance to go before it is realized."
According to Ueda, the BOJ's view of price trends until now "had somewhat underestimated the increase in the inflation rate."
Ueda's remarks seem to reflect regrets concerning the central bank's past policy of maintaining low-interest rates to stimulate the economy, based on an outlook of low price trends. He also hinted at the possibility of a shift in stance to tapering due to the surge prices.
He explained that the policy modification made at the bank's monetary policy meeting in July, which effectively capped the bond yields at 1.0%, was "a mechanism intended to slightly change the balance" between the monetary easing effect of stimulating the economy and the side effect of distorting market interest rates.
This indicates that Ueda is ready to tolerate weakening monetary easing to a certain degree, compared to Kuroda, who insisted on "maintaining substantial monetary easing."
Nevertheless, Ueda's intention of continuing with the basic monetary framework, including the negative interest rate policy, is "based on his experience," according to a senior official at the central bank.
From 1998 to 2005, Ueda was a member of the BOJ's Policy Board, which decides monetary policy. Ueda opposed the board's plan to lift the zero-interest rate in 2000, citing concerns about deflation. The bank ultimately decided to lift the zero-interest rate, but the country has remained in a deflationary phase.
Ueda has been waiting for a quarter of a century for the country to completely emerge from deflation. Should the Japanese economy return to a phase in which prices continue to fall, there will be limited room for the central bank to take monetary easing measures.
Add TheJapanNews to your Google News feed.