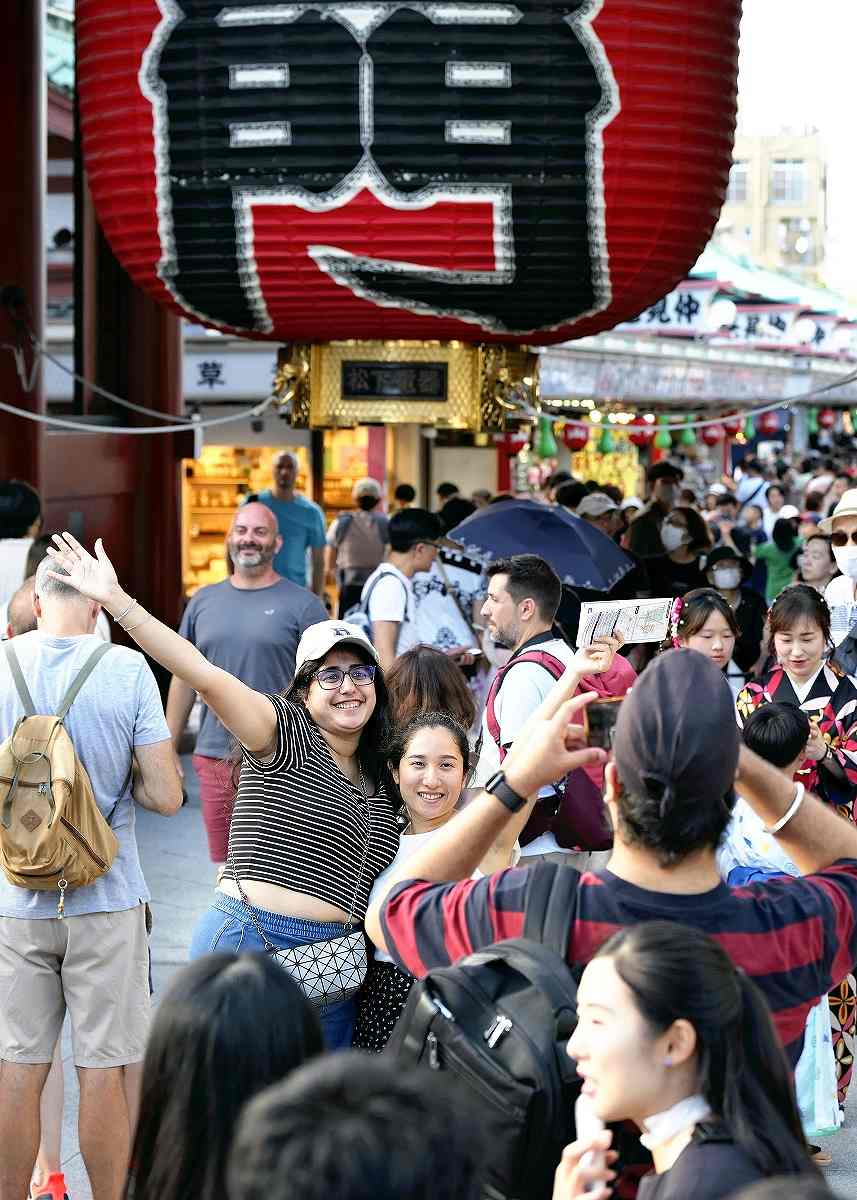 1:00 JST, August 13, 2023
The number of Chinese visitors to Japan is expected to pick up considerably after the Chinese government on Thursday lifted its 3½-year-old ban on group travel to Japan.
The end of the ban is likely to serve as a tailwind for the Japanese economy, but many challenges lie ahead for the country to accept a large number of tourists from China, such as a tourism sector manpower shortage and a diminished number of flights on Japan-China routes.
¥5 tril. target
The area around Sensoji temple in Asakusa, Tokyo has recently been bustling with tourists from Europe, North America and elsewhere.
"We used to have Chinese tourist groups who would buy a lot from us. We hope they will come back again," said a 54-year-old ningyoyaki shop owner. Ningyoyaki are small, doll-like cakes with sweet red bean paste inside.
The number of foreign visitors to Japan has been recovering since last autumn. It was about 2.07 million in June, the first post-pandemic month in which it exceeded 2 million. The number was about 72% of what it was in June 2019.
Due partly to the yen's decline, spending by inbound tourists in April to June reached 95.1% of the level posted during the same period in 2019.
However, holidaymakers from China, who once accounted for 30% of the total number of inbound tourists, had been limited to those traveling as individuals and had remained at only 20% of levels seen during the pre-pandemic period.
The highest annual number of inbound tourists to Japan to date was 31.88 million in 2019. The government has set a target of surpassing this number by 2025 and aims to increase the amount of money spent by foreign visitors to Japan to ¥5 trillion in the early stages.
China's decision to allow group tours is expected to be a huge tailwind. Prime Minister Fumio Kishida told reporters in Toyama Prefecture: "The recovery in inbound tourists from China will advance further. We aim to revive tourism in a sustainable manner."
According to the Japan Department Stores Association, tax-free sales to foreign visitors at department stores nationwide in June recovered to a level just 0.8% below the level posted in June 2019. Takashimaya Co. aims to capture more demand through greater efforts to reach Chinese visitors via social media.
Akira Hirano, an executive officer of leading restaurant chain operator Skylark Holdings Co., also said at a press conference to present financial results on Thursday, "Our sales from inbound tourists have already been increasing, but I think they will increase by two to three times."
Manpower shortage
However, there are many challenges to be addressed in terms of readiness for Japan to accept visitors from China.
Japanese airlines are flying fewer Japan-China flights than they used to. In July, All Nippon Airways was operating only 35% as many China flights as it did before the pandemic. Japan Airlines' operations on Chinese routes as of August was only 55% of pre-pandemic levels.
Also critical is a shortage of manpower. Some hotels are limiting their occupancy rates because they cannot secure enough staff. A company that operates luxury hotels in Kyoto and elsewhere said: "We are pleased with China's latest decision. But this may make it even more difficult for us to secure manpower."
Yayoi Sakanaka, a research analyst of Mizuho Research & Technologies, Ltd., estimates that the number of tourists from China in 2023 will recover to 46.6% of the 2019 level. But she also pointed out, "The supply of services will not be able to catch up, thus failing to meet demand by a certain amount."
Around some popular tourist destinations, crowds of tourists have already been causing traffic congestion and other problems. Initiatives to lure tourists to a wider variety of destinations are likely to become ever more important.
Add TheJapanNews to your Google News feed.