Overseas Construction Projects for Japan Contractors Back to Pre-Pandemic Level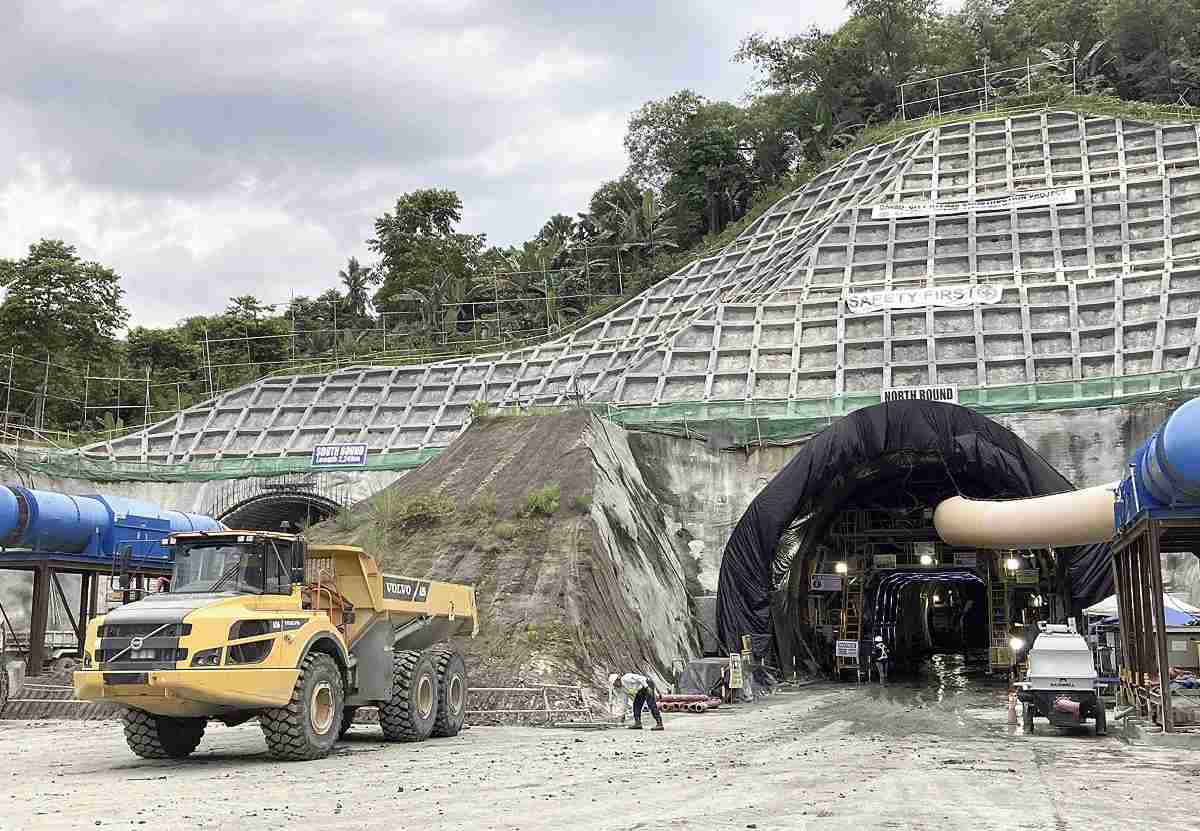 14:43 JST, August 6, 2023
DAVAO, Philippines — Overseas construction projects undertaken by Japanese general contractors are doing well, with the total orders received in fiscal 2022 recovering to the pre-pandemic level.
This recovery has been supported by projects in Asia, where economic growth is continuing. However, Japan's official development assistance continues to decline, and it is increasingly important to assess the business risks in emerging countries.
Workers were busy recently at a tunnel excavation site in Davao in the southern Philippines. The tunnel is being constructed, along with a bypass road, as part of Japan's ODA. The plan is to create two 2-kilometer-long tunnels for traffic going in opposite directions.
The construction is being handled by a joint venture involving such companies as major general contractors Shimizu Corp. and Takenaka Civil Engineering & Construction Co.
"When completed, these will be the first full-scale mountain tunnels in the Philippines," said Shimizu's deputy head of the site. "We're determined to do the construction as only Japan can, focusing on the quality of workmanship and avoiding accidents."
According to a report by the Overseas Construction Association of Japan, Inc., which consists of general contractors and others, overseas construction orders in fiscal 2022 totaled ¥2.0485 trillion, far exceeding the ¥1.788 trillion in fiscal 2021.
During the pandemic, the total dropped to ¥1.1142 trillion in fiscal 2020, but it is now back to the pre-pandemic level.
Buildings and infrastructure
By region, Asia accounted for 54.9% of the total at ¥1.1244 trillion. Looking at individual countries, the United States was at the top, followed by Southeast Asian nations — Singapore second, Indonesia third, the Philippines fourth and Thailand fifth. Private-sector projects account for ¥1.3433 trillion of the total contracts.
Emerging economies in Asia are seeing remarkable economic development, and commercial high-rise buildings are being built one after another.
Infrastructure development is also progressing at a rapid pace in emerging countries. In addition to elevated roads and subways in urban areas, roads and ports are being constructed in rural areas, and many of these projects are being carried out as part of Japan's ODA.
"Projects that were halted due to the pandemic started to move again," said an official engaged in international assistance. "The flow of infrastructure development will probably accelerate for some time to come."
Competition with China
There are also many challenges involved in overseas projects. According to the Foreign Ministry, Japan's ODA budget, based on the initial budget, was ¥570.9 billion in fiscal 2023, about half the peak of ¥1.1687 trillion in fiscal 1997. It is necessary to strike a balance between contracting ODA projects and projects for private-sector companies.
Competition is also intensifying, with Chinese firms increasing their presence in infrastructure projects.
Caution is also required regarding the risks associated with emerging economies. In Myanmar, some projects were temporarily suspended after the coup in February 2021.
"Overseas projects are prone to unexpected problems, and it's increasingly necessary to carefully consider the risks," said a member of a major general contractor.
Add TheJapanNews to your Google News feed.