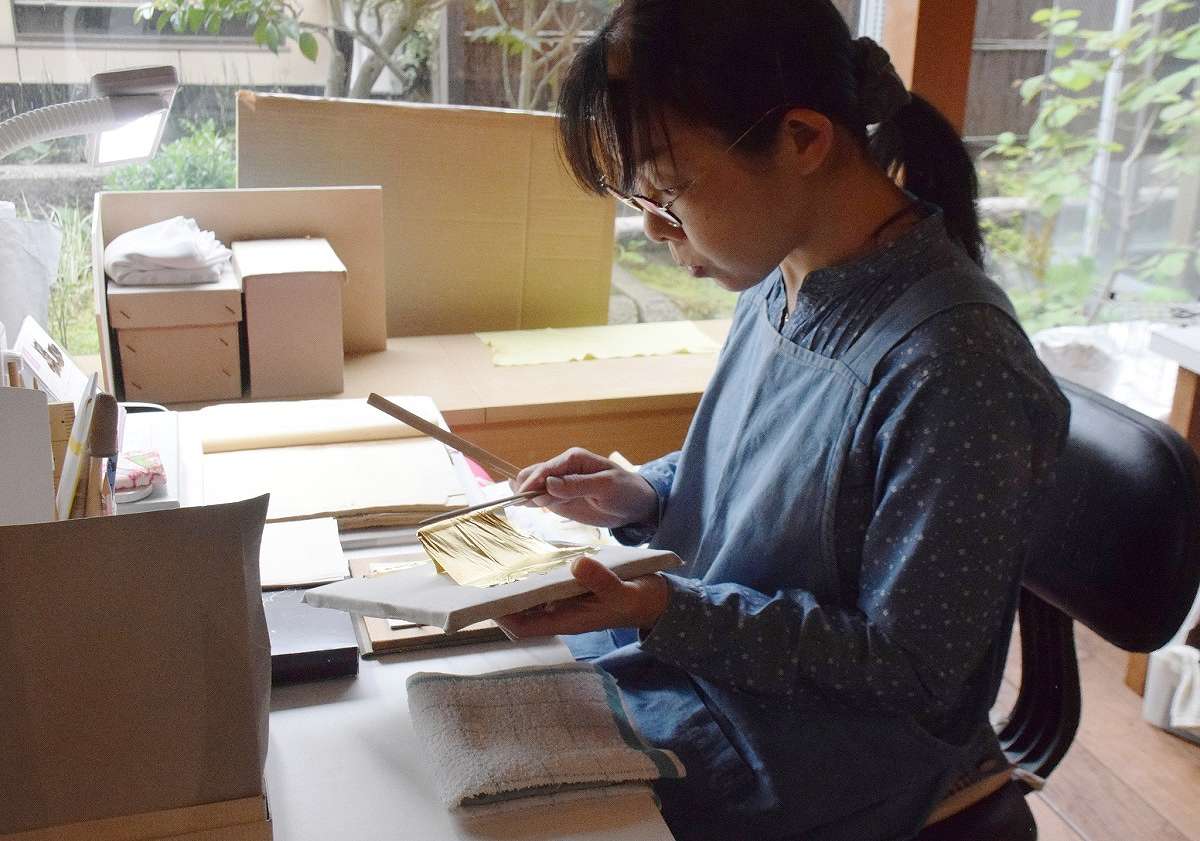 10:30 JST, May 31, 2023
KANAZAWA (Jiji Press) — Rising gold prices are shaking the traditional gold leaf industry in the city of Kanazawa, on top of shrinking demand and a shortage of craftspeople.
The rising trend in safe-haven gold prices has intensified amid Russia's invasion of Ukraine. According to major Japanese precious metals dealer Tanaka Kikinzoku Kogyo K.K., the retail price of gold hit a record high of ¥9,794 per gram on May 10.
In Japan, gold leaf, which is made by hammering gold into extremely thin sheets, is mainly used to cover Buddhist altars and other items.
Kanazawa, the capital of Ishikawa Prefecture, is home to about 80 companies that produce or sell gold leaf, accounting for 99% of domestic production, according to the Ishikawa prefectural gold leaf industry cooperative association.
However, gold leaf production in the city fell to ¥1.6 billion in fiscal 2022, some 10% of the fiscal 1990 level of ¥13.6 billion, reflecting a decline in the number of families with Buddhist altars in their homes.
"If we don't raise [gold leaf] prices, we won't be able to make ends meet," said an official of long-established maker Imai Kinpaku Co. "It's a difficult situation."
At the same time, the company is worried that higher prices could further reduce demand for gold leaf and accelerate moves to replace it with alternatives such as urushi lacquer.
While the company continues to make efforts to reduce costs, such as eliminating slight variations in thickness that occur during production, the industry faces a shortage of skilled craftspeople who can handle such tasks.
Meanwhile, Ikeda Daibutsudo, which makes Kanazawa Buddhist altars, a state-designated traditional craft, is "reluctant to use gold leaf" at a time when gold prices are rising, according to a company official.
In order to keep altars affordable, the maker is cutting the use of gold leaf as much as possible for inconspicuous parts.
Commenting on the outlook for the gold market, financial and precious metals analyst Koichiro Kamei said the market is "likely to hit a new high toward the summer."
In response to the struggling local industry, an official of the Kanazawa city government said, "We will consider what we can do as an administrative body while monitoring the central and prefectural governments' responses."
Add TheJapanNews to your Google News feed.