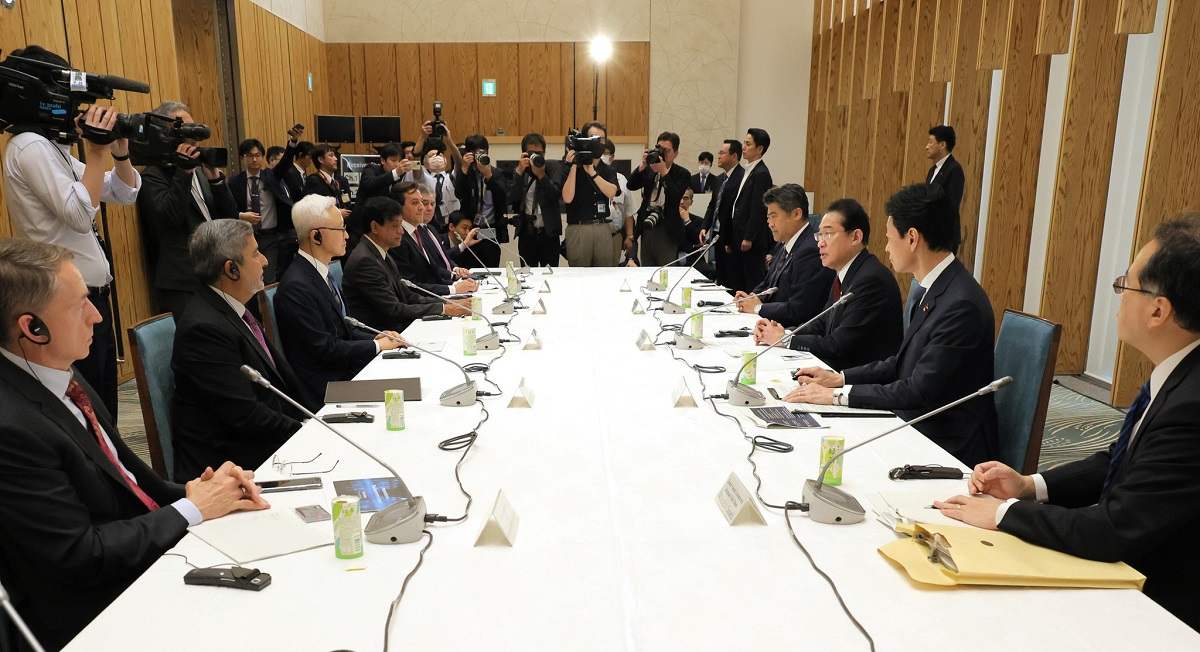 17:50 JST, May 25, 2023
Semiconductors are becoming increasingly important from the perspective of economic security. The Japanese government is scrambling to attract investment in Japan by major foreign manufacturers to revive the Japanese chipmaking industry.
Top executives of seven world semiconductor makers, including Taiwan Semiconductor Manufacturing Corp. (TSMC), Samsung Electronics Co. of South Korea and Intel Corp. of the United States, gathered for an unusual meeting at the Prime Minister's Office in Tokyo on May 18.
During the meeting, an executive from U.S. firm Micron Technology, Inc. expressed the intention to invest up to ¥500 billion for development and mass production in Japan over the next several years, and other attendees told Prime Minister Fumio Kishida that they would consider expanding their investments and opening bases in Japan.
Kishida's initiative to personally approach major companies was intended to revive the Japanese semiconductor industry and strengthen supply chains. The unprecedented meeting was part of a strategy set up by the prime minister's office to secure the critical supplies.
With regard to attracting businesses, Japan has so far been cooperating with Western countries on a government-to-government basis. This time, however, the government has adopted the idea that to get companies to make major investment decisions, it is necessary to have good relationships with the private sector — where the decisions to move money and goods are actually made — and emphasizes inviting executives from global companies to the Prime Minister's Office. The idea was that the government would induce companies to show willingness to invest by creating an attractive environment with subsidies and other measures.
The Economy, Trade and Industry Ministry examined which companies could expand their business and investment in Japan. As a result, one institution and six companies, including Micron, were on the list of invitees to meet with the prime minister.
Micron was expanding its plant in Hiroshima Prefecture, and TSMC was building a semiconductor plant in Kumamoto Prefecture together with Sony Group and others. IBM Corp. and imec, a Belgian research and development organization, are partnering with Japanese chipmaker Rapidus Corp., which aims to produce next-generation semiconductors in Japan.
Why May 18?
It was no coincidence that the date of the meeting was May 18, the day before the opening of the Group of Seven summit in Hiroshima. Japan needed to demonstrate to the international community that it was serious about reviving its semiconductor industry on a government-wide basis. The mass visit to Japan by politicians, bureaucrats and media from various countries was considered a perfect opportunity.
When approached to meet with Kishida, the seven companies all readily agreed. Since some of them were already considering expanding their business in Japan, they appear to have seen the visit as an opportunity to extract subsidies from the Japanese government.
Speaking at a press conference in Hiroshima on Monday, Micron CEO Sanjay Mehrotra explained that the company had decided to invest in business in Japan amid the strengthening Japan-U.S. relationship, which coincided with the timing of the latest meeting. As the competition for technological hegemony between the U.S. and China is deepening, many companies have begun to worry about geopolitical risks over the Taiwan Strait.
On Sunday, three days after the meeting, Chinese authorities banned Micron's products from being sold to key domestic industries. The U.S. government probably wants to increase its semiconductor manufacturing facilities in Japan to strengthen its supply network.
"Japan has the advantage of relatively low geopolitical risk in addition to massive government support and a weak yen," said Akira Minamikawa of British research firm Omdia.
Economic security
For Japan, producing and developing semiconductors domestically is critical to economic security. When semiconductors were in short supply due to the novel coronavirus pandemic, Japan saw its automobile, electric appliance and other manufacturers forced to reduce production.
Competition for investment in semiconductors is intensifying worldwide, and the administration of U.S. President Joe Biden is investing about ¥7 trillion in domestic production and development, as well as offering tax deductions for investments. The European Union and China are also planning massive investments.
The key for Japan is Rapidus, in which eight companies including NTT Corp. and Toyota Motor Corp. have invested, backed by the government. In the past, the government has tried to form coalitions of Japanese companies and failed repeatedly. In a different approach, Rapidus features partnerships with overseas giants such as IBM and imec.
Compared to the United States and South Korea, where world-class semiconductor manufacturers are headquartered, Japan is said to lack human resources in the semiconductor technology field. Prabu Raja, president of semiconductor products group at Applied Materials, Inc., told The Yomiuri Shimbun that the Japanese government should focus on human resource development.
Add TheJapanNews to your Google News feed.