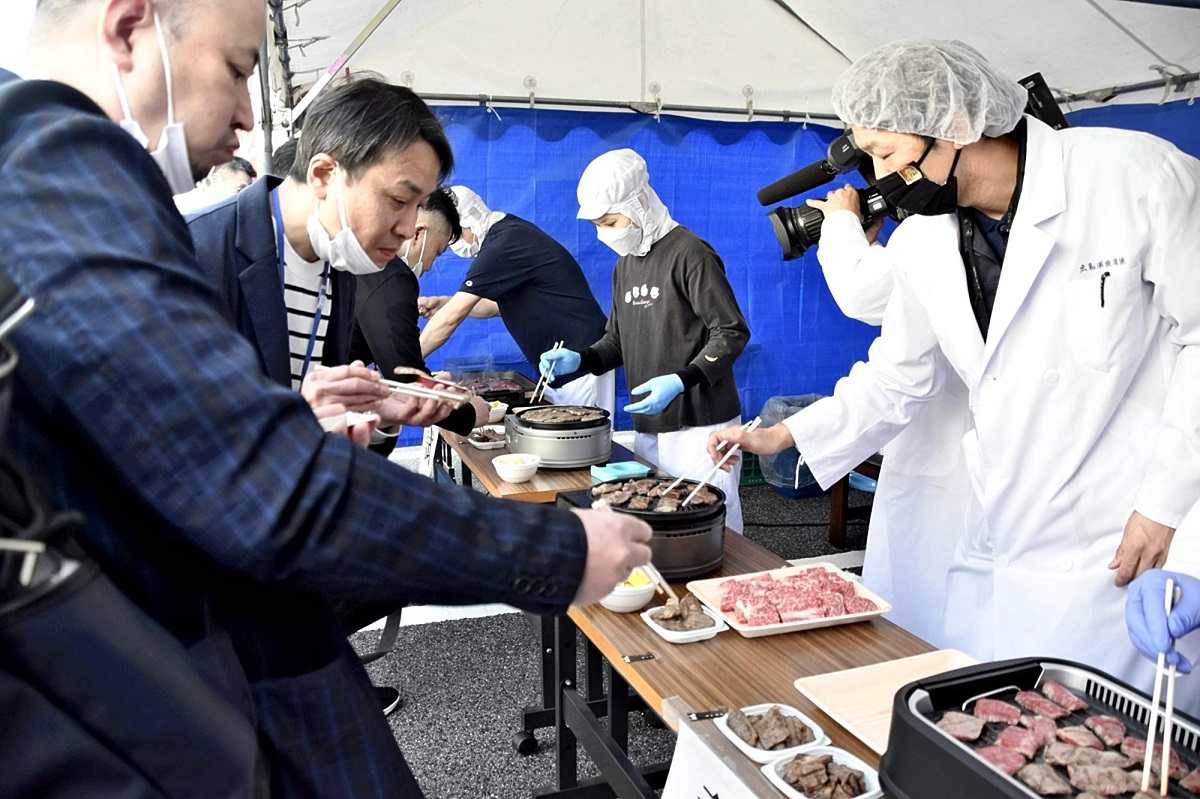 14:38 JST, April 26, 2023
HIROSHIMA — The G7 summit next month is inspiring beef producers and wholesalers in Hiroshima Prefecture to start their own Hiroshima Gyu7 project.
Ahead of the meeting of the heads of major democratic powers, the project aims to use the lead-in to the summit as a springboard to improve the value of their brand and increase consumption, especially with a chance that the world leaders may taste it.
There are four brands of Hiroshima Wagyu beef categorized based on quality, pedigree and region: Hiroshima, Motonari, Hiba and Jinseki.
The beef is characterized by a delicate taste with a good harmony of high-quality lean meat and fat. Jinseki beef became a topic of conversation after U.S. President Joe Biden ate it at the Japan-U.S. summit in May 2022.
The Wagyu industry in the prefecture is in a tough situation. The COVID-19 pandemic caused trading prices to drop. They have not returned to their pre-pandemic levels despite being on a recovery trend. Production costs have increased due to high global prices.
Hiroshima Wagyu producers, wholesalers and distributors launched Hiroshima Gyu7 in an effort to use the G7 summit as an opportunity to break out of the current situation. In tribute to the G7, the meat with the top seven marbling levels, as measured on a 12-level scale, was chosen as the target of the promotion campaign.
To commemorate the launch of Gyu7, a tour was held on April 11 at the Hiroshima central wholesale meat market in Nishi Ward, inviting about 30 people including those from the restaurant industry.
Koji Bajo, who chairs the Hiroshima meat wholesalers association, kicked off the Gyu7 project.
"We join forces with related organizations to make the G7 summit more exciting," he said.
Participants on the tour had cameras in hand and took notes while observing the beef carcasses and an auction.
"The way they are marbled differs depending on the parts, so I can use different parts depending on the dish," a Vietnamese restaurant owner and chef from Hatsukaichi in the prefecture said as he tasted the beef. "I want people who come to Hiroshima for the G7 summit to discover the deliciousness of Hiroshima ingredients."
A special Gyu7 website and a campaign to give away Hiroshima Wagyu will soon be launched to increase exposure to the public.
"One bite will tell you the deliciousness," said Toshiharu Mantani, president of Hiroshima Meat Market Co. "We want to increase the opportunities for people to eat Hiroshima Wagyu not only at yakiniku grilled meat restaurants, but also at many other kinds of eateries."
Add TheJapanNews to your Google News feed.