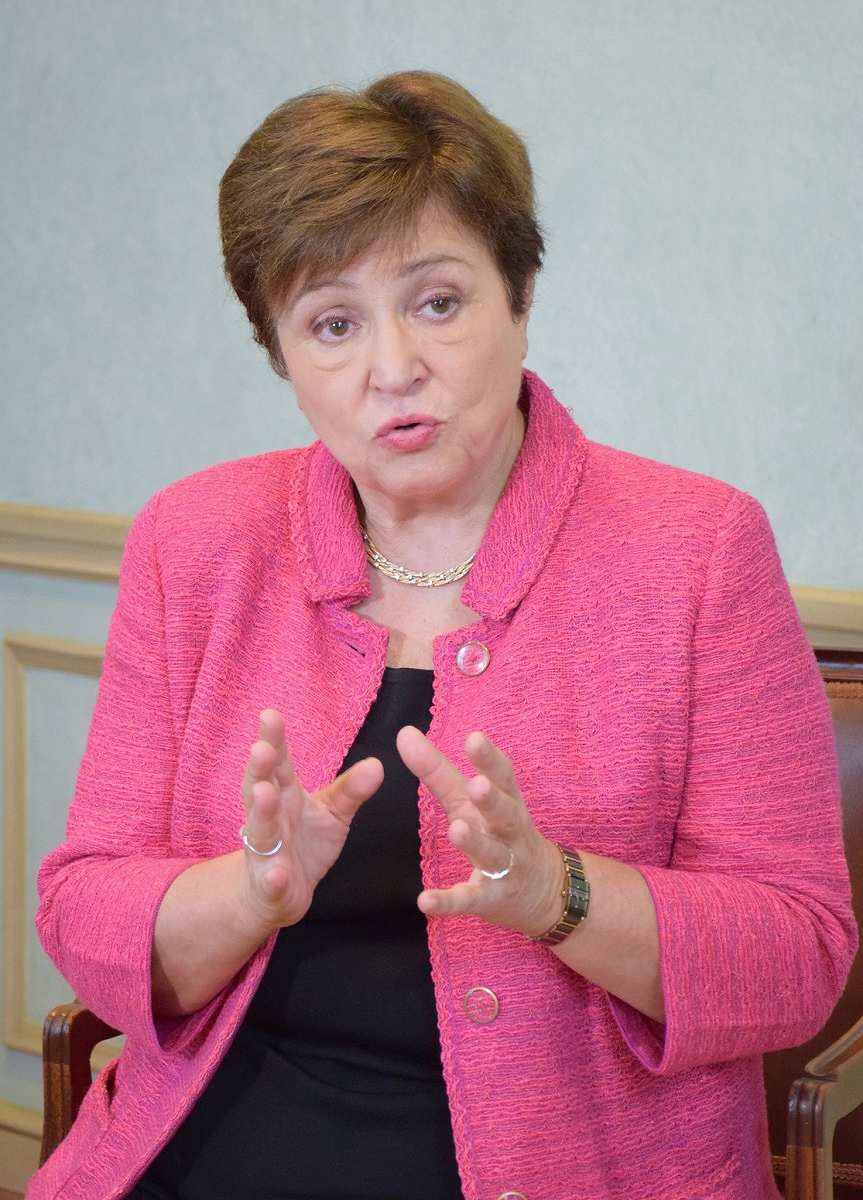 11:19 JST, April 10, 2023
WASHINGTON (Jiji Press) — International Monetary Fund Managing Director Kristalina Georgieva expressed her hopes for leadership from Japan, which holds the Group of Seven presidency this year, at a time when risks of fragmentation in the world's economy continue to be of great concern.
Georgieva told Jiji Press in an interview that she would support the Bank of Japan were it to adjust its monetary policy under Kazuo Ueda, who became governor of the central bank on Sunday.
Amid tensions between the United States and China, high inflation and worries about financial stability, the global economy is expected to see its slowest growth in about 30 years.
Georgieva said growth will likely stall at around 3% and that "some additional flexibility in monetary policy is warranted."
The BOJ has maintained its ultra-loose monetary policy, while the U.S. Federal Reserve and the European Central Bank are raising interest rates to fight inflation. Georgieva said she would "definitely" support Ueda if he were to judge it necessary to make adjustments.
"We very much look forward to continuing our very good cooperation with the Bank of Japan in the years to come," she added.
As the G7 chair, Japan will be responsible for finding ways to help steer the global economy out of its current slump. Japan is set to host this year's summit of the G7, which also includes Britain, Canada, France, Germany, Italy and the United States plus the European union, in Hiroshima next month.
A major risk facing the world economy is increased geopolitical tensions. In the past year, G7 member countries have implemented a series of sanctions against Russia after it invaded Ukraine, as well as against China, which has close ties with Russia. Russia and China have retaliated in response to these actions, and disruptions in global supply chains continue.
Georgieva explained that if this fragmentation were to continue, the global economy could lose as much as 7% of its gross domestic product. That would be approximate in size to the combined annual GDP of Japan and Germany.
Together with Japan as G7 chair, the IMF wants to "contribute to the discussion on how [such tensions can be navigated] with the lowest possible impact," she said.
Japan also has a major role to play as the only G7 member from Asia. One major challenge for the nation this year is to seek cooperation from countries in the so-called Global South, such as those in the Middle East, Southeast Asia and South America, to help them reduce their dependence on China.
Georgieva underscored the need for cooperation and discussions among multiple countries including China in order for the world to avoid fragmentation.
To attract investment and spur growth again, heavily indebted nations need to agree on debt restructuring with creditors quickly and reduce their burdens.
But China, which is now the biggest lender to low-income nations in terms of bilateral loans, is reluctant to enter debt restructuring talks.
"China needs to engage fully in discussing processes and standards" on dealing with the debt issue, Georgieva said, urging it to fulfill its responsibility as an influential major country.
Under the difficult situation, Georgieva pinned high hopes on Japan, saying, "Japan plays a very positive and constructive role" over the debt problem of Sri Lanka, which is in an economic crisis.
Add TheJapanNews to your Google News feed.