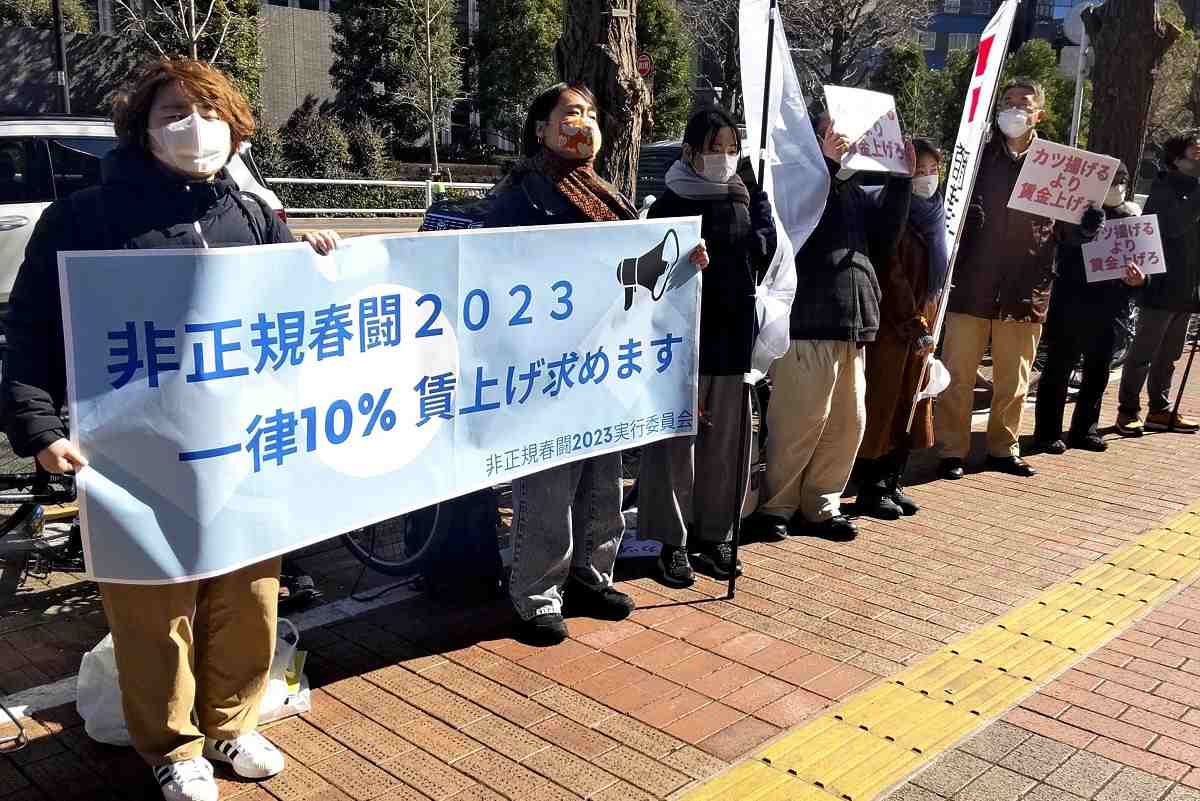 17:28 JST, February 21, 2023
Some major companies have announced plans to increase the wages of nonregular employees in the upcoming shunto spring labor wage negotiations, but challenges yet to be tackled include achieving pay hikes at small and midsize firms and reviewing income thresholds that impact the earnings of part-time workers.
Nonregular employees account for nearly 40% of Japan's total workforce and efforts to raise their wages are seen as essential to increase pay levels nationwide.
The operator of Universal Studios Japan, a theme park in Osaka City, said Monday it will raise the wages of about 10,000 part-time employees by about 7% on average from March. Hourly wages will be ¥1,160 to ¥1,690, depending on roles and other factors.
With visitor numbers beginning to recover from the pandemic blow, the operating company decided it had to raise wages to secure personnel.
Elsewhere, retail giant Aeon Co. said this month it plans to increase the hourly wages for part-time workers at its supermarkets by 7% on average. While Fast Retailing Co., the operator of Uniqlo and GU, raised the hourly wages for part-time workers in Japan by 10% to 30% in September last year.
However, such moves have been concentrated at major companies, triggering calls for wage increases to be more widespread.
Making ends meet
Last year, an assistant nurse at a hospital in Okinawa Prefecture pulled her 5-year-old daughter out of swimming school when the monthly fee increased by 10%.
The 46-year-old woman, who has been working for the hospital for about 20 years, is a nonregular employee who earns about ¥130,000 a month.
Her hourly wage has only increased marginally each year and she receives no bonus, despite serving on the frontline amid the COVID-19 pandemic, handling coronavirus-related inquiries among other responsibilities.
"I want my pay to go up, considering my contribution to healthcare services and the financial difficulties in my daily life," she said.
The executive committee for shunto negotiations for nonregular workers, which comprises representatives of 16 labor unions, plans to call for pay increases at 33 companies, including restaurant chains, supermarkets, call centers and cram schools.
Calls are also growing for a review of the system in which social security premiums increase when annual income reaches a certain threshold, as it has become an obstacle in efforts to increase income.
An example of such a threshold can impact the spouses of regular employees who hold part-time jobs. If the part-timers' annual earnings exceed ¥1.3 million, they are no longer considered to be dependents and must enroll in public pension and health insurance programs. As a result, their take-home pay decreases.
"At the end of the year, many part-timers adjust their working hours [so that their annual pay does not exceed ¥1.3 million]," a supermarket industry source said.
Some part-timers have even indicated that pay increases might be problematic as they would have to adjust their working hours, according to a senior labor union member.
"There are many people who would want to work longer hours once the annual income thresholds are removed," said Taro Saito, executive research fellow of the NLI Research Institute. "The central government needs to quickly proceed with the review of the system."
Add TheJapanNews to your Google News feed.