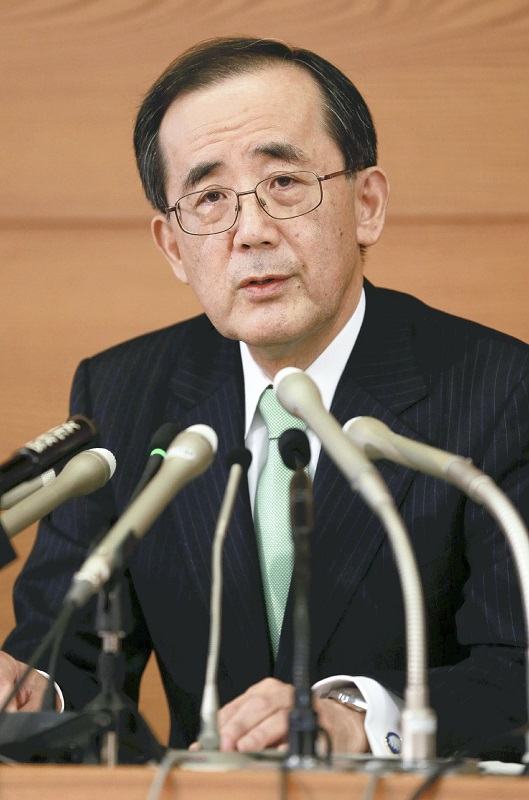 14:28 JST, July 30, 2022
TOKYO (Jiji Press) — Former Bank of Japan Governor Masaaki Shirakawa struggled to communicate with the market over the central bank's monetary easing policy in 2012, transcripts of its policy meetings showed Friday.
Shirakawa expressed frustration at a meeting on March 13, 2012, at market pressure for additional easing measures as the BOJ worked to clarify its policy to tackle deflation, the transcripts showed.
"It is suicidal for a central bank to base its decisions on how the market views it," Shirakawa said at the meeting, according to the transcripts.
The BOJ adopted a medium- and long-term price stability goal at a meeting on Feb. 14 that year, committing itself to powerful monetary easing until the country achieves 1% inflation stably.
The move came after the U.S. Federal Reserve set a 2% inflation target on Jan. 25, after which the BOJ received criticism that its monetary policy stance was unclear.
Shirakawa said at the March meeting that he had "repeatedly said that full efforts would be made to end deflation."
Introducing the price stability goal did not mean that the BOJ's seriousness in tackling deflation had changed, he said.
He told a press conference after the February meeting that the price stability goal was "only a change in words, and does not reflect a change in policy."
But the more Shirakawa explained how "serious" the central bank was in exiting deflation, the more the market doubted its commitment to monetary easing.
Kiyohiko Nishimura, who was BOJ deputy governor at the time, said in an interview that the central bank's efforts to clarify its policy had not reached the public well enough, saying that the BOJ "gave the impression that nothing had changed."
The government set up a panel of ministers in April 2012 to discuss ways to exit deflation. Both ruling and opposition lawmakers called for revisions to the BOJ Law to reach price targets.
The BOJ adopted additional easing measures at an April 27 meeting, following projections that inflation would not reach 1% until fiscal 2013. Shirakawa called this a "very drastic and meaningful step," likening it to "black pieces turning white in a game of Reversi."
At the same time, he warned against expectations for further easing, saying that "it is time to calmly monitor the monetary policy's effects."
But pressure continued to mount on the BOJ as the country failed to exit deflation, ultimately resulting in unprecedented massive monetary easing by Shirakawa's successor, Haruhiko Kuroda, who took the helm in 2013.
Add TheJapanNews to your Google News feed.