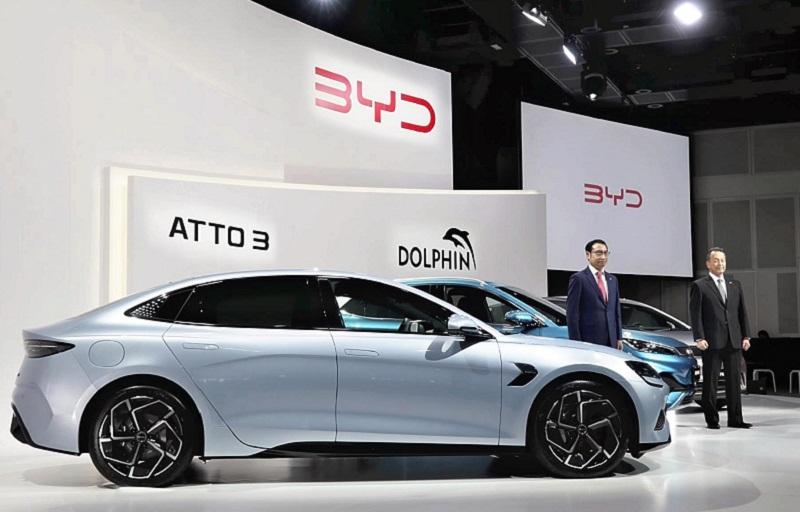 13:28 JST, July 25, 2022
Chinese electric vehicle giant BYD Co. will start selling three models in Japan from next year, the automaker said.
EVs are becoming increasingly popular in the global market, with competition also heating up in Japan — where EV sales have been relatively low — following the introduction of a succession of new models.
100 dealerships
"Electric vehicles are expensive, have a short driving range and there are few options," said BYD Japan Co. President Liu Xueliang, spelling out the concerns of many Japanese consumers at a press conference in Tokyo.
"In response to such anxieties, we intend to offer a wide lineup of affordable EV models with exceptional safety features and high cruising performance," Liu said.
BYD plans to launch three EV models from January 2023, its Atto 3 sport-utility vehicle, in addition to a compact car and a sedan.
The Atto 3 has a cruising range of 485 kilometers, according to the company, and features a spacious interior and a specially designed chassis.
The company intends to establish more than 100 dealerships across Japan's 47 prefectures by 2025.
BYD was founded as a battery manufacturer but has seen rapid growth in its EV business. It sells electric vehicles and other cars in 70 countries and regions, moving 320,000 EVs from January to June alone, almost matching sales figures for the whole of the previous year.
The company is able to price its products competitively by using its own batteries — a key component in EVs.
Though prices for the Japan market have yet to be determined, Liu said, "We hope many consumers will find the fees affordable."
1% penetration
According to British research firm LMC Automotive, global sales of new EVs in 2021 were led by Tesla Inc. of the United States, which sold about 960,000 units, China's SAIC Motor Corp., BYD and Volkswagen AG of Germany.
Electric vehicles in Japan account for only 1% of the vehicular market, a relatively small figure compared to sales in other countries. Automakers thus see great potential in Japan, with many rushing to launch new models in the country.
Nissan Motor Co. and Mitsubishi Motors Corp. worked together to develop and produce a light electric vehicle, which went on sale in June. In the two months following the product's launch, Mitsubishi Motors sold 5,194 units, about six times more than the targeted monthly sales figure of 850 units, while Nissan has received orders for 22,000 units.
At the Shinsha no Hiroba Mitaka Nissan dealership in Chofu, Tokyo, 30% of consultations relate to light electric vehicles. "Many customers are interested in the unprecedented comfort and eco-friendliness of the vehicles," the dealership's manager said.
Overseas firms are keen to pursue EV-related revenues in Japan. Hyundai Motor Co. of South Korea returned to the Japanese market after an about 12-year gap to promote its electric car, while Mercedes-Benz AG of Germany in July started offering Japanese consumers an EV model that seats up to seven people.
In a consumer survey released June by the Deloitte Tohmatsu Group, 40% of respondents said they would like to purchase an EV someday.
"These results give us a sense of potential growth," said Deloitte Tohmatsu Senior Associate Maiko Hara.
Add TheJapanNews to your Google News feed.