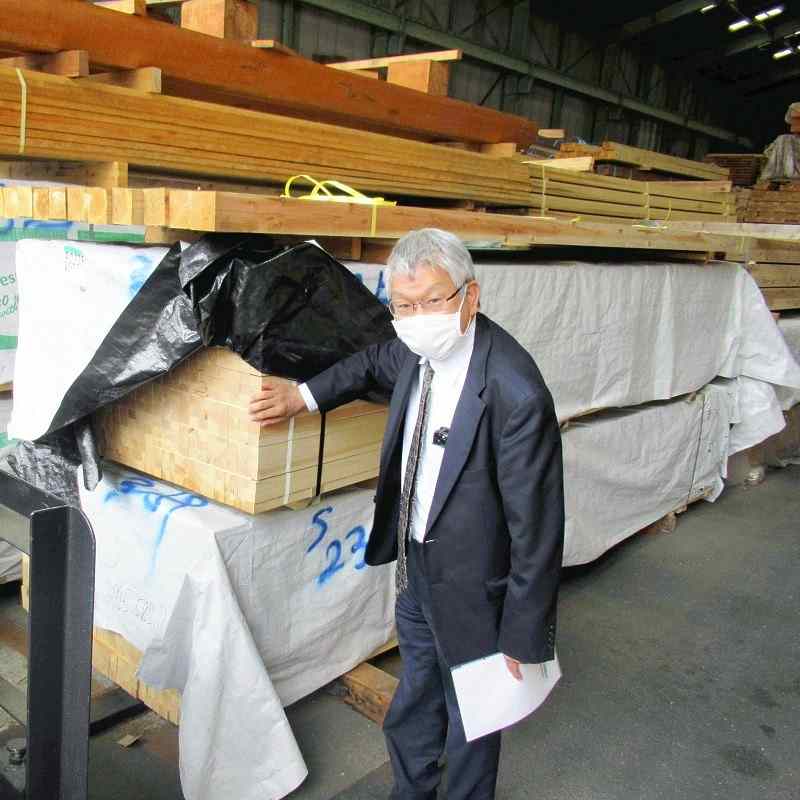 1:00 JST, July 25, 2022
Lumber prices are soaring in the wake of Russia's invasion of Ukraine. The shortage that began last year was exacerbated as Russia stopped exporting some of its lumber to Japan, in retaliation for the sanctions Japan imposed on Russia.
Prices for plywood and lumber have risen 10% to 20% in the last three months, leading to moves to raise housing prices. Some in the industry believe this is a case of "wood shock," a global surge in lumber prices caused by a decrease in the supply of timber.
The term wood shock has been likened to the oil shock in the 1970s. The first wood shock occurred in the first half of the 1990s, when the environmental movement gained momentum in the United States.
The second wood shock took place in the 2000s when logging was restricted in Indonesia. The third is considered to be last year's lumber price spike, caused by a sharp recovery in U.S. housing demand, which had shrunk amid the COVID-19 pandemic.
Chinese competitors
"Some lumber prices have risen more than during last year's wood shock," Ichijo-lumber Co. President Tatsuo Ichijo said recently. "The weak yen and rising logistics costs are also causing pain."
Ichijo said his Tokyo-based company, which imports lumber, often loses out to firms in China, where demand for housing is strong. Its procurement volume has dropped to about 30% of former levels.
As there are no measures to alleviate the situation, Ichijo said, "We have no choice but to endure the current difficulties."
Lumber and wood product prices climbed as much as 43.4% in June from the same month last year, according to the Bank of Japan's preliminary corporate goods price index.
Weak yen
Prices of lumber and laminated wood products, which had been falling this year, turned upward again after Russia's invasion and returned to the same level as at the end of last year.
Lumber is made by processing logged trees into square timbers or boards, which are used for a wide range of purposes. Laminated lumber, which is made by laminating multiple boards to increase strength, is often used for structural parts of buildings such as columns and beams.
The price of plywood and logs is rising steadily. Since about 60% of the lumber consumed in Japan is imported, the weak yen also is driving up prices.
Russia is one of the leading lumber exporters. In 2020, it exported about 20% of the world's lumber. After its invasion of Ukraine, Russia stopped exporting logs, single-ply boards and other products to Japan and other countries that it identified as "unfriendly nations."
In addition, an international forest certification organization suspended the certification of Russian lumber in early March, resulting in a decrease in distribution volume.
Russian lumber is grown in cold regions and is suitable for housing because its fine grain makes it difficult for nails to fall out. A senior housing company official said an alternative cannot be easily found.
Shifting costs
There are moves to raise housing prices in Japan.
In January, Daito Trust Construction Co. raised the price of its homes by 2%, and a company official said they may have to consider further increases. Sumitomo Forestry Co. said it is also "in a difficult situation and reviewing its home prices as necessary."
Under these circumstances, attention is turning to the use of domestic timber. After World War II, Japan planted trees to meet the rapid increase in demand for lumber. Currently, planted forests account for 40% of the country's total forests.
Forest resources such as cypress and cedar have been increasing by about 60 million cubic meters every year. Mitsubishi Estate Home Co. President Hirofumi Kato said, "We want to utilize domestic timber as much as possible."
According to the Forestry Agency, however, there is no system in place for the production, distribution and processing of domestic timber in large quantities.
Small and micro-forestry operators account for 90% of the industry, and the number of workers continues to decline. There are supply issues that need to be addressed in order for homebuilders to continually utilize timber on a large scale.
Add TheJapanNews to your Google News feed.