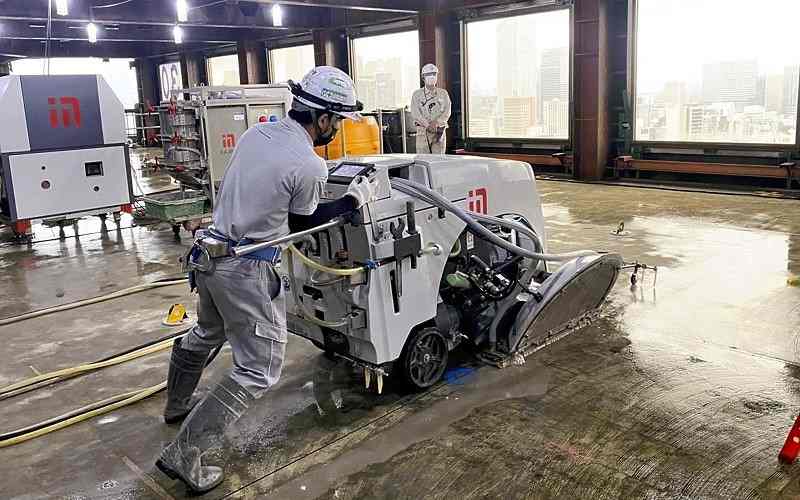 11:57 JST, July 20, 2022
High-rise buildings and famous hotels built during the period of high economic growth are being dismantled one after another due to their aging. In many cases, the buildings need to be rebuilt or demolished for safety reasons or taken down as part of a redevelopment project.
Leading general contractor Kajima Corp. on July 13 opened to the media the demolition site for the World Trade Center Building in Tokyo's Hamamatsucho district.
New, safe demolition methods have been adopted because demolition in such an urban area is risky. The building will be cut into large blocks and lowered by crane to be further dismantled on the ground. Floors are severed diagonally in order to prevent them from falling out. Unlike the conventional method of pulverizing floors with heavy machinery, this method can reduce dust and noise. The new methods are expected to shorten the time required for demolition by about 10%.
"Demand is expected to remain high for the demolition of high-rise buildings, and we would like to utilize this new technology," a Kajima spokesperson said.
The Tokyo Chamber of Commerce and Industry led the construction of the World Trade Center Building in 1970. At 162 meters tall, it was the tallest building in Japan at the time and a symbol of the country's rapid economic growth. Kajima plans to finish the demolition by next spring, and a 235-meter-tall mixed-use building will be built on the site by the end of fiscal 2026.
There are more targets of Tokyo's demolition boom. Buildings so far dismantled include the former Dentsu head office building in Chuo Ward — which was designed by Kenzo Tange, the architect of the Tokyo metropolitan government building — and the Hotel Okura Tokyo South Wing in Minato Ward that had hosted a number of guests from around the world.
There are more than 1,000 skyscrapers over 100 meters tall in Japan, including those under construction, and in Tokyo and Osaka alone about 100 of these buildings are age 30 or older.
General contractors are racing to develop technologies to dismantle the buildings.
Taisei Corp. is honing its technique to seal off the top of buildings with an iron cover so that they can be torn down one floor at a time from the top. From the outside, it looks like the building is shrinking, and the technique attracted attention when the 140-meter-high Grand Prince Hotel Akasaka was dismantled about 10 years ago. Taisei has also developed a method to make the cover lighter and more general-purpose.
In Western countries, some buildings are used for a long period of time during which they are repaired, but in Japan, with its frequent earthquakes, many buildings are often rebuilt based on the 50-year lifespan of concrete.
The concentration of population into urban areas has also led to a wave of redevelopment, causing an increase in demolitions. Going forward, aging buildings are expected to be dismantled one after another in rural areas, too. The government enacted a revised Construction Business Law in 2016, making it easier for small and midsize construction companies to enter the demolition business, which used to be dominated by large companies.
But, the construction industry is facing a shortage of workers and a rapidly aging population.
"There may be a shortage of highly skilled demolition engineers and workers in the future," said Prof. Noboru Yuasa of Nihon University's Architecture and Architectural Engineering Department. "From now on, construction companies of all sizes will need to work together to develop human resources."
Add TheJapanNews to your Google News feed.