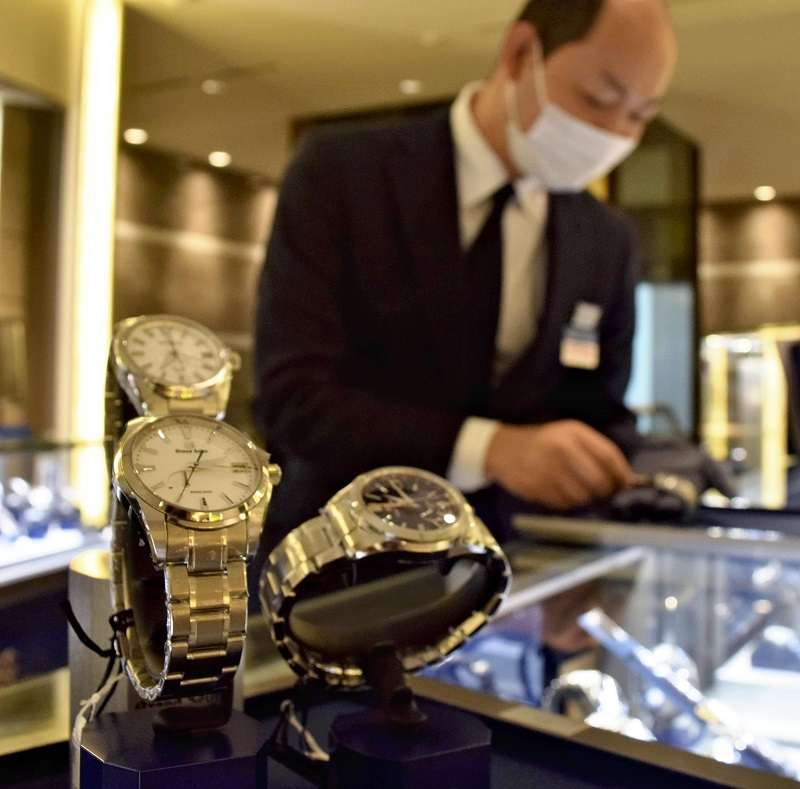 1:00 JST, July 19, 2022
Luxury watches are growing in popularity. Since people have fewer opportunities to go on overseas trips and eat out due to the spread of the coronavirus, they tend to spend that money on luxury goods instead. The department store industry, which has been heavily affected by the pandemic, hopes that this trend will give momentum to their recovery.
¥1 mil. on average
"Our main customers are those in their late 50s and 60s, but an increasing number in their 30s and 40s have purchased high-end watches lately. Sales have exceeded expectations," said the manager of sales division No. 1 at the Takashimaya Nihombashi department store in Chuo Ward, Tokyo, expressing surprise at their strong popularity.
At Takashimaya Watch Maison, a watch store diagonally across from the department store's main building, the average price is about ¥1 million, up about ¥300,000 from the pre-pandemic level. The store recorded its highest sales in fiscal 2021 since it opened in fiscal 2016 and is expected to set a new record this fiscal year.
The Japan Clock & Watch Association estimates that the domestic watch market in 2021 expanded by 15% year on year to ¥713.9 billion. Sales have been increasing both for watches produced by domestic manufacturers and imported ones.
Waiting several years
Prices range from several hundred thousand yen to more than \1 million for watches such as the Rolex Cosmograph Daytona (Oyster, 40mm, Oystersteel), which retails at 1.6093 million, and the Grand Seiko SLGH005, which is 1.045 million. Such watches are used by those in business to demonstrate credibility while others wear them simply as an adornment.
The production of luxury watches is limited, and factories have temporarily closed due to the coronavirus pandemic. For these reasons, consumers have had to wait several years for some popular items, according to a source close to the department store industry.
At the Isetan Shinjuku department store in Shinjuku Ward, Tokyo, the sales of watches in fiscal 2021 increased by approximately 40% compared to the fiscal 2019 pre-pandemic level. Since July 6, the department store has been holding a campaign called "Watch Collectors Week" selling new 2022 models for a limited time.
The Matsuya Ginza department store in Chuo Ward, Tokyo, has been selling more watches priced over ¥10 million. It plans to hold a sales event for certain customers featuring new models before the end of July, for the first time in three years.
Concern over resale
The total sales of department stores across Japan in May, compiled by the Japan Department Stores Association, grew 57.8% from the same month a year earlier to about ¥388.2 billion, displaying year-on-year sales growth for three consecutive months. However, compared to the 2019 pre-pandemic level, sales were down 10.5%.
Sales of high-end watches and other luxury products such as artworks, jewels and precious metals amounted to ¥37.6 billion, nearly twice the figure in the same month a year earlier, and exceeded pre-pandemic levels. "The rapid depreciation of the yen will lead more and more foreign visitors to buy luxury watches, mainly Japanese manufacturers' watches," a source close to a major department store said.
On the other hand, the excessive popularity has prompted concern as well.
Luxury watches are popular as an investment. They are in short supply and some people purchase them with the intention of reselling them. Many people are increasingly complaining that they cannot buy luxury watches from legitimate retailers even though they want to.
The prices of secondhand luxury watches are also increasing. At a watch shop in Tokyo, popular models of famous imported brands may be bought for several times their official prices if they are as good as new. Some industry officials point out that this situation is abnormal.
Add TheJapanNews to your Google News feed.