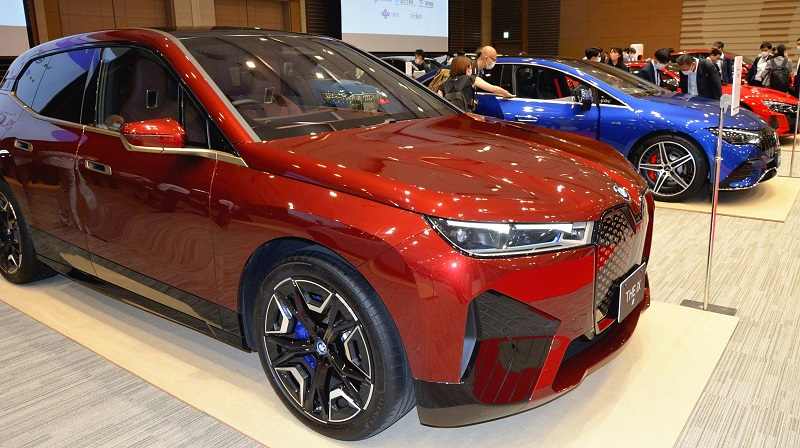 10:58 JST, July 11, 2022
OSAKA — Major foreign automakers are stepping up their efforts to sell electric vehicles in Japan, aiming to boost their presence in the country where the market share of imported cars is relatively low.
The latest models of electric cars and motorcycles were on display on June 30 at the Grand Front Osaka complex in central Osaka City. The event was organized by the Japan Automobile Importers Association, and was held in the Kansai region for the first time.
Many of the latest models from around the world were on display. U.S. automaker Tesla Inc.'s Model Y, a popular midsize five-seat sports utility vehicle was on show, along with German maker BMW AG's SUV iX. The car comes equipped with large lithium-ion batteries and features a top-level cruising range of 650 kilometers. French company Citroen Co.'s new EV model E-C4 was also on display. 20 manufacturers and related businesses from Europe, the United States, South Korea and elsewhere were represented at the show.
Major Chinese automaker BYD Co. holds about 70% of the electric bus market share in Japan. "We're receiving an increasing number of inquiries from companies and municipalities," a BYD official said.
Rapid increase of imported EVs
According to JAIA data, imported cars accounted for 40.6% of the total number of new EVs in Japan in 2021, up from 5.9% in 2014. The share has jumped as foreign automakers have been expanding their range of EV models, filling a space left by Japanese manufacturers.
South Korea's Hyundai Motor Co., which withdrew from the Japanese market 12 years ago, returned in May this year, introducing EV and fuel cell vehicles.
Competition is likely to be fierce as Japanese automakers increase their efforts in EVs. The Japanese government has increased subsidies for electric powered vehicles, setting a goal that all new cars sold will be electrically powered by 2035.
JAIA Chairman Christian Wiedmann said that although the Japanese market for new cars has matured, he was certain that the number of EVs would increase.
As EVs consume a large amount of electricity, issues such as increasing the number of recharging facilities and possible power shortages need to be addressed.
Kansai Electric Power Co. also participated in the event. "Electricity and mobility are very much interrelated," a senior official from the company said. "We'd like to develop new technologies through partnerships [with automakers and related firms], which will allow vehicles to be operated even when the power supply is unstable,"
Add TheJapanNews to your Google News feed.