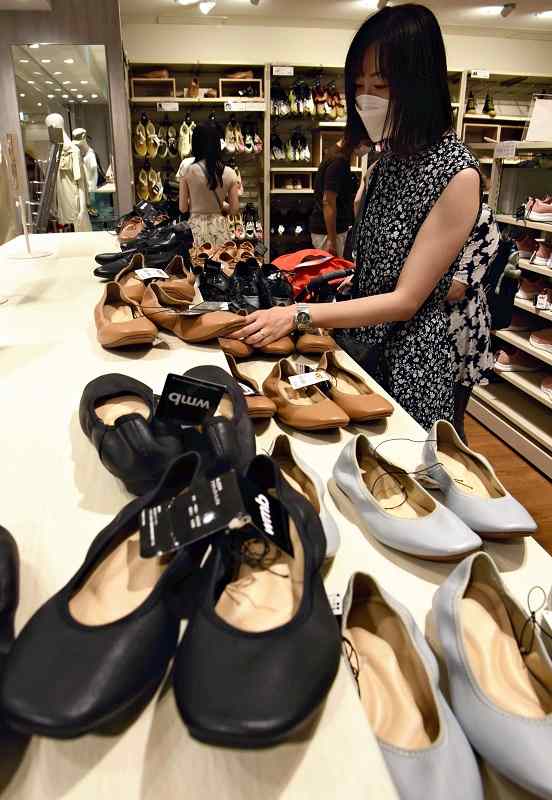 5:59 JST, June 28, 2022
Major apparel makers are looking to gain a foothold in the shoe market with hybrid wearables that are both stylish and practical.
In recent years, casual clothing has become more acceptable in business environments, such as in the office and teleworking amid the coronavirus pandemic. Looking to profit from new markets, a number of clothing firms are leveraging their know-how and technologies to create multi-purpose footwear that complements both business and casual clothing alike.
Workman Co., a major workwear manufacturer, opened a Workman Shoes store in the Ikebukuro district of Tokyo's Toshima Ward on June 16. Located next to a Workman Girl store that sells workwear for women, the shoe outlet sells female-oriented pumps and ballet flats. The store is the company's second outlet to specialize in footwear; the first opened in Osaka in April.
Active Pumps which are produced using the same techniques used to make jika-tabi split-toed sock shoes are among the store's popular offerings. At ¥2,480 per pair, they are soft and comfortable with an elastic material in the upper lining that prevents chaffing while helping to ensure a snug fit, according to Workman.
The pumps became a hot topic on social media, with many users saying their feet felt less tired after wearing the shoes. When the Ikebukuro store opened, the shoes sold out on the first day.
"[Active Pumps] are the only shoes in this price range to have such functionality," said Tetsuo Tsuchiya, executive director of Workman. "We're aiming to notch up sales of ¥50 billion to ¥60 billion in the shoe business."
The company is planning to have eight Workman Shoes stores by the end of this fiscal year.
Formal looks, comfortable fit
With suit sales struggling, a number of menswear manufacturers are also looking to break into the casual shoe market. In June, Aoyama Trading Co. teamed up leather shoe maker Madras Inc. to offer waterproof leather sneakers. The leather-like shoes have proved as popular as leather business shoes among businesspeople, the company said.
Aoki Inc. launched its Pajama Shoes line in March. The shoes have elastic material in the upper, can be worn on formal occasions and offer a comfortable fit, according to the firm.
Major clothing firm G.U. Co. is targeting the market with a more business-oriented product. The company has traditionally sold non-leather casual footwear, but its Opera Shoes — launched during the fall-winter season — are made of real leather.
Pandemic-driven trend
The companies efforts in the footwear can be traced to the diversification of working styles — and clothing — engendered by the novel coronavirus pandemic.
Some people feel that certain traditional styles of business shoes are too formal, and, of late, casual shoes such as sneakers are increasingly accepted in the office, according to an Aoyama Trading official.
The apparel companies can draw upon their experience, such as expertise in materials and relationships with suppliers. "If we take care of the whole project, we can make products quickly with designs and functionality that match the time [constraints]," said a person close to the industry.
However, it remains to be seen how much headway the apparel companies can make in the somewhat limited hybrid footwear market. According to Yano Research Institute Ltd., the shoe and footwear retail market hovered at around ¥1.4 trillion before the pandemic, but dropped to ¥1.068 trillion in fiscal 2020 — when people were asked to refrain from going out — marking a 20% fall from the previous fiscal year. The market is expected to recover in fiscal 2021 and 2022, but the increase will not be large, the institute said.
"To grab a slice of the limited shoe market, apparel makers would have to demonstrate company-specific features in such areas as price, functionality and design," said Frontier Management Inc's Taketo Yamate, an apparel industry expert. "They'd need their products to become popular among a wide range of generations."
Add TheJapanNews to your Google News feed.