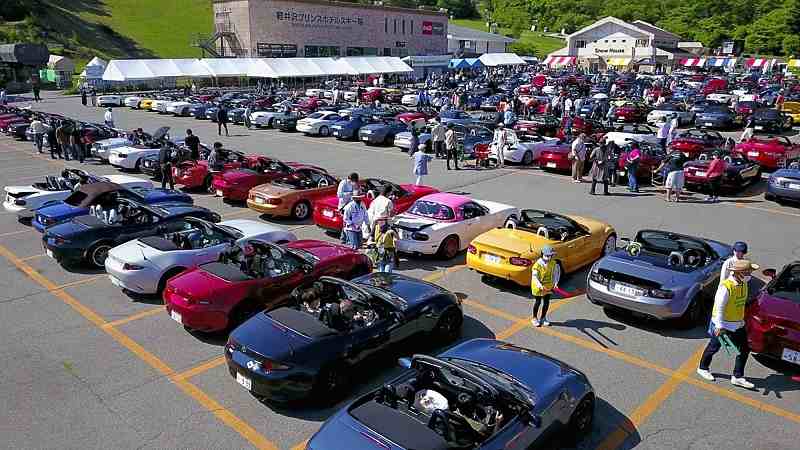 6:00 JST, June 22, 2022
Sales of sports cars are gradually accelerating, and the boom is being fueled by the younger generation.
Observers say the uptick is especially notable among people who enjoy spending money on their hobbies and are looking for ways to avoid crowds amid the novel coronavirus pandemic.
In late May, an event for owners of Mazda Motor Co.'s two-seater Roadster sports car was held in Karuizawa, Nagano Prefecture. The event, one of the world's largest gatherings devoted to a specific model, drew about 2,000 people.
In this year's event, the 30th of its kind, 40% of participants were first-timers, compared to 30% in an average year. There were many attendees in their 20s and 30s, according to the head of the organizing committee.
Orders for the Roadster have risen steadily since July 2020, and were 50% higher in the January-March period this year compared to the same period last year. About 30% of buyers were in their 30s or younger last year, whereas previously, the majority of purchasers were middle-aged and older, often with children of adult age. Toyota Motor Corp.'s GR86 sports car also has been flying off showroom floors. Following a comprehensive revamp in October, sales of the car have more than quadrupled from the previous year.
'Revenge spending'
Sports cars were particularly popular in the 1980s, boosted by the bubble economy and widespread interest in Formula 1. But enthusiasm began waning in the 1990s as people began to favor more practical minivans and sport-utility vehicles.
Things are starting to change, however. "[Sports cars] are gaining fans again because they allow people to get around and avoid crowds," said a representative of Mazda's domestic product marketing department. "Also, the pandemic is changing the mindsets of many younger people vis-a-vis enjoying time alone."
Another factor behind the rising sales is so-called revenge spending — a desire to throw some cash around following coronavirus-related restrictions and isolation.
"Even if it costs a little extra, I want a car that makes it fun to drive," said a 31-year-old Kyoto man who is considering buying a Subaru Corp. BRZ model.
Classic models
Thanks to younger buyers, the used car market, too, has been heating up.
According to Recruit Carsensor Co., the average 2021 prices paid for used cars by age group were ¥1.81 million for people in their 30s and ¥1.63 million for those in their 20s. Their purchase prices are higher than other age groups, and both figures reflect a ¥200,000 increase from the previous year, which is thought to be partly due to the increase in sports car sales. Used sports cars typically cost from ¥2 million to ¥4 million.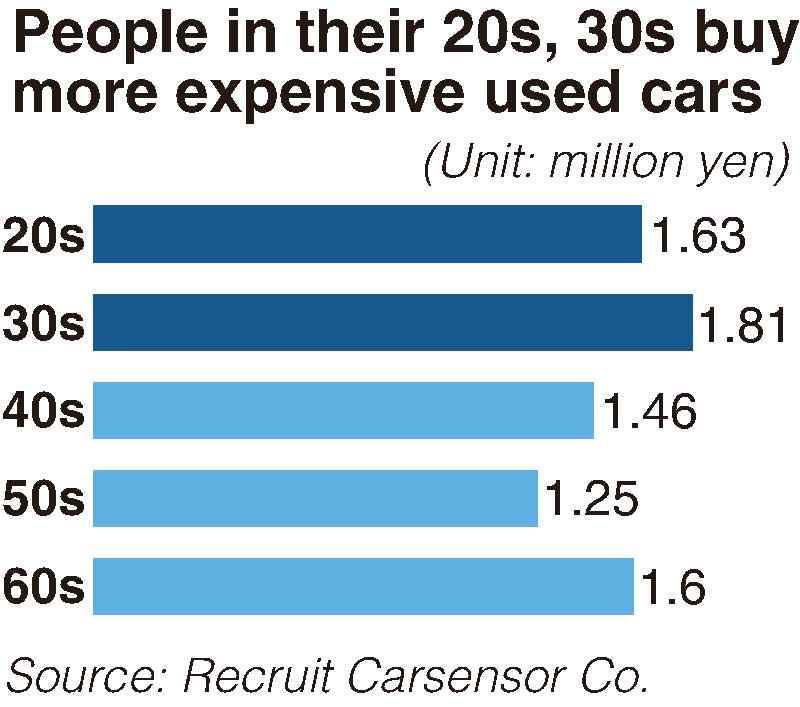 Notable models from the past also are proving popular, such as Nissan Motor Co.'s Skyline GT-R and Mazda's RX-7, which were much sought after in the 90s.
"Today's young people are familiar with sports cars because of their parents' influence as part of the 'supercar' generation," said Carsensor Editor-in-Chief Yasuhiro Nishimura. "[Sports cars] are likely to remain popular because many people feel older models have 'nostalgic' value, and they often post their impressions on social media."
Add TheJapanNews to your Google News feed.