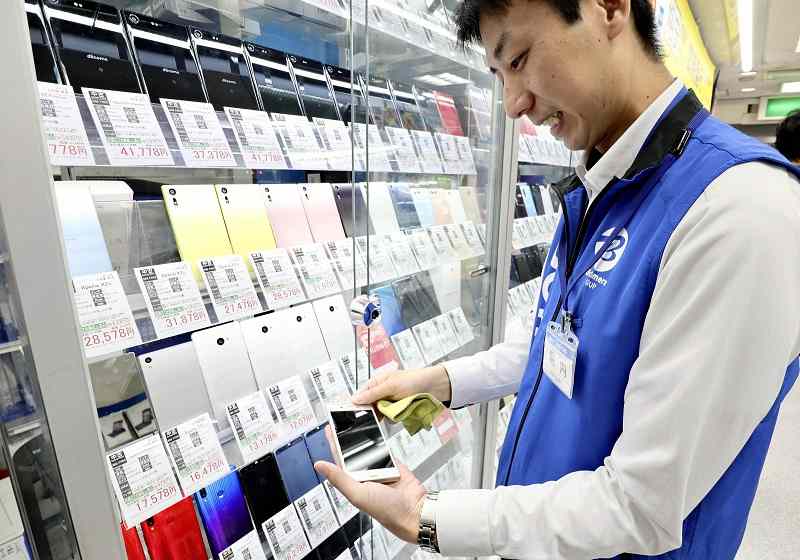 1:00 JST, June 20, 2022
Consumers are increasingly eschewing brand-new smartphones in favor of reasonably priced secondhand offerings.
According to a recent industry survey, the percentage of used-model users among all smartphone users recently passed 10% for the first time.
NTT Docomo Inc. began selling used models online in March. Other major mobile carriers, which have traditionally focused on sales of new devices, are starting to tap the secondhand market, too.
NTT Docomo markets secondhand Apple Inc. iPhone 10 models — originally introduced in around 2017 and 2018 — as "Docomo certified reuse products." The company uses its own inspection standards to check the basic functionality of phones — such as battery performance — ranks them visually for scratches and stains, then sells them at prices ranging from ¥30,000 to ¥60,000.
While NTT Docomo does not disclose information on how many units it shifts using this format, it says that more than 90% of customer-satisfaction survey respondents provided positive feedback on price and quality.
"We'd like to expand our sales channels for secondhand smartphones, including the use of sales outlets," an NTT Docomo spokesperson said.
KDDI Corp. started selling secondhand smartphones in 2020 and SoftBank Corp. began in January this year.
"When it comes to using the internet and social media, basic performance doesn't differ significantly between the latest models and those from several years ago," an official at a major mobile carrier said. "Demand for secondhand smartphones is growing."
Geo Store Corp., a Nagoya-based secondhand store operator, reported that secondhand iPhone 7 and 8 models priced between ¥10,000 and ¥20,000 are popular, and that sales of used smartphones and tablet devices in April increased by 20% from the same month last year. The company is presently upping its distribution of secondhand models and boosting the number of its stores and staff that deal with such products.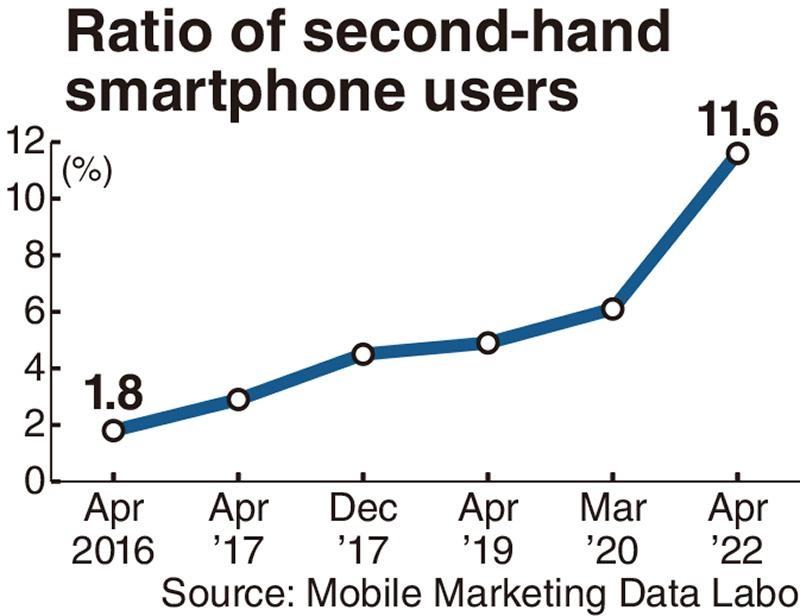 Low prices, safety
According to an April survey conducted on 10,000 men and women ages 18 to 69 by research company Mobile Marketing Data Labo, 11.6% of respondents said they used secondhand smartphones. The main reason for buying used devices was the cheap price, cited by 36.2% of those who own used smartphones.
New smartphones are increasingly expensive. For example, the iPhone 13 series that launched in September sells for at least ¥86,800 at Apple Stores. Many top-performance models made by a variety of manufacturers cost more than ¥100,000.
The 2019 revision of the telecommunications business law introduced a cap of ¥22,000 on discounts offered at stores operated by major mobile carriers, with a few exceptions.
Efforts to ensure the quality of secondhand smartphones has also helped escalate their uptake. Reuse Mobile Japan, which comprises secondhand smartphone dealers, has created a set of guidelines to assess the safety and performance of phones, splitting them into such categories as "Unused" and "Average-quality" based on their overall condition.
Lock-free future
In October, the Internal Affairs and Communications Ministry banned in principle the use of SIM locks, which restrict smartphones sold by major mobile carriers to a single operator network. Observers say this move will help provide a further fillip to the used smartphone market.
Another research company, MM Research Institute, Ltd., forecasts that 2.68 million secondhand smartphones will change hands in fiscal 2025 in Japan alone, up by 50% from fiscal 2020.
"The availability of the latest smartphone models is declining due to semiconductor shortages and more people want to buy used devices," said IT journalist Tsutsumu Ishikawa. "The market is going to keep expanding."
Add TheJapanNews to your Google News feed.