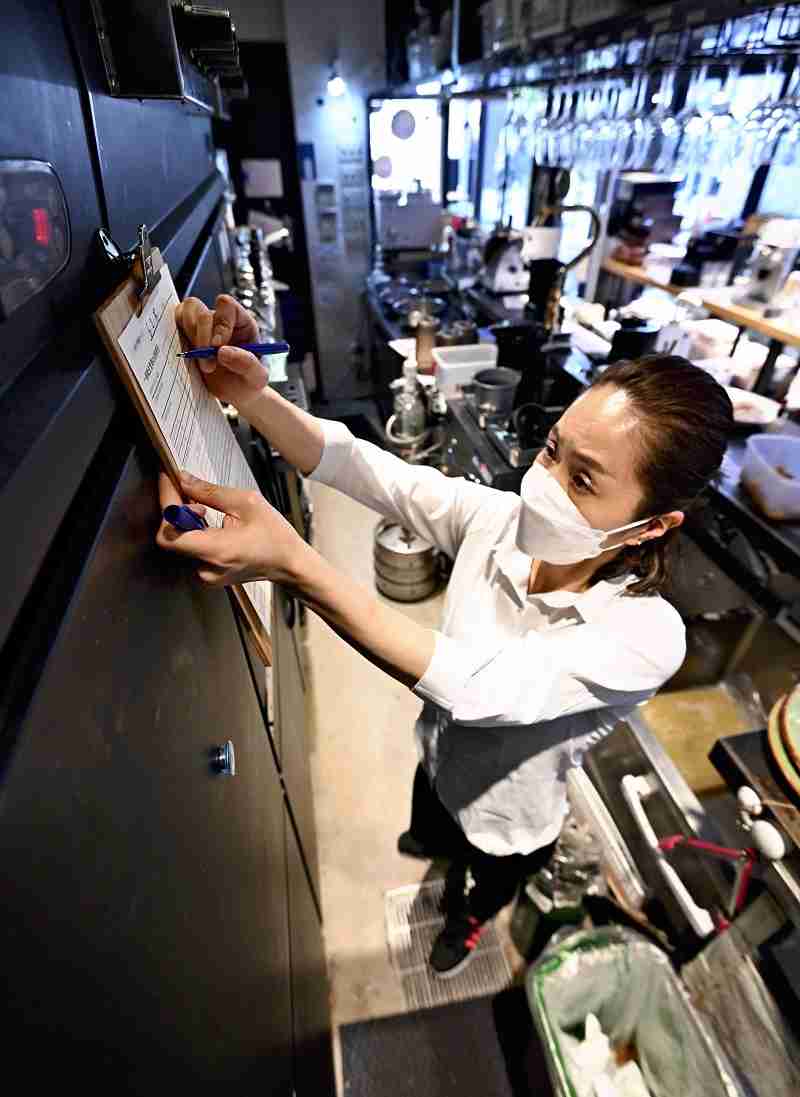 1:00 JST, June 10, 2022
Japan reopens to tourists on Friday, as the tourism sector looks to kickstart efforts to make the country a world-leading holiday destination after 26 months of COVID-19 travel restrictions.
Industry efforts are underway to introduce international standards on food safety and sustainable tourism as part of efforts to attract more foreign visitors to Japan.
At the Tokyo Oven Akasaka restaurant in Minato Ward, Tokyo, kitchen staff were busy checking refrigerator thermometers and the cooking temperature of meat and fish ahead of the dinner service on June 2.
Staff confirm that the temperature in the refrigerator is kept at 4 C and the freezer at minus 20 C, and cooking utensils are sterilized three times a day, among other things, in accordance with Hazard Analysis and Critical Control Point (HACCP) food safety guidelines.
HACCP is an internationally standardized hygiene management method to prevent food poisoning in the catering and food processing industries.
Japan made the implementation of HACCP mandatory in June 2021 before the Tokyo Olympics and Paralympics, moving the country in line with Europe and the United States.
HACCP guidelines on sanitizing hands and utensils, and managing the physical condition of employees are also appropriate as part of coronavirus measures, according to Tokyo Oven's Shinyu Watanabe.
In preparation for the Tokyo Games, the restaurant produced English-language menus and hired foreign staff, but the number of foreign customers has plummeted because of the pandemic.
Foreign customers used to account for 30% of revenue at the restaurant.
"We can provide a safe and secure service by thoroughly implementing coronavirus control measures and employing the HACCP method. We hope to convey the appeal of Japanese food to foreign visitors," he said.
Japan attracted 31.88 million foreign visitors in 2019 before the outbreak of the pandemic when a public-private sector initiative was underway to make the country a world-leading tourist destination.
The World Economic Forum's 2021 Travel and Tourism Development Index ranked Japan in the top spot for the first time, boosting expectations in the country.
Sustainable tourism
"We want to become the world's preferred tourist destination for sustainable tourism," said a municipal official in Aso, Kumamoto Prefecture, where Mt. Aso is located.
Sustainable tourism involves protecting the environment, culture and tourism resources for the future using money generated through tourism.
Sustainable tourism is said to be attracting a great deal of interest in Europe amid problems of overtourism, which has a negative impact on the local environment and communities.
About five years ago, a system was introduced in Aso through which visitors could pay to go on guided tours of local grasslands that had been closed to general tourists.
A portion of the money collected has been used to pay for the maintenance and management of the grasslands.
Such efforts have attracted the attention of a Dutch nonprofit organization focused on the promotion of sustainable tourism, which featured the municipality in a 2021 ranking of "Green Destinations."
Aso plans to train foreign-language-speaking guides in preparation for the arrival of foreign visitors.
Plans are also underway to organize tours where visitors can hear from Aso Akaushi cattle farmers and enjoy beef dishes as part of efforts to link tourism to the promotion of the livestock industry and the maintenance of the grasslands.
Meanwhile, Niseko in Hokkaido plans to urge lodging facilities in the town to tout their eco-credentials by joining an international certification system that is said to lead to sustainable tourism.
Travel agencies and tourists from Europe and the United States are increasingly considering such certifications when booking holidays.
The town will hold briefings with experts on international standards and introduce consultants to help lodging facilities get on board.
"So far, Japan's tourism policy has focused on increasing the number of visitors by relaxing visa issuance requirements and other factors," said Prof. Naoki Arai of Nara Prefectural University, who specializes in tourism policy.
"We should promote policies that enhance quality amid the COVID crisis, based on a recognition that safety, security and sustainability are things that are currently in vogue," he said.
Add TheJapanNews to your Google News feed.