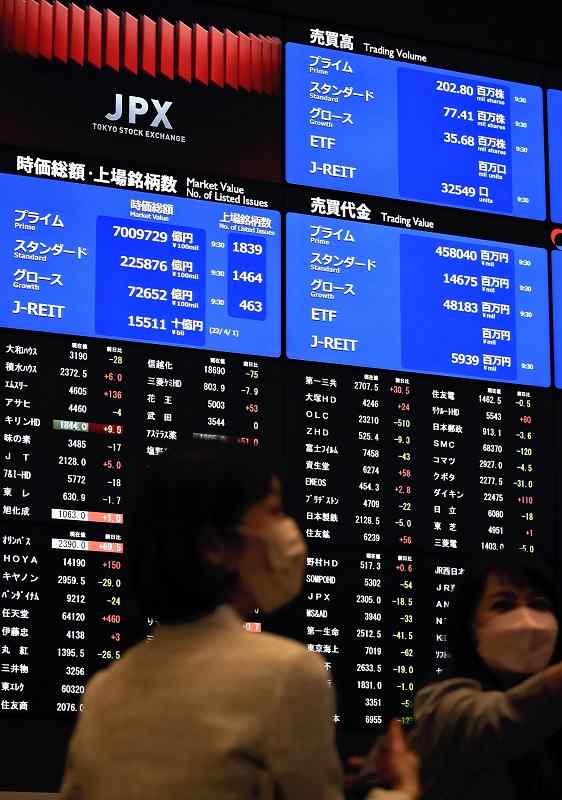 11:55 JST, June 2, 2022
TOKYO (Jiji Press) — Listed companies in Japan are increasingly adding outside directors to their boards, prompted by the country's stricter corporate governance code and stronger pressure from investors.
Under the revised corporate governance code, announced in June last year, companies listed on the Tokyo Stock Exchange's top-tier Prime section are required to have independent outside directors account for at least one-third of all directors, or at least a majority if there is a controlling shareholder.
The Prime section was created in April this year by reorganizing the TSE's previous four market segments including the first section.
As of last July, only 72% of the companies listed on the now-defunct first section had met the requirement, according to the TSE, a subsidiary of Japan Exchange Group Inc.
A survey by Mitsubishi UFJ Trust and Banking Corp., however, shows that moves to recruit outside directors became more prominent among listed companies after the market realignment.
Independent outside directors accounted for at least one-third of all directors at nearly 90% of the companies that close their books in December and held shareholders' meetings in March this year, the survey also said. At one company, 80% of all directors were independent outside directors.
On Thursday, two symbolic events took place ahead of the peak season in June for annual shareholders' meetings, in which increasing outside directors is likely to be a key issue.
Specifically, shareholders of retail giant Seven & i Holdings Co. approved a management reform plan under which independent outside directors would account for 60% of all directors. U.S. investment fund ValueAct Capital, a shareholder of Seven & i, had urged the company to pick a majority of its directors from outside the group.
Toshiba Corp. also announced the appointment of two outside directors from shareholders that are activist funds, after seeing its management reshuffling plan and two-way split proposal rejected by such shareholders.
Meanwhile, asset management companies have introduced stricter requirements over outside directors to be applied to companies in which they hold shares.
Asset Management One Co. demands at least two outside directors or one-third of total seats for such directors, against the previous minimum requirement of two outside directors or 25% of total seats.
JPMorgan Asset Management (Japan) Ltd. says it will oppose the appointment of a representative director such as a president in principle if a majority of board members are not independent outside directors or if the board has no female director.
Ahead of the shareholder meeting season in June, some activist shareholders have submitted proposals for securing independent outside directors at companies they invest in.
There are also proposals for banning appointments of officials from parent companies to fill high-level positions in subsidiaries and for reducing cross-shareholdings.
These proposals show that corporate governance is under stricter scrutiny.
Meanwhile, there is concern that companies may add outside directors to their boards just to make up numbers.
This is because some companies were involved in serious scandals in recent years though they had several outside directors with expertise.
An independent outside director of a company listed on the Prime section said the number of board members should be limited to no more than 10 in order to ensure lively discussions.
The director also said that what it takes to be a proper outside director goes beyond expertise and knowledge of corporate management.
"It's important that they be prepared to have thorough discussions with management when necessary, even demanding a change in top management at the risk of their positions," the director said.
Add TheJapanNews to your Google News feed.