Yamanashi Pref. to produce hydrogen as its local specialty using abundant sunshine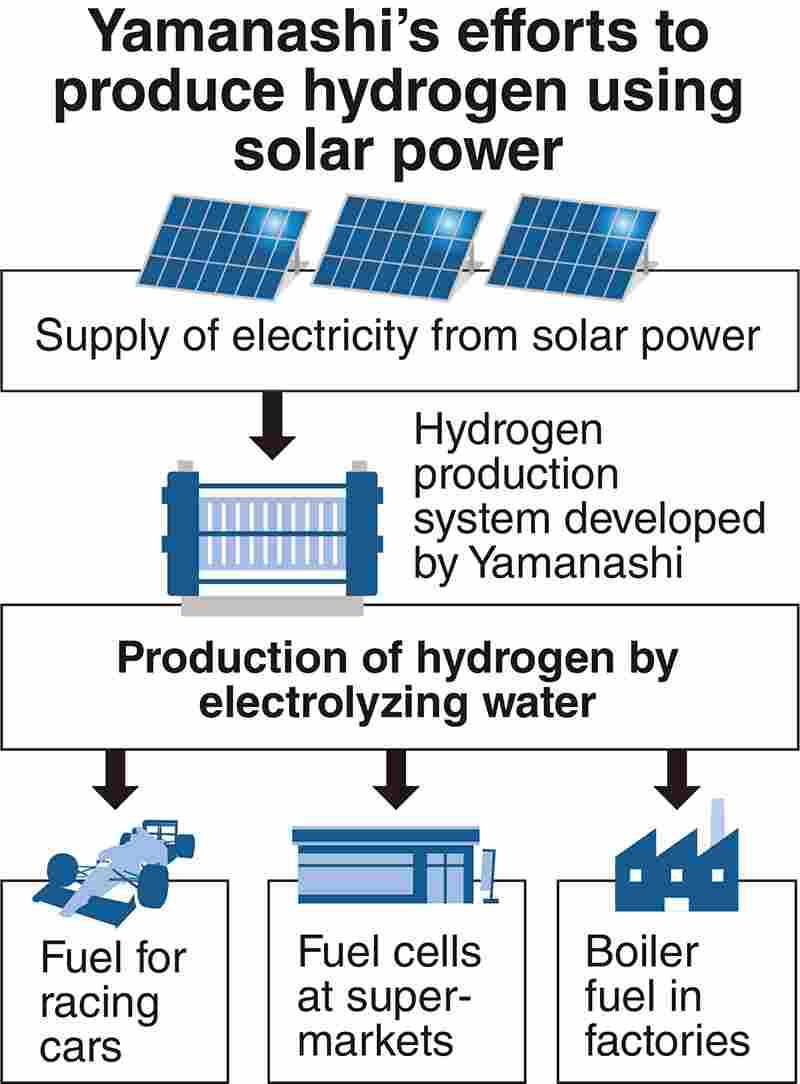 15:05 JST, June 1, 2022
KOFU — Yamanashi Prefecture, which prides itself on having some of the longest hours of sunshine of any prefecture, is pushing hard for the production of hydrogen using solar power.
The prefecture has not only been producing hydrogen but also working with private companies to jointly develop a hydrogen production system, even drawing visitors from abroad who come to inspect its hydrogen-generating facilities. The prefecture is trying to position hydrogen, which is commanding attention as a next-generation energy carrier, as its local specialty.
"We are going to have Yamanashi Prefecture supply us with hydrogen made using solar power," Toyota Motor Corp. President Akio Toyoda said at a press conference before the opening race of the "Super Taikyu Series," which was held on March 19 at Suzuka Circuit in Suzuka, Mie Prefecture. Toyota entered its hydrogen-engine-equipped racing cars in the endurance race.
When burned, hydrogen produces heat without emitting carbon dioxide. It is used in hydrogen fuel cells which produce electricity by reacting hydrogen with oxygen, and there are hopes that it can be used as an energy carrier to replace fossil fuels.
Yamanashi Gov. Kotaro Nagasaki, who attended the press conference together with Toyoda, responded by saying, "We would like to deploy our system to produce hydrogen from renewable energy globally."
Yamanashi Prefecture started developing a system to produce hydrogen with surplus electricity generated at its solar power station in the prefectural capital of Kofu in 2016. Thanks to cooperation with Tokyo Electric Power Company Holdings, Inc. and Toray Industries, Inc., a leading chemical company, the prefecture has become able to produce enough hydrogen per hour for six fuel-cell cars by electrolyzing water.
This hydrogen has been supplied not only to Toyota but also to factories in the prefecture for use as a boiler fuel, and it has also been used for fuel cells at supermarkets since June 2021.
Besides supplying hydrogen, the prefecture also plans to export its hydrogen production system. It envisages importing the hydrogen produced in those countries to which the system is exported, using the profit made from the sale of its system as purchasing funds. To realize this plan, the prefecture jointly established a company with TEPCO and Toray in February this year.
These efforts have been drawing the attention of oil-producing countries in the Middle East.
Amid a global trend toward decarbonization, these countries have been forced to shift their economic structure, which has been heavily dependent on oil revenues. The ambassador of Oman to Japan, who visited the prefecture to inspect a hydrogen-generating facility last year, said, "This is an excellent technology. We would like to introduce it into our country."
Nobuyuki Nishimiya, an advisor to the Hydrogen Energy Systems Society of Japan — a Tokyo-based nonprofit organization that comprises researchers and companies — gives high marks to Yamanashi Prefecture's stance, saying, "[Yamanashi] is ambitious in that it is trying not only to produce research but also to develop its business by having private companies get involved."
Add TheJapanNews to your Google News feed.