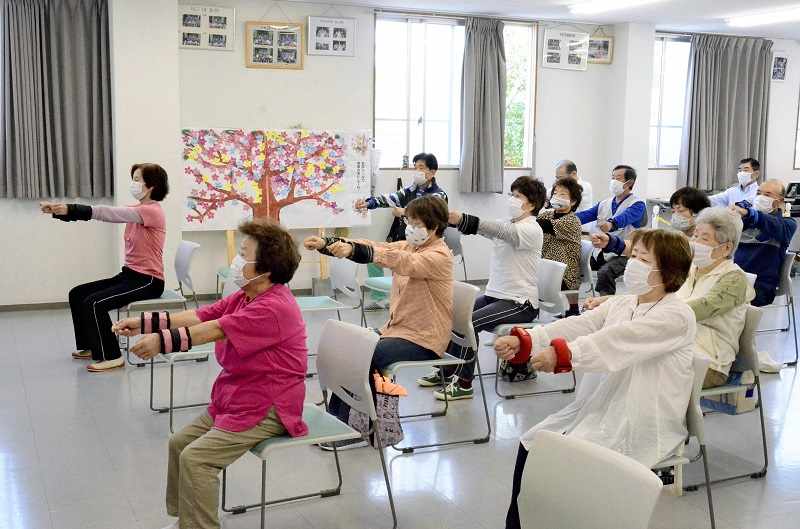 6:59 JST, June 1, 2022
More than 50 large Japanese companies and startups involved in telecommunications, healthcare and app development will create an organization in fiscal 2023 to foster a new industry that utilizes the health and medical data of individuals.
The public and private sectors will cooperate fully on the project, which is meant to hasten development of infrastructure to make big data easier to use, an area in which Japan is lagging far behind overseas IT giants. The new organization will create rules regarding data collection and the prevention of its misuse.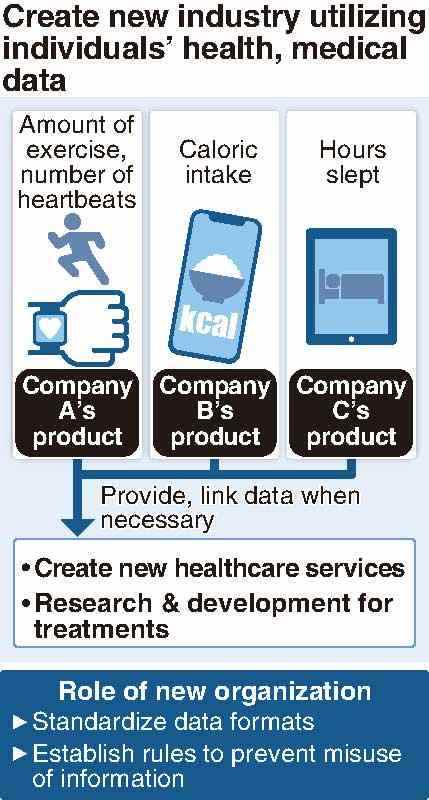 Health and medical data such as the number of steps taken, a person's heart rate, and their weight recorded by smartphone apps and other devices is called as a "personal health record", or PHR. Analyzing big data on PHR is expected to help develop health and treatment methods for each individual.
In the United States, Apple Inc. offers a service that automatically calls an ambulance if an Apple Watch detects that its user has fallen. Businesses utilizing health data are appearing one after another overseas.
In Japan, however, small- and medium-sized app providers manage their data separately, making it difficult for them to collaborate and hindering the creation of new services.
The new organization is expected to include more than 50 large companies, such as Nippon Telegraph and Telephone Corp. (NTT), Sompo Holdings, Inc. and Eisai Co., as well as startups involved in online medical care and health management applications. It will have the support of the Economy, Trade and Industry Ministry as well.
Common rules will be established for data formats that differ among companies, making it easier for companies to link data with the consent of users. The new organization will also consider ways to provide blood pressure, blood glucose and other data to family doctors and other healthcare providers to be used in medical treatment.
Guidelines will be compiled on the use of data and preventing its misuse. For example, companies will be required to provide scientific evidence when providing advice on health care to users via apps, to help prevent a negative impact on their health.
A system to certify apps created in accordance with the guidelines is also expected to be made.
Falling behind
Overseas companies, such as the U.S. IT giants known collectively as "GAFA," have taken the lead in the use of health and medical data, while Japanese companies have lagged far behind.
Amazon.com, Inc. has launched a service that allows users to consult with doctors and nurses on their smartphones, and Google LLC. is planning to launch a new smartwatch this autumn.
The global market for digital healthcare industry is expected to exceed ¥500 trillion in 2030. A U.S. startup executive said that "health data is a source of big money."
If Japan continues to lag behind, data related to Japanese individuals could be monopolized by foreign companies. There are also concerns that the research and development of treatment methods by Japanese companies will be delayed. Establishing the new organization is the first step toward the creation of such an industry in Japan.
However, there are many issues involved in handling such "ultimate personal data," as it can be related to be life-threatening matters. There are concerns people may suffer disadvantages in employment, marriage and insurance contracts if the data is leaked.