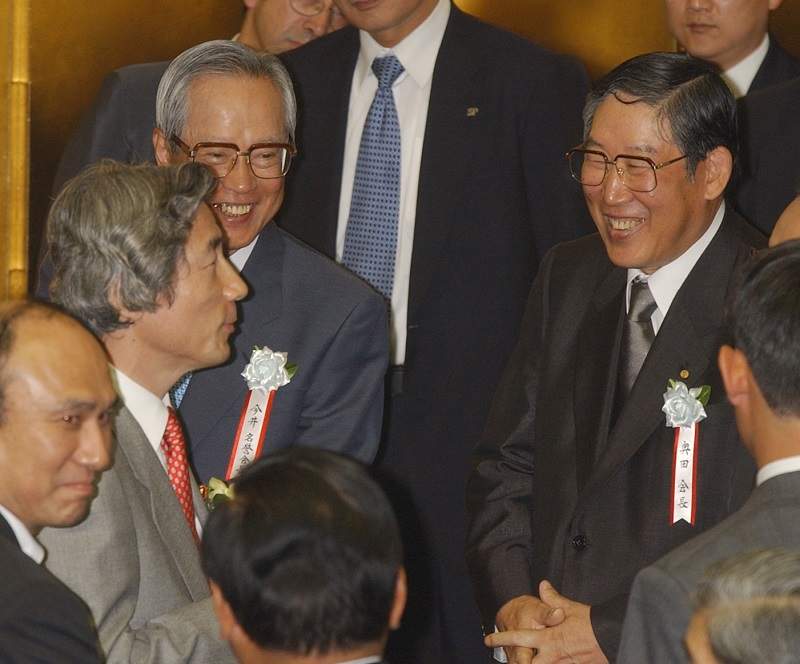 2:00 JST, May 31, 2022
Twenty years have passed since the Japan Business Federation (Keidanren) was founded through the merger of two of the country's then most powerful business organizations: the Federation of Economic Organizations, also called Keidanren, and the Japan Federation of Employers' Associations, known as Nikkeiren.
Keidanren has long held considerable sway within government circles, allowing it to realize such goals as corporate tax reductions. There is a flip side, however: Keidanren has come up short in its dealings with the Japanese economy, failing to successfully address such weighty issues as sluggish wage growth and a decline in competition among companies.
Reform pressures
"Twenty years ago, those involved foresaw the current situation in which labor and economic issues are inseparable," Keidanren Chairman Masakazu Tokura said at a press conference on May 23. "I think the merger was a great decision."
Prior to the tie-up, the Federation of Economic Organizations had attracted many of Japan's major companies and was considered the business community's "general headquarters," specializing in economic matters such as the corporate tax system. Nikkeiren, meanwhile, was perceived as the business community's "labor affairs department," and focused on matters related to social security payments and labor issues.
According to Keidanren Vice Chairman and President Masakazu Kubota, there were three factors behind the 2002 merger: the growing importance of social security, a gathering of momentum to realign the business community and the moderation of workers' demands during the spring wage negotiations.
At that time, the Cabinet of Prime Minister Ryutaro Hashimoto was working to reorganize the nation's ministries and agencies — this zeal for reform spread to the business community, too. Meanwhile, attempts to rein in the labor unions created a situation in which Nikkeiren's role began to come under scrutiny.
"After the merger, social security, labor issues and wage increases became major themes throughout Japan," Kubota noted.
Government ties
In the past 20 years, Keidanren chairmen have poured considerable effort into lobbying government administrations.
As the first chairman of the new body, Hiroshi Okuda served as a private sector member of the Council on Economic and Fiscal Policy and supported then Prime Minister Junichiro Koizumi and his structural reform policies. Okuda — Nikkeiren's last chairman — was a key player in the merger, along with Takashi Imai, his counterpart at the original Keidanren.
After becoming chairman in 2014, Sadayuki Sakakibara developed a close relationship with then Prime Minister Shinzo Abe. Since then, Keidanren has reconnected with the issue of political donations, such as by calling on member companies to contribute funds.
The organization also realized its long-held goal of cutting corporate taxes. Today, local and national levels of effective corporate tax rates are about 20%, compared with the figure of about 40% in 2002.
Tokura maintains a good relationship with the administrations of Prime Minister Fumio Kishida and previous Prime Minister Yoshihide Suga, and has had a certain amount of influence on government policies, such as the measures introduced to combat the novel coronavirus.
Shortly after taking office last June, Tokura proposed that 70-80% of the population should be fully vaccinated by winter. Inoculation proceeded rapidly under Suga, and crucially, Japan avoided lockdowns, the possible introduction of which had been a strong concern among the business community.
Tokura has also bemoaned delays in the easing of Japan's strict border controls, likening the situation to living in a "state of isolation." Some observers believe Tokura's remarks have played a part in Kishida's decision to begin relaxing border restrictions.
Sluggish wage-hikes
Wage increases, however, have unfolded at a slow pace, even after the introduction of government-led labor-management negotiations in 2014 under Abe, Japan's longest-serving prime minister. During such talks, the government effectively urges businesses to raise wages.
But Japan has yet to ignite a virtuous economic cycle — in which wages increase, consumption rises and corporate profits increase, leading to further wage growth — and the attempt to escape the deflationary trap has stalled halfway.
Some in the business community have flagged a seeming loss of interest within Keidanren to become involved with labor-management negotiations. "Nikkeiren would have promoted work-style reforms more effectively," said one observer.
"Japanese companies are hoarding internal reserves and investing insufficiently in human resources," a government official said. "Keidanren is facing growing headwinds and must produce results by raising wages."
Keidanren's leadership is facing its toughest challenge to date.
Add TheJapanNews to your Google News feed.