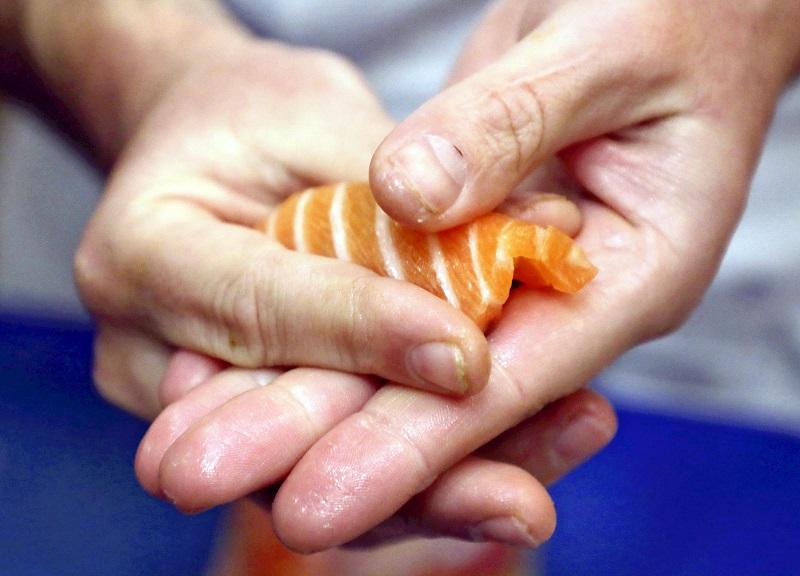 11:19 JST, May 26, 2022
TOKYO (Jiji Press) — Conveyor-belt sushi chains in Japan are moving to raise prices of their dishes to absorb higher costs.
Fish prices, which have been rising due to growing fish consumption around the world, are being driven up further by the yen's recent depreciation, while Russia's invasion of Ukraine is casting a shadow over seafood supply chains.
The "¥100 sushi plate" has been the icon of conveyor-belt sushi chains for decades, but now they are having difficulties keeping that price tag.
Food & Life Companies Ltd., which operates Sushiro, Japan's leading conveyor-belt sushi chain, will cease to offer sushi plates for ¥100 before tax for the chain at the end of September, after keeping the price unchanged since its 1984 establishment.
From Oct. 1, the lowest price per plate at Sushiro will be ¥120 including tax.
Sushiro relies on imports for most of fish for its sushi, and the weaker yen has increased its procurement costs.
"We will make efforts so that consumers can accept the price hike," a Food & Life official said.
Genrokuzushi, which claims to have opened the first conveyor-belt sushi restaurant in Japan, also raised prices of some menu items on May 10.
Hamasushi, under the wing of Zensho Holdings Co., will raise the prices of some of its high-end sushi plates to ¥319 from ¥308 including tax on Thursday.
Meanwhile, Kura Sushi Inc. will maintain its ¥100 plates before tax.
The company has recently opened a sushi restaurant featuring traditional Japanese-style designs in Kyoto.
"The appeal of eating out is to experience something extraordinary, so we want to offer memorable enjoyment [to our customers]," a Kura Sushi spokesperson said. The chain aims to secure profits by broadening its customer base, rather than by raising prices.
Another chain, Kappa Sushi, also has no plan to raise prices at the moment.
But the negative factors for conveyor-belt sushi chains are expected to linger. The yen's downtrend remains, and it is uncertain when the Ukrainian crisis will end.
Salmon roe and crab, which are used as sushi toppings, mainly come from Russia, and salmon, a popular sushi topping, is imported from Northern Europe.
Concerns remain that the disruption in logistics reflecting the Ukrainian crisis will lead to fish supply shortages and further hikes in seafood prices.