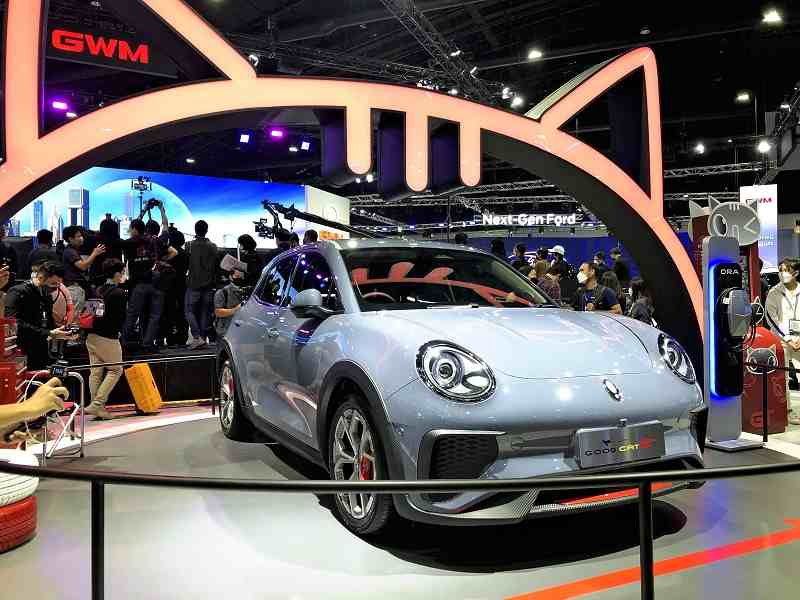 2:00 JST, May 24, 2022
BANGKOK — In Southeast Asia, Chinese automakers and manufacturers funded by local capital are launching into the electric vehicle market. This expansion comes as demand for EVs is expected to rise and countries seek to attract factories, and it could destabilize the dominant position of Japanese car manufacturers in the market.
In late March, the Bangkok International Motor Show was held in Thailand, known as the "Detroit of Asia" due to its high concentration of automobile industries. Companies competed to introduce EVs, demonstrating that the age of the electric vehicle has arrived. At the booth of China's Great Wall Motor Co., Narong Sritalayon, the managing director of the company's local subsidiary, emphasized that the company is listening to its customers and aims to be the leader in the EV market.
Last fall, Great Wall Motor began selling a compact EV, the ORA Good Cat, in Thailand. The price of the cheapest model is 800,000 baht, about ¥3 million, and it is being positioned as a middle-class car. As of mid-April, orders for the ORA Good Cat exceeded 3,500 units, and reservations for the model were temporarily suspended due in part to a shortage of semiconductors.
There is also a plan to produce EVs mainly through local capital, and competition among Southeast Asian companies is intensifying.
The PTT Public Co. has unveiled an EV prototype and formed a partnership with Taiwan's Hon Hai Precision Industry Co. Hon Hai, known for being contracted to produce iPhones, is aiming to mass-produce EVs in response to orders from various companies. In Vietnam, VinFast Trading and Service LLC, an automaker under the umbrella of a major local conglomerate, began selling EVs at the end of last year.
Tax reduction incentives
Governments in each country are also competing to attract factories. Indonesia is the world's largest producer of nickel, an element used in batteries. The government is trying to lure factories to the country through a possible embargo on unprocessed nickel and through lower taxes on companies that manufacture their products in the country.
In April, China's Contemporary Amperex Technology Co., known as CATL, a major automotive battery manufacturer, announced that along with Indonesian companies it would invest $6 billion, about ¥770 billion, to build a new factory and other projects. The company explained that the investment was "an important milestone for CATL's global footprint expansion." South Korea's Hyundai Motor Co. has also begun producing EVs in Indonesia.
In February, the Thai government announced an incentive program of lower tax rates for companies that produce EVs within the country. Sales subsidies are also available. The government aims to foster related industries and to stimulate demand through both the tax system and subsidies.
With the global trend toward decarbonization and an expectation that demand for EVs will increase further, countries are accelerating their strategies to become hubs for EV production.
Japan lags behind
Japanese manufacturers are also trying to catch up. Toyota Motor Corp. exhibited its mass-produced model electric vehicle, the bZ4X, and EV models of its luxury car brand Lexus at the motor show in Bangkok. In late April, Toyota signed a memorandum of understanding with the Thai government to apply for incentives.
Japanese automakers have been dominant in Southeast Asia, with market share exceeding 80% in some countries. However, they have focused on hybrid vehicles and plug-in hybrid vehicles as their main electrified vehicles, with their production of fully electric vehicles lagging behind.
Mitsubishi Motors Corp., together with Thailand Post Co., will conduct demonstration tests for converting commercial vehicles to EVs. Competing Chinese automakers provide more than just an offer of low prices. An official at a major Japanese automaker stated, "Unlike in the past, Chinese manufacturers have grown not only in technology but also in design."
Hajime Yamamoto of Nomura Research Institute Thailand pointed out that if prices fall further and recharging stations increase in rural areas, the spread of EVs will accelerate. "Depending on the situation, Japanese manufacturers may be forced to rethink their strategies."
Add TheJapanNews to your Google News feed.