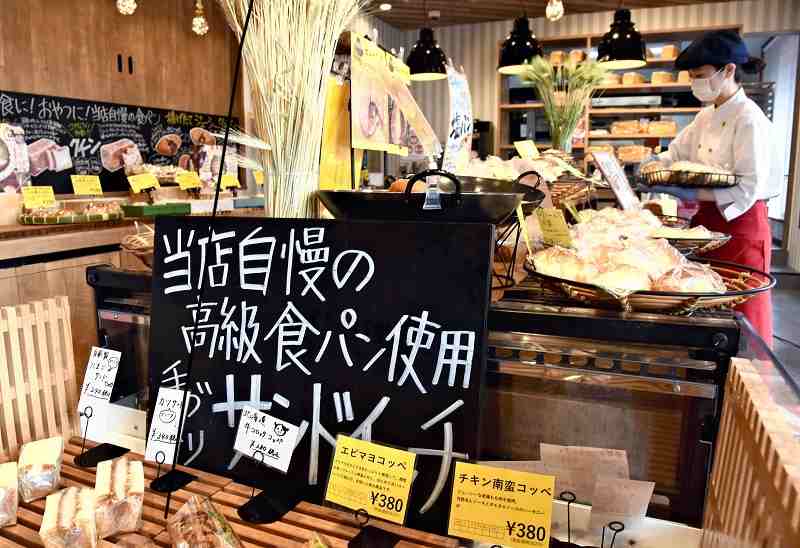 7:00 JST, April 26, 2022
The high-end, loaf bread bakery shop boom in Japan seems to have reached a turning point. The number of these shops has increased rapidly in recent years with the rising popularity of loaf bread made of high-quality ingredients, leading to intense competition.
But now some shops are reviewing their strategy and have started to also sell sandwiches and stuffed bread, while others are opening shops abroad. The rising price of wheat due to the Russian invasion of Ukraine is also expected to have an impact.
One such bread shop chain is Aseru Osama, which has about 10 affiliated shops mainly in Chiba Prefecture. Its Goi shop in the city of Ichihara in the prefecture attracts many homemakers and families, even during the daytime on weekdays. On its shelves are high-end loaf breads, which cost ¥864 for two loaves, as well as smaller bread offerings such as salt bread and melon bread.
"Its loaf bread is for a special day, while curry bread is for a daily snack," said a 43-year-old customer. "Different breads for different occasions."
Aseru Osama opened its first shop in the summer of 2020 as a specialty shop for high-end loaf breads. From last summer when it opened the Goi shop, which sells a variety of breads, it started shifting toward operating as a town bakery that sells bread for everyday life.
Sales per shop are increasing, and its operating company's official said, "Now that customers can enjoy choosing [different types of breads], they are coming back to our shops more frequently."
Intense competition
One of the factors that led to this business model shift is intense competition.
High-end bread pioneer Nogami, which was founded in 2013, has opened shops in all 47 prefectures. The wild popularity of its fresh loaf bread, which is soft up to the crust, appears to have spurred a rapid increase in the number of competing shops.
According to a research firm Fuji Keizai, the domestic market for specialty loaf bread shops was worth ¥30 billion in 2020. This was an increase of over 30% from the previous year.
However, existing shops in the Tokyo metropolitan area have been struggling, partly due to a drop in demand as gifts for home visits amid the prolonged coronavirus crisis. The research firm expects the market size to peak in 2023 at ¥40 billion, then shrink slowly.
Ginza Nishikawa, founded in 2018, opened 47 shops in 2019 and has since grown to about 120 shops. But for this year, only three new shops had opened by the end of March, with four more to follow this month.
Its spokesperson said: "The temporal boom came to an end, and our shops' popularity has been established. The pace of opening new shops will slow down from now on."
With the boom calming down, there have also been moves to try to develop new sales channels. Last month, Nogami opened its first overseas shop in Taipei. Ginza Nishikawa is also considering opening branches abroad.
Impact of Ukraine crisis
Soaring wheat prices, mainly due to the worsening situation in Ukraine, are also a cause of concern.
Ginza Nishikawa raised its loaf bread prices on April 1 by 10% to ¥950 for two loaves. In February, another loaf bread shop, Ippondo, also raised its prices by ¥20 per loaf, with the exception of mainly new products.
"There are not only shops using ingredients and production methods suitable for high-end bread, but also shops that are just riding the boom and whose price and value do not match up," said Hiroyuki Fujiwara, an economist specializing in consumption analysis. "With the price increases, consumers are becoming more selective," he said.
Add TheJapanNews to your Google News feed.