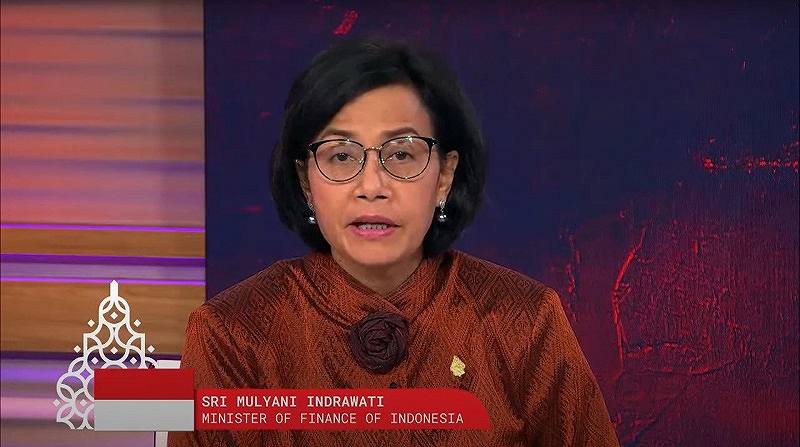 16:15 JST, April 21, 2022
WASHINGTON — In an unprecedented move, the finance chiefs of the United States, the United Kingdom and Canada reportedly walked out of a Group of 20 meeting Wednesday with other like-minded officials to protest fellow member Russia's virtual appearance amid the war in Ukraine.
The G20 finance ministers and central bank governors meeting, the first since Russia's invasion of its neighbor began Feb. 24, ended without a joint communique, highlighting the confrontational attitude among the 20 biggest economies of the world.
Indonesia holds the rotating G20 presidency this year, and its finance minister, Sri Mulyani Indrawati, chaired the meeting.
"Many members condemned the war as unprovoked and unjustifiable, and a violation of international law," she said afterward during a streamed press conference. "Some members expressed concerns about the economic consequences of the sanctions."
She added, "Members share the view that the war has made global growth as well as recovery much more complex."
U.S. Treasury Secretary Janet Yellen, U.S. Federal Reserve Chair Jerome Powell as well as British and Canadian officials were among the attendees who left the meeting as Russian delegates spoke, according to the official Twitter account of Canadian Deputy Prime Minister and Finance Minister Chrystia Freeland.
U.K. Chancellor of the Exchequer Rishi Sunak tweeted, "We are united in our condemnation of Russia's war against Ukraine."
Western media reported that the Ukrainian delegation, a guest of the G20, also walked out before Russia started speaking at the meeting.
Russian Finance Minister Anton Siluanov spoke at the meeting virtually. According to the Russian Finance Ministry, Siluanov criticized the economic sanctions imposed on Russia by nations such as Japan and the United States, and several in Europe. The ministry quoted Siluanov as saying advanced nations' past financial and economic policies have added inflationary pressure, and the sanctions against Russia further intensified the pressure, posing new risks to the economy.
The global economy is facing a number of challenges, including soaring oil and food prices following the invasion and the issue of developing countries' debt, which has ballooned due to the COVID-19 pandemic. But it is believed there was scant progress on the discussion of these issues at the G20 meeting because of the walkout and tensions at the gathering.
The Group of Seven finance ministers and central bank governors held their meeting after the G20, confirming their unity in stepping up their pressure on Russia. They compiled their joint statement voicing their desire to block Moscow from circumventing the sanctions and reduce energy imports from Russia.
Add TheJapanNews to your Google News feed.