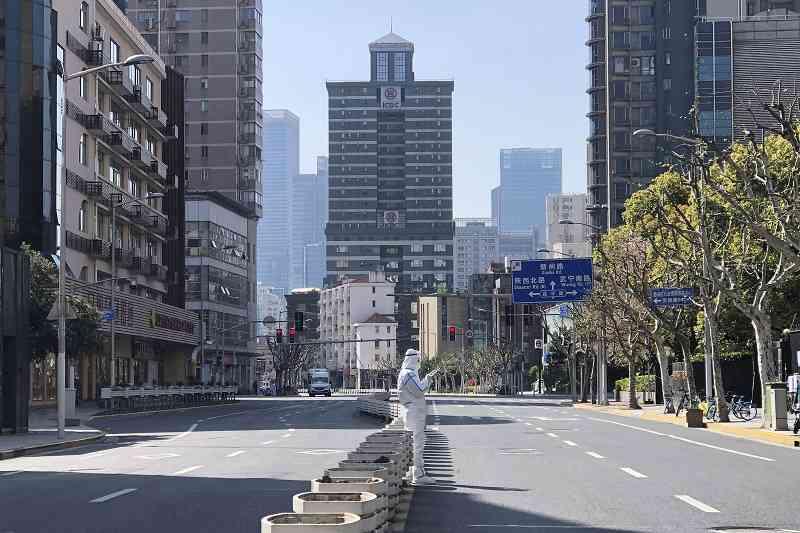 12:25 JST, April 12, 2022
China's "zero-coronavirus" policy is putting the global economy at risk. The lockdowns of major cities, including Shanghai, have put severe restrictions on the movement of residents, leading to plant and store closures in those cities. The supply of components from China has been interrupted as well, which affects the production activities of Japanese companies and other firms overseas. If the effects of lockdowns are prolonged, it will inevitably deal a blow to the world economy.
Sales drop 33%
"Supply chain disruptions caused by the coronavirus pandemic have affected both production and sales," said Shohei Yamazaki, president of Nissan Motor Co.'s Chinese joint venture, explaining a drastic decline in March's new car sales in China. The automaker announced Friday that it had sold 87,902 vehicles in China in March, down 32.6% year on year.
Honda Motor Co.'s auto sales also dropped significantly, by 33.2%. While Toyota Motor Corp.'s sales across China remained flat, FAW Toyota Motor Co., a Chinese joint venture between Toyota and a local company, saw a sales decline of 17.3%. The joint venture has a plant in Changchun, Jilin Province, which is in lockdown.
Lockdowns in China are stricter than in the United States and European countries. For example, residents are not allowed to go out except to take PCR tests. For that reason, employees cannot go to their workplaces and customers do not come to stores. Under such circumstances, plants and stores have no choice but to close, and as a result, economic activities are considerably restricted.
Sony Group Corp. has suspended operations of a plant in Shanghai that mainly produces TV sets since March 28. "We have no prospect of resuming plant operations. It depends on the Shanghai municipal government's policy," a company spokesperson said.
Hitachi Ltd. suspended operations of its elevator plant. While the company has resumed operations of some plants, they are running at reduced capacity.
More and more distribution and retail companies have been affected. Fast Retailing Co. has shut all 86 Uniqlo stores and all eight GU stores in Shanghai. Familymart Co. has closed some of its 1,500 outlets in Shanghai.
Effects seen in Japan
The impact has also begun emerging in Japan. Mitsubishi Motors Corp. is going to suspend operations of its Okazaki Plant in Okazaki, Aichi Prefecture, for five days from April 11. The plant produces the automaker's sports utility vehicle Outlander and other models. This is because the supply of components from China has been disrupted, and the automaker is expected to furlough some workers.
Honda Motor has decided to reduce its planned production in April at its Suzuka factory in Suzuka, Mie Prefecture, by 30%. In addition to the delay in components supply, the prolonged semiconductor shortage is part of the reason.
The American Chamber of Commerce in the People's Republic of China, which comprises U.S. companies operating in China, released the results of a questionnaire on April 1. According to them, 81.6% of manufacturing companies said that their production had been delayed or reduced due to instructions from the Chinese government to close, among other reasons. In the manufacturing sector, 85.5% said that their supply chains had been disrupted.
Port volumes decline
Activity at the Port of Shanghai, the world's largest container port, has seriously declined. Chinese media outlet Caixin reported that an executive of the European Union Chamber of Commerce in China said at a seminar on April 6 that the delivery of products has been restricted due to a shortage of truck drivers to take deliveries to and from the port.
The executive presented an estimate that total cargo volumes handled at the port were down 40% from ordinary levels.
Toru Nishihama, chief economist at Dai-ichi Life Research Institute, said: "The Chinese economy will inevitably slow down, and it will have an impact on Southeast Asian countries that have close economic ties with China. If the lockdowns become prolonged, it might push down the global economy."
Add TheJapanNews to your Google News feed.