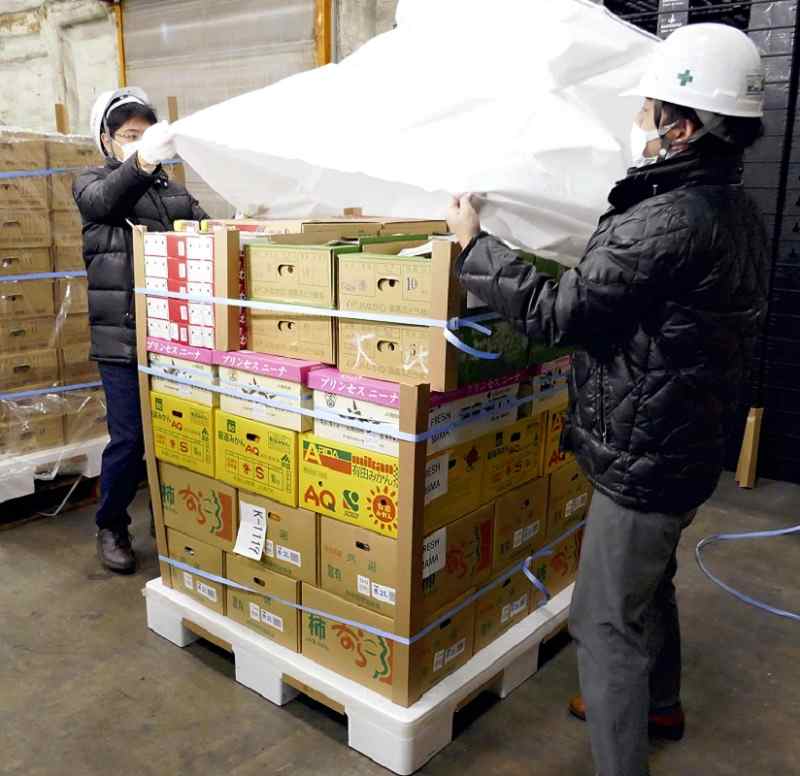 2:00 JST, April 9, 2022
Aiming to increase exports of fruit, the government is working to promote maritime transport of the produce from Hanshin Port, which includes the Port of Osaka and the Port of Kobe. While ships are slower than planes, they have the advantage of being able to transport large quantities at lower costs. Currently, export volumes of fruits such as mikan mandarin oranges, persimmons and strawberries are small. The government hopes to establish a method to transport them by ship while keeping them fresh and to encourage exporters to use sea transport.
According to the Agriculture, Forestry and Fisheries Ministry, exports of agricultural, forestry and fishery products and foods including fruits increased 25.6% in 2021 from the previous year to ¥1.24 trillion yen, hitting a record high for the ninth consecutive year and exceeding ¥1 trillion for the first time. Fruits and vegetables accounted for about 5% of the exports. Many of the exported fruits were apples, most of which are transported by ship because they stay fresh longer.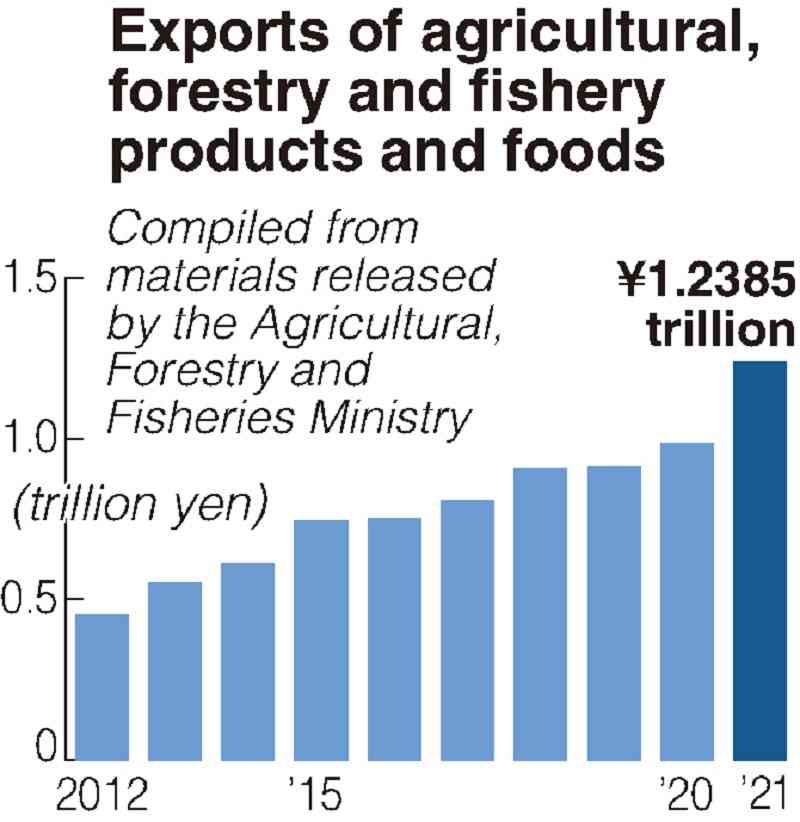 The ministry, aiming to increase the total export value to ¥5 trillion by 2030, sees mikan and persimmons as key export items. However, there are many issues involved in exporting fruits other than apples.
Japanese fruits are popular in China and some other countries due to their high quality. However, the expense of air transport drives up their retail prices. For example, in the case of exports to Hong Kong, airplanes are often used because goods can be delivered on the same day by air. However, air transport costs nearly five times as much as sea transport. So, such fruits are often treated as Lunar New Year gifts for the rich.
 Sea transportation takes longer, meaning that the fruit arrives less fresh. For that reason, export destinations are limited when using ships.
 To address the situation, the Land, Infrastructure, Transport and Tourism Ministry's Kinki Regional Development Bureau and others are trying to make use of Hanshin Port, a well-equipped logistical center with refrigerated warehouses and other facilities that is a national distribution hub for fruit.
 Since December, the bureau has twice conducted practical experiments in sea transportation from Hanshin Port to Hong Kong. The purpose is to establish a method to transport small amounts of fruits like Wakayama Prefecture mikan and Nara Prefecture persimmons by putting them in containers for Aomori Prefecture apples, which can be exported in large quantity throughout the year.
 By sea, it ordinarily takes about four days for a shipment to arrive in Hong Kong, although distribution chain disruptions caused by the coronavirus pandemic have extended that time to about a week. Furthermore, ethylene gas, which is given off by apples, affects the ripening of other fruits. In the experiments, boxes containing mikan and persimmons were wrapped in packaging films that are being developed by Mitsui Chemicals, Inc. and others to protect these fruits from the gas.
 The bureau will examine issues such as whether or not the freshness and flavor of the fruits can be maintained after they are transported, aiming to put the method into practical use.
Add TheJapanNews to your Google News feed.