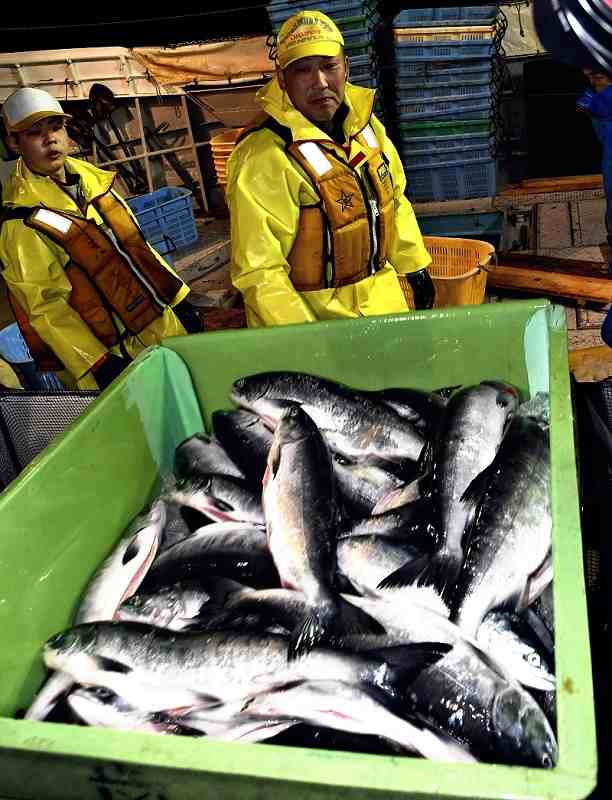 11:13 JST, March 29, 2022
Russia's invasion of Ukraine has cast a long shadow over Japan's fishing industry — the schedule for bilateral fishery negotiations on salmon and trout has yet to be set, and an international conference to discuss saury resource management has been postponed.
Due to supply concerns, prices of imported Russian marine products are also expected to rise. The impact of Russia's military aggression is likely to spread to households, too.
"If nothing is done, we won't be able to catch chum salmon this spring," lamented Katsuya Matsuura, 63, the owner of a 13-ton vessel that belongs to the Nemuro Fishermen's Cooperative Association in Hokkaido.
Chum salmon are caught from spring to early summer and are popular as a high-end fish variety with more fat than salmon landed in autumn.
Matsuura's ship usually sails to the Pacific Ocean in early April, but he has been unable to make plans this year because the schedule for Japan-Russia fishery negotiations has not been nailed down.
Based on the premise that salmon and trout belong to the country in which they were born, an agreement between both governments is necessary to allow Japanese fishery businesses to catch these fish even within 200 nautical miles of Japan. In light of this, business operators pay fishery cooperation fees to the Russian side in accordance with the size of their catches. Negotiations are usually held in March and April, but as of March 25, the date for this year's negotiations had yet to be determined.
In last year's negotiations, the two countries agreed that Japan could catch up to 2,050 tons of salmon and trout in Japanese waters. As about 63,000 tons of the fish were caught in the nation's waters in 2020, the share of catches decided through the bilateral negotiations is small. However, the share is crucial for some fishermen.
"We can make a living by catching chum salmon," Matsuura said. "Fishermen do their jobs by going out to sea, so we're preparing to fish."
According to the Fisheries Agency, negotiations are also held between Japan and Russia every November and December to determine the annual allowable catch of saury, mackerel, walleye pollock and Atka mackerel, among other matters. The terms have already been agreed for this year's operations, but a senior official of the agency said, "If the Ukraine crisis drags on, it could affect next year's fishery operations."
Meanwhile, the North Pacific Fisheries Commission (NPFC) had been scheduled to hold meetings from March 28-30, at which nine countries and regions — including Japan, Russia, China, the United States and the European Union — planned to discuss saury fishery management. However, the meeting has been postponed after some participating countries found it difficult to attend due to the present circumstances. The meeting has yet to be rescheduled.
At the NPFC meeting in February last year, participating countries agreed to reduce the total annual catch quota for Pacific saury by 40% to 334,300 tons each in 2021 and 2022. Japan had intended to propose strengthening the resource management of the fish at this year's meeting.
"Resource management of Pacific saury is an important issue," an official of the Fisheries Agency said. "It's regrettable that the meeting has been postponed."
Tariffs likely to be raised
The Japanese government has announced the revoking of Russia's most-favored nation trade status as part of economic sanctions against Moscow. If tariffs are raised as a result, the custom duties on crabs could increase from the current 4% to 6%, sea urchin from 7% to 10% and salmon from 3.5% to 5%.
In 2021, Japan's imports of marine products from Russia totaled ¥138.1 billion, the third largest figure after those from China and Chile. With Russia accounting for 90% of Japan's king crab imports and 50% of its sea urchin imports, fears are growing over an impact on households.
"Prices of crabs, sea urchin and salmon roe have already surged in recent years due to continuous poor catches," said Hokkai-Gakuen University Prof. Takeshi Hamada, a fisheries policy expert. "If traders rush to procure these products in response to the Russian situation, prices of familiar marine products, such as Atka mackerel, cod and cod roe, could go up by more than 10%," Hamada said.
Frozen Russian marine products caught in the Far East are often gathered in Busan, South Korea. Hamada said Busan has plenty of stockpile and there would not be an immediate shortage of such products.
Of the fishery negotiations, Hamada said, "It would be difficult to conclude the negotiations when each country is imposing different economic sanctions."