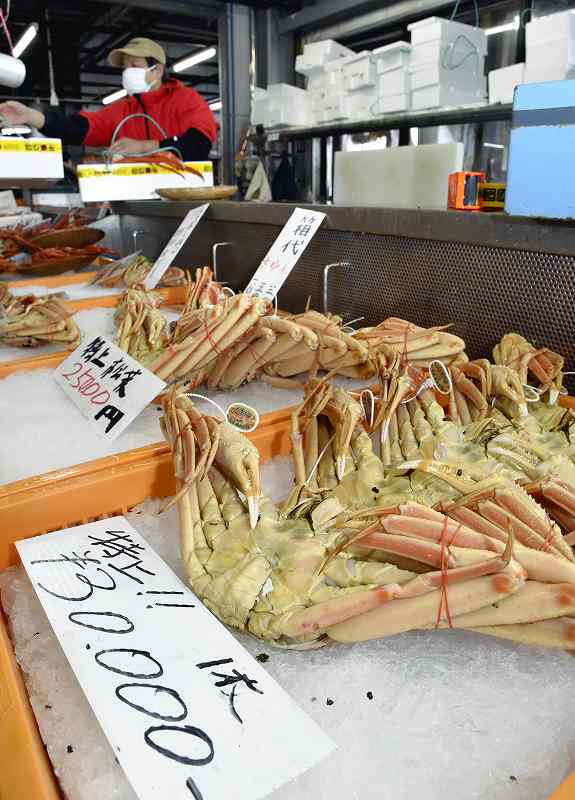 11:17 JST, March 16, 2022
Concerns about seafood shortages have been growing in the wake of Russia's invasion of Ukraine, as Japan heavily relies on Russia for marine products such as crabs, uni sea urchins and sockeye salmon.
Should there be a delay in imports of these products, their prices are likely to skyrocket.
Seafood imports from Russia are likely to become more difficult in the future because the economic sanctions that Japan and many Western nations have imposed on Moscow have resulted in the exclusion of some Russian banks from the international settlement network, which likely makes it impossible to pay Russian companies for their products.
As one of many retaliatory measures against the sanctions, Moscow might impose a ban on seafood exports.
Top shares
The majority of marine products consumed in Japan comes from imports.
Marine products imported from Russia in 2021 totaled ¥138.1 billion, accounting for 8.6% of all such imports, or the third highest percentage by value after China at 18.1% and Chile at 8.9%, according to the Agriculture, Forestry and Fisheries Ministry.
Russian products account for the top share by value of several seafood items, including crabs at 56% (¥38 billion), sockeye salmon at 79% (¥15.1 billion) and sea urchins at 47% (¥9.8 billion).
An employee at Marutsu Osei Co., an intermediate wholesaler at the Toyosu wholesale market in Tokyo, is worried that the fighting in Ukraine could cause a decrease in the supply of sea urchins. About 70% of sea urchins the firm purchases are imported from countries such as Russia and Chile, while the remaining 30% are domestic.
Domestically produced sea urchins are already in short supply because of red tide in Hokkaido last autumn.
The average wholesale price of domestically produced sea urchins was ¥32,974 per kilogram in January at the Toyosu market, up about 40% from previous year. The average wholesale price of imported sea urchins is ¥25,851 per kilogram, more than 50% higher than the previous year. If the supply of Russian sea urchins thins, prices could skyrocket.
At a marine products processing company in Kami, Hyogo Prefecture, about 70% of the snow crabs it handles are from Russia.
Since it has become uncertain how the company will secure Russian crabs, the firm plans to procure the product from other countries or domestically, though it is difficult to say how things will turn out.
"Even if we manage to procure snow crabs, we will not be able to avoid a price increase," the company's president said.
Reliance risk
According to Reuters, Russia announced on March 10 that it would ban exports of high-tech equipment and some forestry and wood products through the end of 2022 as retaliation against Western sanctions.
If an embargo is also imposed on marine products, "Russian salmon roe and king crabs, which take up a large share of the Japanese market, will be difficult to replace from other sources," said Toshio Katsukawa, associate professor at Tokyo University of Marine Science and Technology.
"The amount available at the market will likely decrease," he said. "Cod roe and sea urchins can be procured domestically or from the United States, but price increases will be inevitable.
"The risk of depending on other countries for food is becoming clearer," he added.
Russia's invasion of Ukraine has also affected the scheduling of annual fishery negotiations between the Japanese and Russian governments.
Based on the state of origin principle of the United Nations Convention on the Law of the Sea, which states that salmon and trout belong to the country in whose rivers they spawn, Japan and Russia need to discuss the amount of fish caught and the fishing cooperation fee to be paid to Russia, even if the salmon and trout fishery is operated within Japan's exclusive economic zone that extends 200 nautical miles.
Usually, negotiations start in March for the fishing season from April, but this year, nothing has been scheduled yet. At a meeting of the Budget Committee of the House of Councillors on March 7, Takashi Koya, director general of the Fisheries Agency, said simply, "We are adjusting the negotiation schedule for the fishing season to start in April."