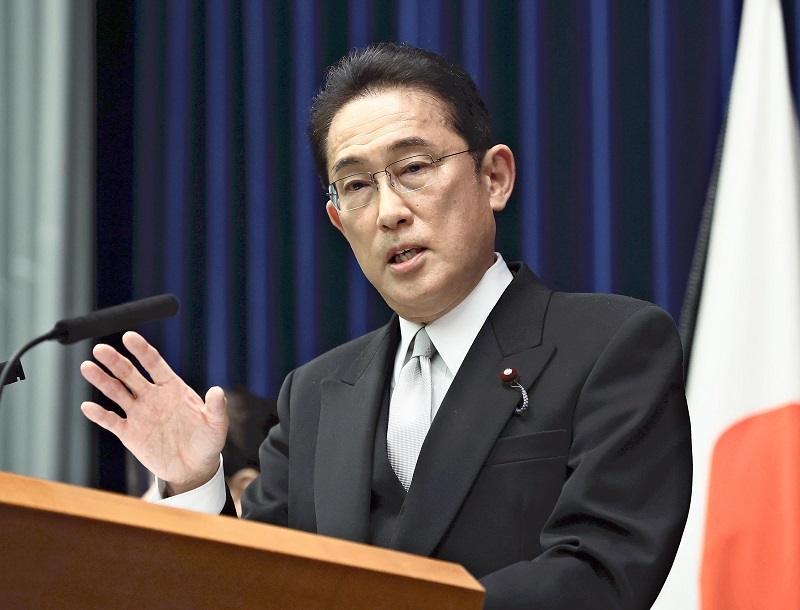 11:51 JST, October 8, 2021
Prime Minister Fumio Kishida, whose first full day in office was Tuesday, is seeking victory in a House of Representatives election that will feature the shortest period from lower house dissolution to voting since World War II. This article is the first in a three-part series that will explore challenges related to managing his administration, domestic affairs and diplomacy.
"At the outset, I would like the public to decide whether to entrust things to me, so I can engage in a politics of trust and empathy with their confidence," Kishida said at his inaugural press conference as prime minister on Monday, explaining his decision to officially announce the lower house poll on Oct. 19, with voting to take place on Oct. 31.
He has proposed creating a "new capitalism" that promotes income redistribution and establishing a new agency to manage health crises, which would strengthen the government's response to the novel coronavirus.
Many of his proposed policies will require considerable political capital to overcome objections and resistance from the ruling parties and the bureaucracy.
Kishida believes that strengthening his political foundation through an election victory is essential to obtain a mandate for his goals.
Former Prime Minister Shinzo Abe, who holds the record for the longest administration, won national elections and rebuilt his government after losing political momentum by passing controversial major legislation.
Former Prime Minister Yoshihide Suga resigned without ever having dissolved the House of Representatives.
Kishida's faction is only the fifth-largest in the Liberal Democratic Party, which would make an election victory even more significant.
An LDP poll on a lower house election conducted from mid- to late August found that the party would lose nearly 40 seats, dropping to about 240.
At the time, coronavirus cases were increasing rapidly and the Suga Cabinet was facing major headwinds.
Since then, case numbers have improved dramatically and there is a new prime minister. Many LDP members expect the winds of fortune will also change.
In some respects, drumming up party member votes for the recent LDP presidential election could help sustain conservative support for the party in the lower house election.
Kishida has said he defines victory in the election as the ruling parties getting a majority. "That's aiming too low," one former Cabinet member said with optimism.
Yet the LDP should not become too complacent. Opposition parties, growing concerned about an LDP revival, may strengthen their own efforts.
If the Constitutional Democratic Party of Japan and the Japanese Communist Party agree to run unified candidates in about 70 single-seat constituencies where they are currently set to compete, it will increase the number of seats that the ruling parties have to battle for.
In a short campaign, the prime minister and his ministers need to avoid any gaffes and scandals before the votes are cast.
The "people's verdict" at the end of the month will determine the fate of the Kishida administration.
Add TheJapanNews to your Google News feed.