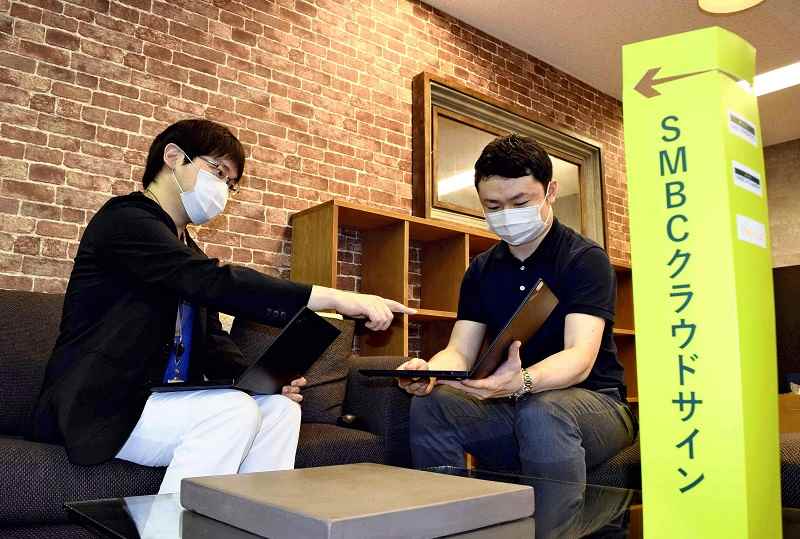 12:21 JST, October 8, 2021
Amid the wave of digitization in the economy, major financial groups are rushing to create new businesses, alarmed that they will not be able to survive on the traditional banking models that focus heavily on loans.
They are now groping for ways to come up with new business ideas and secure necessary human resources.
Improved profitability
The management at Sumitomo Mitsui Financial Group, Inc. (SMFG), including President Jun Ota, examines proposals for new businesses in person once a month. It is not unusual for young employees, as well as seasoned employees who have been with the firm for about 10 years, to explain their proposals before them.
"It's a good idea. Move the project fast," said Ota, giving the go-ahead to one of the proposals made at a meeting in August. He approved the budget for a project idea posted by a young employee on an in-house social network that developed into a concrete business.
Ota has been urging employees to establish companies that will develop new businesses, without resting on existing financial operations, in what he calls the "president-making project." The company also holds an annual in-house competitions for new business ideas so that all employees can become more aware of the need to develop new businesses.
The efforts are beginning to bear fruits. In total, 10 new businesses have been incorporated so far. Their operations vary, ranging from biometrics and advertising to corporate digitization support.
Among them is SMBC Cloudsign, Inc., a digital hanko seal service provider, which became profitable in just 18 months after its establishment in October 2019, benefiting from the spread of teleworking amid the COVID-19 crisis.
SMFG believes that Cloudsign was able to stand out among its many competitors thanks to having the creditworthiness of a major banking group behind it, which eased the usual anxieties that customers tend to have about start-ups.
Cloudsign is headed by Hideki Mishima, 39, who was a mid-level SMBC employee until two years ago. "There is an atmosphere of 'let's try it first' in today's SMFG," Mishima said.
Seconding to start-ups
Creating a new business requires changing how personnel are trained.
Starting this fiscal year, Bank of Tokyo-Mitsubishi UFJ, Ltd. is taking a full-fledged approach on an initiative to transfer employees to external start-ups for up to two years. The move is designed to help the employees acquire a sense of speed in management and digital skills unique to emerging companies, and to change the culture within the bank, which is considered conservative.
In June, the bank conducted an in-house recruitment campaign under the name Open EX, and decided to transfer 12 employees to outer organizations. It plans to recruit up to 20 more people for the campaign in November.
There is no age limit to join the program, but most of the participants have been young to middle-ranking employees, mainly in their 30s. The bank plans to increase the number of such seconded employees to 100 by the end of fiscal 2023.
Yuki Yoshioka, 32, who has been with the bank for 10 years, was transferred in April from the sales department at the bank's Kobe branch to ChoQi Co., an Osaka City-based company specializing in cashless payments for hospitals and pharmacies.
Yoshioka said that at ChoQi, which has 10 workers including executives, the speed of decision-making is much faster than at the bank. Some project proposals can be proceeded the very next day.
As a leader in the cashless service operation, Yoshioka handles everything from sales planning to negotiations with system development companies.
"Banks are in the midst of a period of change. I want to be an employee who can make a difference by gaining experience that cannot be obtained at a bank," Yoshioka said.
Sumitomo Mitsui Trust Holdings, Inc. is also accelerating efforts to transfer authority to younger employees. The company appointed a 39-year-old employee as the president of Trust Base Co., a digital business company.
"We need to take advantage of the abilities and ideas of young employees," a senior official of Sumitomo Mitsui Trust Holdings said, stressing the need to change the seniority-based corporate culture.
Loans and investments to environmentally friendly companies and businesses are also growing.
Since last year, Sumitomo Mitsui Trust Holdings has been actively hiring people with master's and doctoral degrees in engineering and chemistry to help the bank develop its own technical knowledge. The company has started a hydrogen production-related business and is beginning to see results, including the start of demonstration experiments.
Add TheJapanNews to your Google News feed.