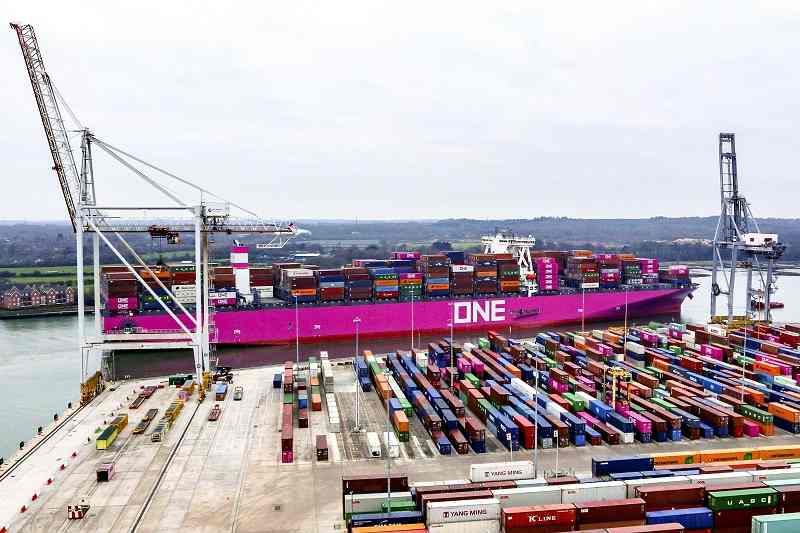 10:36 JST, September 28, 2021
The shortage of marine transportation capacity that has festered amid the COVID-19 crisis has begun to cast a shadow on people's lives. As freight rates for container ships continue to skyrocket, food prices keep rising, forcing many companies to suspend sales of some products, or pass on the extra costs to consumers.
There is no end in sight to the difficult circumstances, and the impact could be prolonged.
Surge in freight rates
Junichiro Ikeda, president of the Japanese Shipowners' Association, expressed his view at a press conference on Sept. 22 that it will take considerable time for such a situation to be normalized.
"Without a resolution of the novel coronavirus [crisis], things don't improve easily," said Ikeda, who is also the chairman of Mitsui O.S.K. Lines, Ltd.
Container shipping rates continue to skyrocket. Fares per 12-meter-long container for the major route from Shanghai to Los Angeles have been two to three times higher than the same month a year earlier since January. In July, shipping fares from Los Angeles to Yokohama more than doubled.
Against this backdrop, there has been a growing trend to pass on the higher transportation costs to consumers, particularly in the food industry.
J-Oil Mills, Inc., a major edible oil company, has been raising the prices of oil products since April due to rising raw material costs. Additionally, the company will raise the prices of products both for households and professional use by ¥30 per kilogram from November's delivery, due to the increase in the sea freight costs. Nissin Foods Inc. also raised its prices of flour by 2% to 4% from July's delivery, and pasta by 2% to 8% from September's delivery.
Yamato Transport Co. and Nippon Express Co. have raised rates for assisting with overseas moves.
Mercian Corp. has phased out sales of its popular Franzia wine since this month, because imports of raw wine from North America by ship have been delayed. "We aim to resume sales as soon as possible, but there is no prospect," an official of the company said.
Clogging
The surge in freight rates for container ships is due to multiple factors related to the COVID-19 crisis.
The demand for shipping furniture and daily necessities by sea, mainly to North America, has been high since last summer, because of the "nesting consumption" trend amid the pandemic.
According to the Japan Maritime Center, cargo volume from Asia to the United States in July rose 10% from a year earlier. Growth of more than 10% has continued for 12 consecutive months.
While demand is increasing, cargo handling at ports is taking time, and operations of ships have been stagnating. This is partly because of shutdowns at ports in the United States and China to prevent the spread of the infections. Shortages of port workers and drivers to transport unloaded cargo have added to the problem.
According to Ocean Network Express Pte., a container ship operator, as of the end of August, ships arriving at ports on the west coast in the United States have had to wait at sea for up to nine days before docking.
Shipping companies around the world reduced their supply of ships in the wake of the sharp deterioration in market conditions caused by the collapse of the U.S. investment bank Lehman Brothers.
"The industry could not keep up with the unexpected rapid recovery in cargo demand. The supply-demand balance will return to the level before the pandemic after the turn of the year." said Shunichi Asai, a senior consultant at the Nittsu Research Institute and Consulting, Inc.