Digital technology helps trigger revival of unattended sales stands in Japan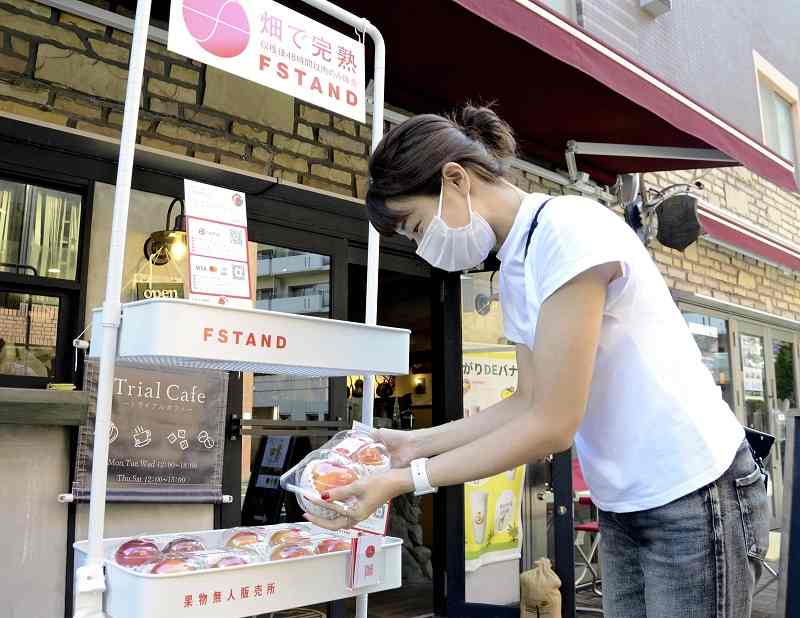 18:11 JST, September 17, 2021
Honesty boxes — unattended tills set up for customers to pay for purchases on the honor system — might conjure images of stands in rural areas lined with fresh vegetables and fruit, but recently, they've been popping up in urban areas, too.
Premium peaches and nectarines filled the shelves of the "F Stand" honesty box in front of a cafe in Tokyo's Sugamo district in August. Sold in pairs, the peaches cost ¥1,200 and the nectarines were ¥900.
Customers were able to pay for their items using e-money services by scanning a QR code attached to the stand, which also had a sign informing customers it only stocks fruit that has been harvested in the last 48 hours.
"Farmers showcase the products on social media and you can see the picking and packing processes, so you can shop with confidence," a customer picking up nectarines said. "The fruit has a rich aroma compared to what you find in supermarkets. Once you start eating them it's hard to stop"
F Stand is operated by Makoto Arii, 35, a Yamanashi Prefecture-native who gets fruit from farmers in the prefecture and sells them from about five honesty boxes in Tokyo. He uses social media to let customers know when he has restocked the stands, which are not kept at the same locations permanently.
Arii launched the initiative last year to help people get their hands on fresh fruit, as the sector was hit hard by the coronavirus crisis. Selling items from an unattended stand was a way to cut costs and limit person-to-person contact amid the pandemic.
Although Arii was concerned that light-fingered opportunists might take fruit without paying, he said no products had been stolen as the stands are in areas where people are always passing by.
Fruit and vegetables are not the only products that are being sold from unstaffed outlets.
The Yukimatsu Gyoza chain sells frozen dumplings at about 200 unmanned stores, mainly in the Kanto region.
Freezers at the outlets are stocked with only one kind of item: a pack containing 36 frozen gyoza that costs ¥1,000.
For security purposes, cameras are installed in the stores, which each have payment boxes that resemble offertory boxes typically found at Japanese shrines and temples.
Kengo Takanouchi of the chain's operating company said people were less likely to misbehave if they saw something that reminded them of
a place of worship.
Sales at the gyoza shops have been strong, and the company plans to expand the business nationwide.
With many people reducing in-person contact due to the pandemic, honesty boxes have evolved in the digital era. Used clothes and electric appliances are among some of the more surprising items found at some locations.
Yasuhiro Yamazaki of the Distribution Economics Institute of Japan said "The increase in honesty boxes may be a reflection of business difficulties rather than strategic initiatives."
With their novelty appeal attracting attention on social media, some regional areas are hoping to utilize the revival of unmanned stores to revitalize their communities.
A project combining art and farming was launched last year on the Miura Peninsula, in Kanagawa Prefecture.
Locally-grown vegetables are sold from a hut artistically decorated by fabrics in an initiative called Koyart, which combines the words "Koya" (hut) and "art." The project is aimed at promoting communication between local residents and visitors.
"If the hut as an architectural structure also has the function of selling vegetables, many ideas will be born," said Mikio Koshihara, a professor at the University of Tokyo who is involved in the project. "It might also help to create connections between people."
Add TheJapanNews to your Google News feed.