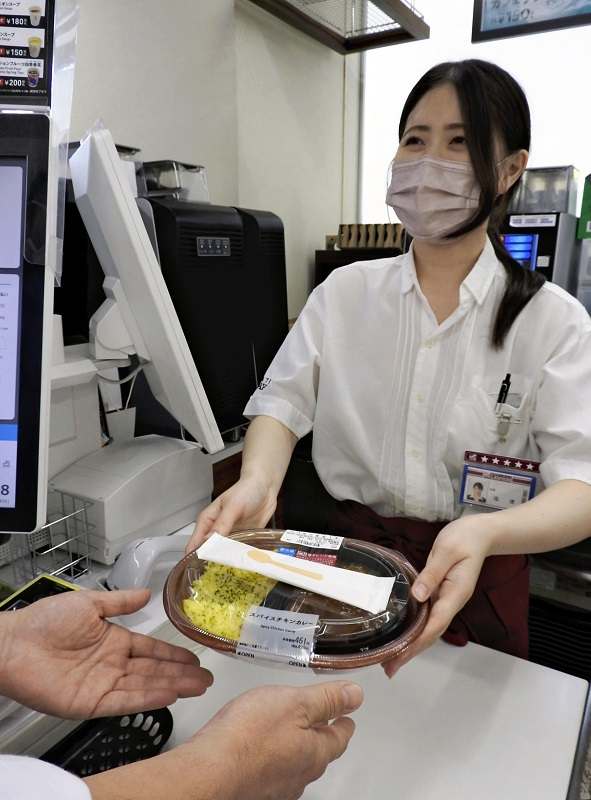 18:19 JST, September 8, 2021
As part of the drive to reduce single-use plastics, it will become mandatory next April for retailers, restaurants, hotels and the like to take measures such as charging fees for plastic spoons and straws — currently provided for free — or making less wasteful use of such items, including reusing or recycling them.
In response, many such businesses have introduced products made of alternative materials, including paper and wood, as they apparently want to avoid charging customers an extra fee for plastic products. It is likely that their trial and error efforts to find ways to deal with the stricter regulations will continue at least until next April.
4 strategy options
The government's new regulations are based on the Law on Promotion of Resources Circulation for Plastics, which was passed in June. The Environment Ministry and the Economy, Trade and Industry Ministry presented related government and ministerial ordinances in August.
As for the 12 products containing plastic, it will become obligatory for businesses that use more than five tons of such products a year to adopt at least one of the following four practices:
■ charging customers a fee for such products
■ awarding points to customers who decline them
■ reusing or recycling them
■ replacing them with products made of alternative materials.

The last of these options has seen the most progress.
On Sept. 1, Starbucks Coffee Japan, Ltd. began gradually replacing the wide plastic straws for its Frappuccino frozen drinks with paper straws. "We were able to do this by improving our straws so that you can even drink a Frappuccino that has fruit in it," said a Starbucks spokesperson.
For some other drinks, such as iced coffee, Starbucks has already eliminated straws altogether. The company says such steps will lead to about 200 million fewer plastic straws being used each year.
Lawson, Inc. began providing customers with wooden spoons at eight of its Natural Lawson convenience stores in Tokyo on Aug. 17. It was the start of a three-month trial to help Lawson decide whether such a step should be taken at other stores.
Recycling and points
Efforts to reuse plastic products or to award points to customers who decline such products have also been making headway.
Hoshino Resorts Inc., which operates the upscale Hoshinoya ryokan hotel chain, collects toothbrushes used by guests and sends them to companies that put them to such uses as recycling them into flower planters. The hotelier is said to go through 1.2 million toothbrushes a year.
The Tokyo-based company that operates the Pony Cleaning chain, collects plastic clothing hangers at all of its about 780 stores for reuse. The collection rate has been rising year after year, reaching about 60%, a company official said. But what to do with plastic garment covers is a future challenge for the company. "We want to consider measures that take the environment into account," an official in charge at the company said.
Seven-Eleven Japan Co., in cooperation with the Environment Ministry, conducted from mid-June to mid-July a trial run of a system to award three bonus points to users of its Nanaco e-money card who decline plastic products such as spoons.
Fees an unpopular choice
However, few business operators so far have attempted to charge extra fees to their customers, apparently wary of asking users of plastic products to bear an extra burden. An official in charge at a leading hotel said worriedly, "Amid the novel coronavirus pandemic, a price war has been heating up among budget hotels for businesspeople, in particular, making margins ever thinner. On top of that, there is fear that customers would be alienated further from such hotels if they are charged extra fees."
In July last year, retailers began charging fees for plastic bags. According to data that the Environment Ministry gathered from business organizations, 28% of convenience store customers declined plastic bags before the fee was imposed, and 75% did so afterward. At supermarkets, the ratio increased from 57% to 80%.
Akio Masuda of the Japan Chain Stores Association said: "Charging a fee for plastic bags at retail stores has gone well because there are alternatives such as eco bags. As there are no such alternatives for plastic spoons and forks [provided at the stores], it won't be so easy."