14:58 JST, September 3, 2021
With the dining sector hit by sluggish sales over the past year, restaurant operators looking for new revenue sources have been launching fast-food takeaway and delivery outlets, as such businesses have been popular amid the novel coronavirus pandemic.
Torikizoku Holdings Co., which operates a major izakaya chain, opened its first Toriki Burger outlet, specializing in chicken burgers, in the Oimachi district of Shinagawa Ward, Tokyo, on Monday.
Its flagship burger uses thick, deep-fried chicken breast meat. The meat is sprinkled with spices and topped with lemon mayonnaise.
The company selects domestic sources for ingredients such as chicken, lettuce, and the flour used to make the buns.
Toriki Burger has adapted some menu items of its izakaya parent, offering such items as a yakitori burger and tsukune chicken meatball burger.
Torikizoku Holdings President Tadashi Okura had considered entering the burger market before the outbreak of the coronavirus pandemic.
"Our management base is not strong enough to operate only in the izakaya sector. I want to increase the number of stores to the same level as our izakaya outlets, and make [the burger chain] the second pillar of our business," he said.
Royal Holdings Co., which operates the Royal Host family restaurant chain, opened Lucky Rocky Chicken in Shinagawa Ward, Tokyo, in May.
Matsuya Foods Co., which operates a gyudon beef and rice bowl restaurant chain, started opening rice burger outlets in Tokyo and Kanagawa Prefecture in April that offer takeaway and home delivery services.
Their burgers use compressed rice patties instead of buns and contain fillings based on the gyudon chain's popular dishes.
Business conditions in the dining sector are becoming increasingly severe. According to the Japan Foodservice Association, total sales of eatery chains in June were down 22.6% compared to June 2019.
The decline in sales was especially serious in the pub and izakaya sector, which saw an 84.1% plunge, and the family restaurant sector, which saw a 35.8% decrease.
However, sales of "Western-style fast food" were up 9.0%, the only category in which sales increased, indicating the resilience of the sector amid the pandemic.
In August, McDonald's Holdings Co. (Japan), which operates the nation's largest hamburger chain, revised upward its projection of consolidated business results as of the end of December this year on strong takeout and drive-through sales.
Ichiyoshi Research Institute Inc. chief analyst Seiichiro Samejima said: "Not many burger chains are able to increase branch numbers to 100 or more. New entrants will be required to have the product development and marketing skills to keep consumers coming back for more."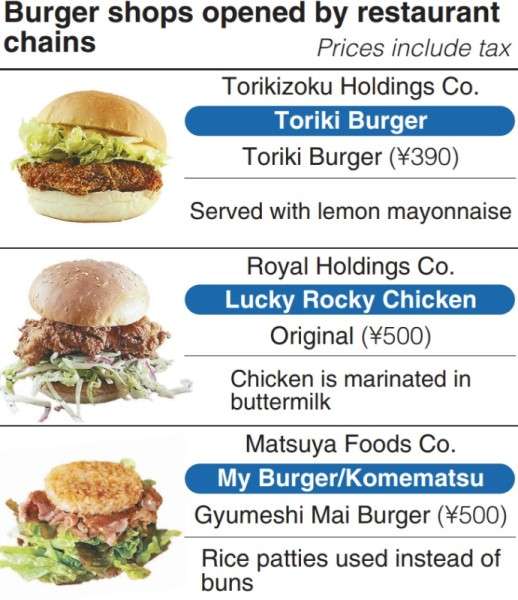 Add TheJapanNews to your Google News feed.