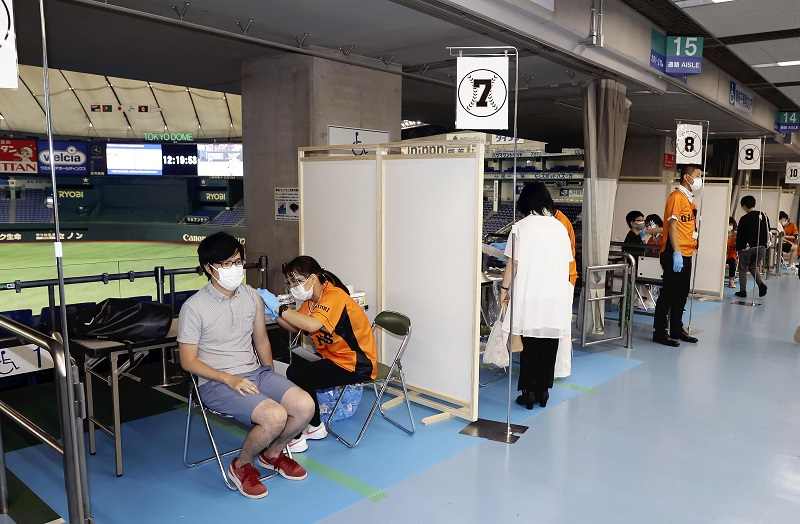 16:03 JST, August 30, 2021
Winning a new car might be just the incentive for people hesitant to be inoculated with a COVID-19 vaccine.
Local governments and companies are taking action to offer such benefits, aiming to prevent infections by increasing vaccinations across all of society, especially among the younger generation.
The hope is that economic activities can then resume as soon as possible.
Targeting 20s, 30s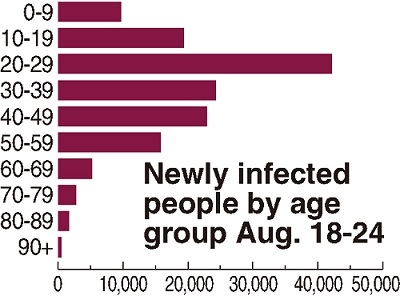 Gunma Prefecture hopes to encourage young people to get vaccinated with an eye-catching gift: a Subaru XV compact sport-utility vehicle.
The SUV will be given to one person through a lottery among Gunma residents in their 20s and 30s who have received both doses of a COVID-19 vaccine.
The vehicle has been donated by Subaru Corp., which has automobile factories in the prefecture.
Through the lottery, the prefectural government will also give vouchers for travel within the prefecture worth ¥50,000 to 100 people and worth ¥20,000 to 250 people.
"This is worth doing if it helps increase the vaccination rate among young people," Gunma Gov. Ichita Yamamoto said at a press conference on Aug. 6.
Accordingly, the rate has risen for people in their 20s and 30s, from 18.9% as of Aug. 1 to 43.7% as of Thursday.
In Aichi Prefecture, the prefectural government is also using a lottery to distribute dining vouchers worth ¥10,000 to 20,000 people in their 20s and 30s who have received two doses by the end of October.
Consumption rebound
There are expectations among the pandemic-crippled tourism and restaurant industries that an increase in the vaccination rate will boost consumption.
Momiji, a soba restaurant in Bunkyo Ward, Tokyo, is offering a ¥1,000 discount on special soba dishes to ward residents aged 65 or older who have received two COVID-19 vaccine doses.
Bunkyo Ward provides a subsidy for small and midsize shops that offer such incentives.
"Day after day, my costs continue to exceed sales," said the restaurant's owner. "I hope the spread of vaccinations will mean that as many customers as possible can come."
Food Plus Hldgs, which operates the Japanese restaurant chain Shoya among about 100 restaurants mainly in the Kyushu region, offers a 10% discount on meals for people who have been vaccinated at least once and everyone who accompanies them.
People can take advantage of the offer as many times as they want.
"We want to do what we can to bring the coronavirus under control as soon as possible," said a spokesperson of the company based in Sasebo, Nagasaki Prefecture.
At Tokyo Dome, where the mass vaccination of Tokyo residents from Bunkyo, Shinjuku and Minato wards is taking place, a big screen displays videos of Yomiuri Giants highlights to entertain the vaccinated people who have to be observed for adverse reactions in a waiting area after getting their shot.
The team's cheerleaders also give away masks and drinks in an effort to ease visitors' anxiety.
Effective enticements
Incentives can be just what the doctor ordered for people hesitant to be vaccinated, said Fumio Otake, a specially appointed professor of Osaka University who specializes in behavioral economics and is a member of the government's COVID-19 task force.
Otake's team conducted a behavioral study by preparing three types of messages that all encourage vaccinations to see if they have a different effect on the motivations of people who see them.
An altruistic message reading, "Your vaccination will encourage others to get vaccinated, too," appealed to older people, while the level of encouragement for young people did not change even with a different message.
"Young people are less likely to change their behavior through messages," Otake said.
"It's not necessary for incentives to be money or gifts, but such privileges as giving permission to travel or go to concerts will lead to an increase in the number of vaccinations."
Key to herd immunity
Companies and local governments are using incentives to encourage people to receive COVID-19 vaccinations because if inoculations progress — especially among people in their 20s and 30s who currently account for half of new infection cases — society can develop herd immunity, which can then help normalize social and economic activities.
Vaccinations reduce not only the risk of contracting the virus and developing serious symptoms, but also the risk of spreading the virus to others, so society as a whole benefits.
According to sources including the Prime Minister's Office, more than 40% of the nation's total population has been administered two COVID-19 vaccine doses, but the inoculation rate among young people is not rising fast enough.
The Tokyo metropolitan government has set up a vaccination site in Shibuya Ward for young people. In recent days, young people seeking to be inoculated formed long lines for a vaccination lottery. This indicates that many young people are eager to receive vaccinations.
A survey conducted by the metropolitan government in July, however, showed that 30%-40% of respondents in their 20s and 30s said they did not want to receive or were unsure about receiving COVID-19 vaccinations. Such responses were the highest among all age groups.
Making progress to vaccinate people who are cautious about the vaccines, especially young adults, is likely to be the key to preventing infections and reviving the economy.
In Britain, Israel and the United States, where COVID-19 vaccination drives have been conducted at a rapid pace, inoculation rates have peaked at about 70%. This is because there are a certain number of people who are hesitant to be vaccinated, including young people who are at a lower risk of developing serious symptoms compared to the elderly as well as those who are concerned about the safety of the vaccines. Japan is expected to face similar challenges.
The Japanese government intends to use vaccination certificates as part of preferential measures for those who have been vaccinated. It is considering digitizing the certificates, which are currently issued as vaccine passports to people traveling overseas, by the end of this year and using them to ease entry restrictions to events and offer discounts at restaurants. The government will make sure that these preferential measures will not cause disadvantages to people who cannot be inoculated due to preexisting conditions or other such reasons.
Add TheJapanNews to your Google News feed.