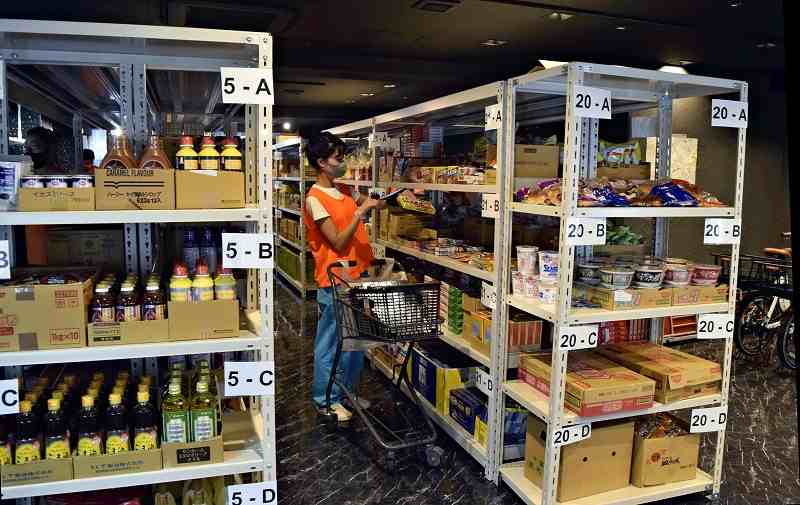 14:18 JST, August 28, 2021
Online grocery shopping has continued to evolve amid the increased demand for home delivery during the COVID-19 crisis. On Wednesday, a Tokyo start-up opened a supermarket designed exclusively for online shopping that delivers items within 10 minutes from the receipt of orders.
Major supermarkets that have been shipping their items from physical stores also are now building facilities to deal exclusively with online orders.
No customers present
"The way we shop is changing amid the pandemic as home grocery delivery has become common," OniGO K.K. President Naoya Umeshita said Wednesday at a press conference announcing the opening of the start-up's first store in Meguro Ward, Tokyo.
The store stocks about 1,000 items, including fresh foods and detergents, but it is not designed to cater to customers inside the facility.
After receiving an order through the store's app, the sales staff pick up items from the shelves and deliver them to customers within 10 minutes, traveling by electric power-assisted bicycle. The service covers a delivery area within about 1 kilometer of the store for a uniform shipping charge of ¥300.
Stores like this function as distribution warehouses and are called "dark stores." They can deliver items in a short time thanks to their small delivery area. Amid the prolonged coronavirus crisis, there has been a shift from brick-and-mortar stores to dark stores in the United States.
Umeshita, a former Sumitomo Mitsui Banking Corp. employee who has been involved in the establishment of start-ups, predicts the food market based on quick delivery services will continue to grow, reaching ¥2 trillion in 2025. He aims to open 25 OniGO stores by the end of this year, mainly in Tokyo, and 100 stores within 12 months.
Major companies enter market
Since most existing online supermarkets utilize physical stores where customers can also shop in person, the fetching of items ordered online takes place at the same time that other customers are shopping.
Such stores also can take several hours to complete a delivery. Dark stores, however, are set up to easily overcome this issue.
Major companies are also expanding their efforts to run online stores. Seven & i Holdings Co. began operating an online store in Arakawa Ward, Tokyo, in 2015. According to the company, the number of online orders at the store increased amid the coronavirus crisis. This year it has been about 50% greater than in fiscal 2020.
Life Corp. also opened a facility exclusively for online orders in Setagaya Ward, Tokyo, this spring.
Aeon Co., in a partnership with a subsidiary of British online supermarket operator Ocado Group PLC, plans to open a distribution warehouse dedicated to online orders in Chiba City in 2023. Up to 50,000 items, mainly groceries, are expected to be handled at the warehouse.
Still, many consumers prefer to buy groceries after examining them in person at a physical store.
Yutaka Suzuki, a senior researcher at the Distribution Economics Institute of Japan, said: "Japanese consumers are demanding when it comes to the quality of fresh foods. Whether online supermarkets can deliver food to customers with the same quality as that offered by physical stores will be the key to their penetration in society."
Add TheJapanNews to your Google News feed.