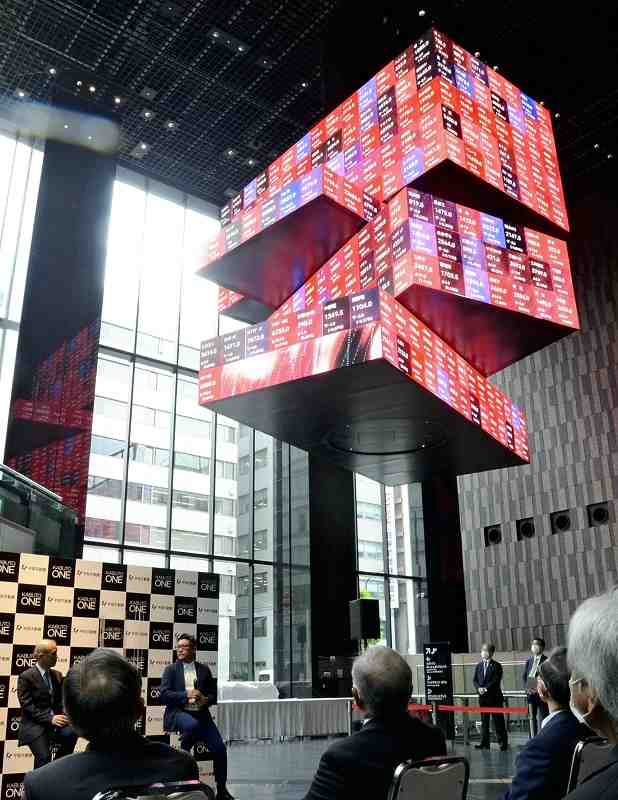 16:53 JST, August 28, 2021
The Kabutocho district, Japan's financial epicenter in Tokyo, is getting a facelift.
On Aug. 24, a ceremony was held to unveil the newly completed Kabuto One complex, the centerpiece of an extensive redevelopment project that seeks to transform a neighborhood once crawling with securities traders into a sleek new nexus for international finance and business.
'One more go'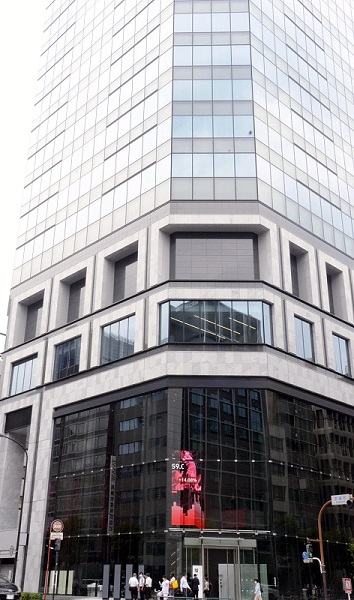 Kabuto One is the latest addition to the portfolio of Heiwa Real Estate Co., whose holdings in Kabutocho include the Tokyo Stock Exchange Building.
"Even the Daiichi Kokuritsu Ginko [first national bank] would have been a startup when it was established by Eiichi Shibusawa in Kabutocho," Heiwa Real Estate Co. president Kiyoyuki Tsuchimoto said after the ceremony. "We want to create a fertile environment for startups to thrive here [in Kabutocho] once again."
The Japan Securities Depository Center Inc., a financial data service company and others have already signed leases for office space on the upper floors of 15-story Kabuto One.
An eye-catching 5.5-meter tall display suspended overhead in the entrance atrium greets visitors with stock prices and economic news shown on four rotating, rectangular screens.
The building also features an event hall and conference rooms, which can be used for corporate shareholder meetings, fiscal results briefings and mixers by those who work at startups in the area.
Located a stone's throw from the TSE, the site was once the seat of securities companies, who until 1999 were an ubiquitous presence in the neighborhood and on the floor of the stock exchange, calling in trades with theatrical hand signals.
As digitization made these floor traders obsolete, the securities companies moved away, taking the crowds with them.
Fintech
Kabutocho is situated as a cornerstone of the Tokyo metropolitan government's "Global Financial City" concept.
The Otemachi district has its "mega-bank" headquarters and the Nihonbashi district has a surfeit of financial institutions, including the Bank of Japan.
Near these districts, it is hoped that the Kabutocho district will function as a base for startups specializing in "fintech," a fusion of finance and information technology.
Redevelopment began around 2014, spearheaded by Heiwa Real Estate. One notable project has been FinGATE, which seeks to attract financial firms that do not have outposts nearby.
At present about 50 companies, including foreign asset management firms, have set up offices at four locations through the project.
In June, the Financial Services Agency opened an office to help foreign firms gain footholds in Japan, helping to walk them through the registration and other bureaucratic processes in English.
Little by little, such initiatives have been transforming the area into an international financial district.
Restaurants, pastry shops
The surrounding neighborhood is also changing.
The building next to the TSE, which was formerly an annex of a national bank, underwent a major renovation and reopened last year as the K5 complex, which has a luxury hotel and several restaurants including a beer hall.
Craft beer, pastry and other specialty shops have also opened nearby, catering to customers who have no connection with finance.
"If the neighborhood attracts startups that grow, it will attract attention and be revitalized," said Koya Sakata, a researcher at NLI Research Institute. "Urban planning to make the global financial city a place people want to live is essential."