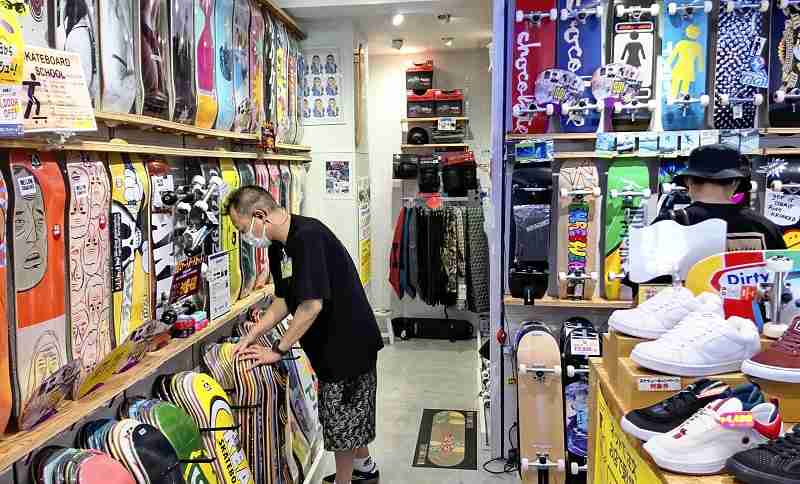 19:46 JST, August 2, 2021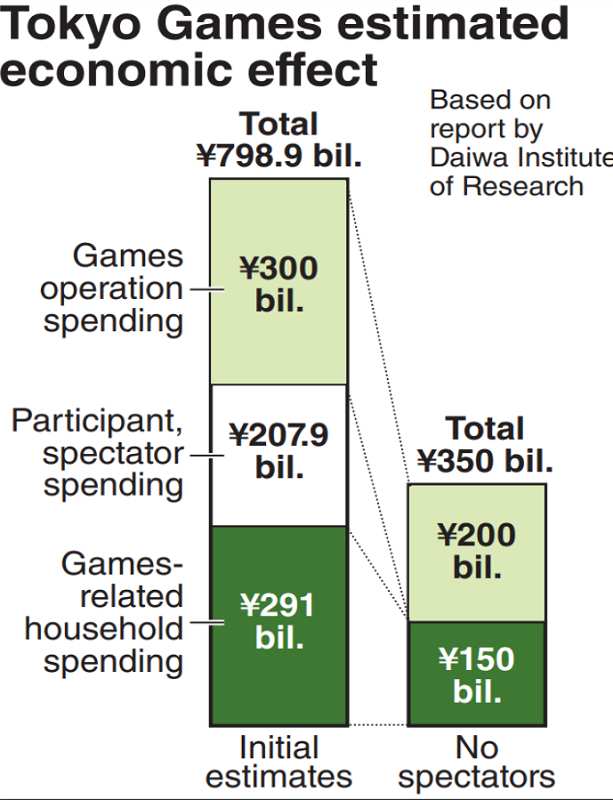 Economic activity related to the Tokyo Games is brisk even though there are almost no spectators in the stands.
As Japanese athletes rake in the medals, consumers are scooping up Games-related products, and goods that enhance the at-home viewing experience have seen an uptick in sales.
Nevertheless, the net economic benefit of holding the Games will be lower than pre-pandemic estimates.
More medals, more sales
An Asics store in Tokyo's Harajuku district saw more than double the number of customers during the four-day holiday from July 22 to 25 than in the previous week.
Official Games T-shirts became a hot commodity once the Olympics got underway.
"We've seen online orders placed immediately after a Japanese athlete wins a medal," said an Asics public relations official.
Sporting goods store operator Xebio Corp. said customers come in looking for clothes and equipment used by athletes. The company, based in Koriyama, Fukushima Prefecture, expects sales to rise in sports in which Japan excels.
Murasaki Sports in Shibuya Ward, Tokyo, has seen an increase in inquiries about skateboarding and what types of skateboards the company has in stock.
The store sold seven skateboards on July 25, the day Yuto Horigome won a gold medal.
"It's obvious that more customers come in after Japanese athletes win gold," a staff member said about the effect medals can have on sales.
Catching the action at home
Sales of products aimed at people watching the Games from home are also gaining momentum.
Major electronics retailer Nojima has seen TVs move briskly off shelves.
"Demand is growing for high-performance TVs to watch the Olympics," said a sales staff member at a branch in Fuchu, Tokyo.
In July, TV sales were up about 40% compared to June. OLED TVs, which capture rapid movements in clear, bright colors, are particularly popular, according to the company.
Sales of devices that can record multiple channels simultaneously have increased by about 50%.
"More people want to record Olympic broadcasts being televised on multiple channels," a company official said. "I think sales will continue to rise."
Beer makers and convenience stores are also seeing tailwinds from the massive TV-viewing audience.
Asahi Breweries Ltd., a Gold Partner of the Games, has released a six-pack of beer packaged with a snack.
Sales of the company's main product, Super Dry beer, were up 30% year-on-year in July. Asahi Breweries expects the uptick to continue throughout August and is planning to increase production by 20% compared to last year.
FamilyMart Co. said sales of items used to cheer on athletes have increased about fivefold since the Games began, and foods that can be eaten with one hand, such as grilled chicken and sausage, have also been popular.
"People apparently choose such products because they are watching the events at home with a drink or something to cheer with in one hand," a company spokesperson said.
Pandemic effect
However, the economic benefits of the Olympics are almost certain to be lower than if the Games were held under normal circumstances.
Keiji Kanda, a senior economist at Daiwa Institute of Research Ltd., estimated that the Games' economic effect would be ¥350 billion, compared to an initial estimate of ¥798.9 billion. Of this, Games-related household spending on items like TVs and spin-off merchandise would be down from the initial ¥291 billion to ¥150 billion, according to Kanda's estimate.
"People who bought tickets will get refunds, so some of that will go to spending for watching [the Games] at home," Kanda said. "But because there basically will be no spectators, consumer demand for the event will be down."