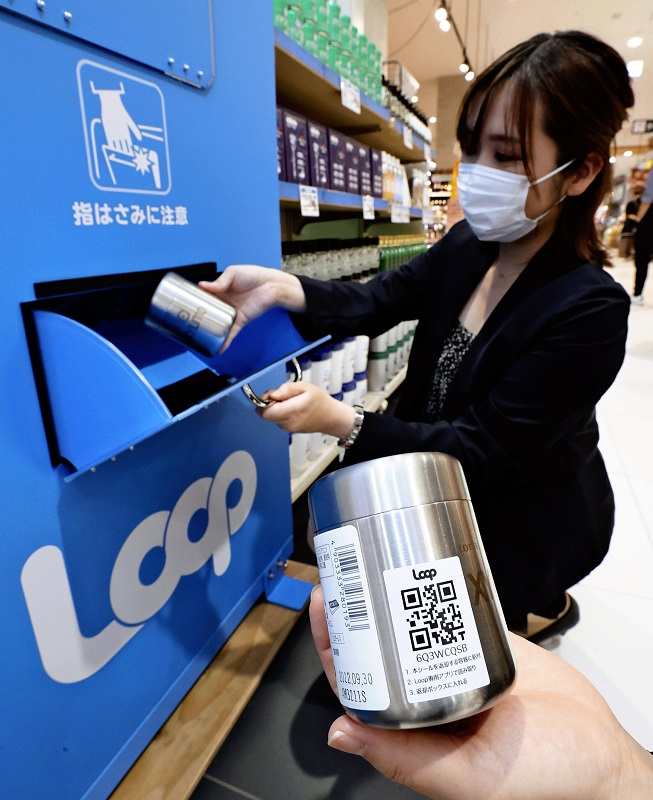 12:52 JST, July 31, 2021
Reusing containers and raw materials are among the actions being taken by an increasing number of companies around the world. With the cooperation of consumers, these efforts aim to create a circular economy through the circulation of limited resources to reduce waste.
At the Aeon Style section at Aeon Mall Makuhari New City in Chiba City, a small blue box carries a sign calling for customers to place used containers for return in its hatch.
This is a collection box for Loop, a framework for reusing containers and materials led by a U.S. startup. By putting a used container into a Loop box, consumers can have the deposit on the purchase of the container refunded via a smartphone app.
The Loop framework works like this: 1) retailers sell food and daily necessities contained in highly durable, repeatedly reusable metal or glass packaging; 2) consumers return the used containers or other receptacles to a Loop box at stores; and 3) collected containers will be inspected, cleaned and then supplied to manufacturers to be reused for packaging.
In Japan as of May, 25 manufacturers have taken part in Loop. Aeon Retail Co. sells 16 Loop items at 19 stores in the Tokyo metropolitan area. From October onward, it plans to expand the number of such stores to 50, while increasing its Loop products to about the same number by next spring.
Such an effort being made by Loop is generally called a circular economy and has spread globally since the European Union first advocated it in 2015. According to consulting firm Accenture, the economic effects of a circular economy are predicted to reach $4.5 trillion (or about ¥500 trillion) by 2030, offering a huge business opportunity for companies.
The Economy, Trade and Industry Ministry and the Environment Ministry in January released a handbook designed to encourage companies in Japan to publicly disclose their efforts made in realizing a circular economy, thereby promoting dialogue with investors.
For its part, Keidanren, the Japan Business Federation, intends to push ahead with compiling examples of such endeavors made by its member companies and to make these actions known at international conferences.
One such example in which Japanese companies are taking the initiative is R Plus Japan, Ltd., a new joint venture to develop recycling technologies for used plastics. Starting business in June 2020, R Plus Japan has been moving ahead with the development of new technologies to convert plastic from used bags, food containers and receptacles into basic chemicals that can be used to make new plastics.
Such technologies are expected to reduce emissions of carbon dioxide and the use of finite natural resources. The firm aims to put such technologies into commercial use in 2027.
As of early July, 29 companies have invested in the venture, centering around leading retailers and food manufacturers such as Suntory Holdings Ltd., Asahi Group Holdings, Ltd., Seven & i Holdings Co., and Calbee, Inc.
Major tire maker Bridgestone Corp.'s retread tires also aim to curb the amount of waste. Retreading a tire involves removing the worn tread surface and applying a new tread to the surface for reuse. Bridgestone is also offering maintenance and inspection services for such products, looking to increase its revenue.
Although the tire maker continues to sell new tires, it will attach further importance to such a business model as "making money without selling" new items.
"As investors tend to attach importance to a company's efforts in tackling environmental issues as one of the added values of a company, it has become more difficult for those companies lagging in such efforts to secure funds," said a strategist of Okasan Securities Co. "It is also necessary for companies to strive to have such endeavors known more widely among investors."
Add TheJapanNews to your Google News feed.